Soup: Oma's Liver Dumplings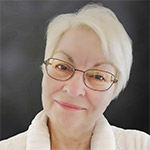 by: Gerhild Fulson  /  Cookbook Author, Blogger, German Oma!
As an Amazon Associate, I earn from qualifying purchases.
Soup with liver dumplings, aka Leberknödel Suppe, is such a traditional German soup that brings back so many memories.
I remember my Mutti serving this and me always being surprised how good it tasted even though it was liver! Served with some nice fresh crusty homemade artisan bread, it makes a nice light supper.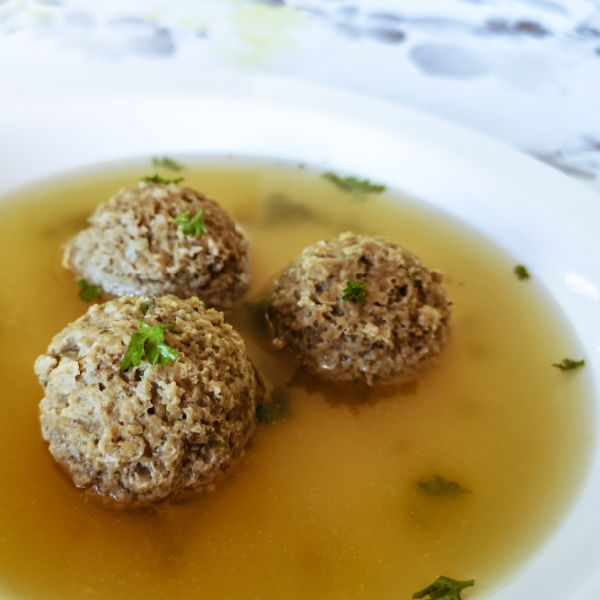 A typically Bavarian soup, this is usually made with beef or calves liver and a strongly flavored beef broth.
Liver Dumpling Soup Tips ...
Don't have a food processor? Then use a blender. Or, use a grinder to grind the liver (if you freeze the liver first, this will be easier)

You can season your dumplings in a variety of ways. Try using sage, coriander, basil, zested lemon peel, or nutmeg.
Super Easy Way to make Dumplings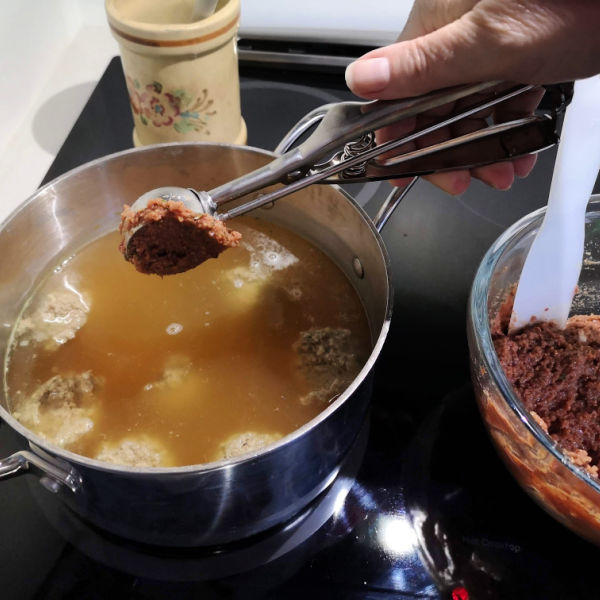 As long as your dumpling dough is the right consistency to hold together, use a cookie scoop to easily make the dumplings. Here, I use a 1½ inch cookie scoop. 
Using the scoop is a very quick and mess-free way to make equal sized dumplings. 
---
What a perfect way to include liver into the diet. Liver is a very concentrated source of vitamins and is high in protein. It's well known to be an excellent source of iron, as well.

However, finding liver recipes that are delicious can be difficult. I find it interesting when I hear that children usually love this soup. So, give this one a try. 
Or, try this one. It's been a favorite at our house for many years.
Grab your copy of Oma's favorite soups collection in Quick Fix German Soups e-Cookbook. You'll LOVE it!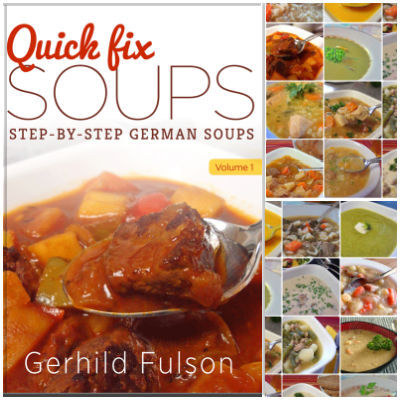 Take a peek at all Oma's eCookbooks. They make sharing your German heritage a delicious adventure!
Below are two recipes for liver dumplings, first mine and then Dino's (a Facebook fan who lives in Germany),

Oma says,
I really like the way Dino made his soup as shown in the photo below. Although my soup uses a clear beef broth, adding Suppengrün, in other words, some leek, carrots, and onions, to a store-bought broth is a great way to make it even better. 

Ready to make Oma's Liver Dumpling Soup?
Is the recipe below locked? Here's why. Unlock to see ALL the exclusive recipes on this site. Click here for help.
As an Amazon Associate, I earn from qualifying purchases.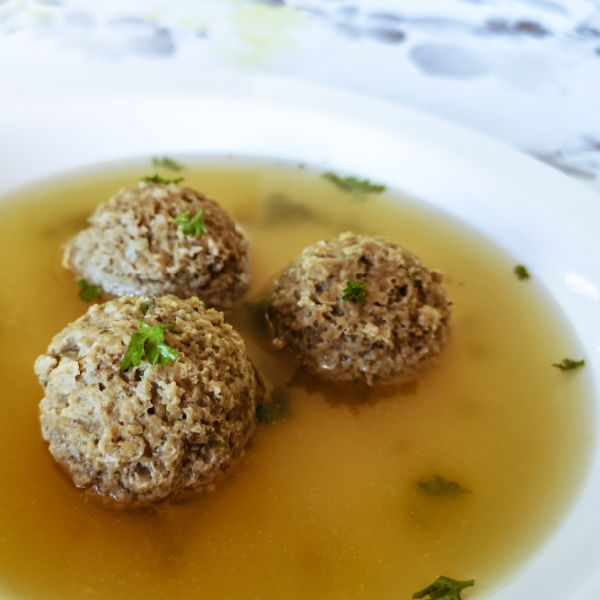 Oma's Liver Dumplings Soup

Soup with liver dumplings, aka Leberknödel Suppe, is such a traditional German soup that brings back so many memories.
I remember my Mutti serving this and me always being surprised how good it tasted even though it was liver!
Prep Time


10 minutes


Cook Time


20 minutes


Total Time

30 minutes

Servings:

Makes 6 servings
Ingredients:
½ pound calves liver
2 tablespoons butter
1 small onion
2 tablespoons chopped fresh parsley
¼ teaspoon marjoram
¼ teaspoon salt
freshly ground pepper
1 cup breadcrumbs
2 large eggs
6 cups beef broth (well-seasoned)
Instructions:
Using a food processor, combine the liver, butter, onion, parsley, and seasonings and process until smooth. 
Add the breadcrumbs and eggs and process until well mixed. 
Form dumplings, adding a bit more bread crumbs (or flour) if needed, for dumplings to hold together. Form into dumplings.
Bring broth to boil. Add dumplings and reduce heat to a simmer. Dumplings will be done in about 20 minutes and they should be floating. 
Serve soup, garnished with parsley.
Notes/Hints:

Use a 1.5-inch cookie scooper to form the dumplings. Simply scoop and drop into the soup. No messy fingers!
*  *  *  *  *

Unless otherwise noted recipe, images and content © Just like Oma | www.quick-german-recipes.com

Dino's  Leberknödel Suppe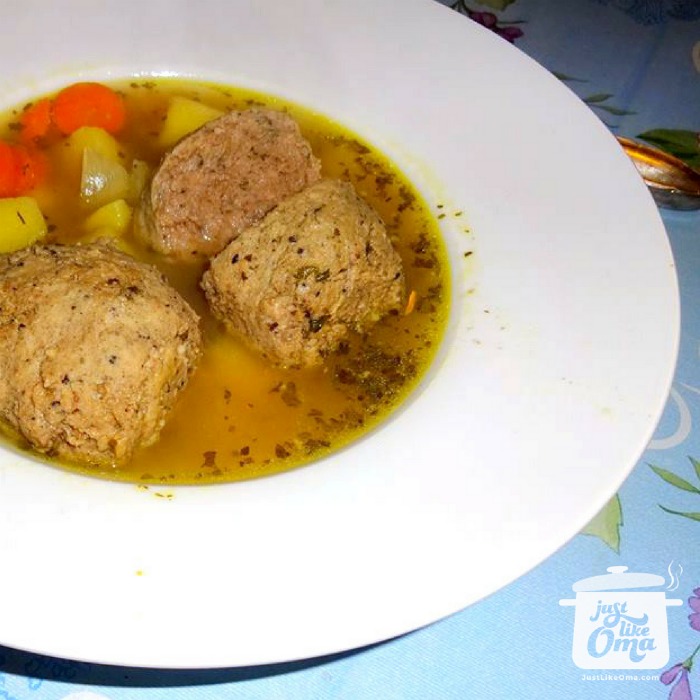 Dino Schmidt shared his recipe on our Facebook page. He's in Germany and can buy his Leberknödel already prepared. Here's his posting and the English translation.
Rezept:
Die Leberknödel kaufe ich schon fertig.
Ich laße die Knödel sehr lange ziehen, erst aufkochen lassen, dann bis zu 3 Stunden köcheln, simmern oder ziehen lassen.
Ich würze mit etwas Brühe, Muskatnuß, Petersielie (den brate ich etwas in Butter an).
Auch noch hinzu Suppengrün, Kartoffeln, Zwiebel.
Recipe:
Use purchased liver dumplings.
Simmer on low (very low), for about 3 hours, the dumplings. (Ziehen is like a tea bag sitting in hot water, stewing) 
Season with broth and nutmeg. Fry some parsley in butter and add to soup.
Add Suppengrün (soup greens), potatoes and onion.
Suppengrün: Is purchased in Germany as a bundle and usually has a leek, a carrot, and some celery root. Parsley, turnips, and onions are sometimes included.
I like the way Dino cooks. It's like a bit of this and a bit of that. Just like my Oma and my Mutti did, and now how I usually cook as well. Thanks, Dino, for sharing this with us!
---
Leave a comment about this recipe or ask a question?

Pop right over to my private Facebook group, the Kaffeeklatschers. You'll find thousands of German foodies, all eager to help and to talk about all things German, especially these yummy foods. 
Meet with us around Oma's table, pull up a chair, grab a coffee and a piece of Apfelstrudel, and enjoy the visit.

Oma's Favorite Finds offer a range of Oma's favorite German-inspired must-have items that make cooking and entertaining more enjoyable, yummy, and efficient.

Indulge in Elegance: Small porcelain dessert bowls by Dowan for a pop of colour on your table and perfect for little desserts.

Discover the Easter traditions in Germany that will engage your senses and uplift your spirit. Ostern is a cultural celebration filled with delight, wonder, and yummy food.
*  *  *  *  *
PIN to SAVE this recipe to your Pinterest board!
And let's be friends on Pinterest!
---
Soup: Liver Dumplings made Just like Oma


By
Oma Gerhild Fulson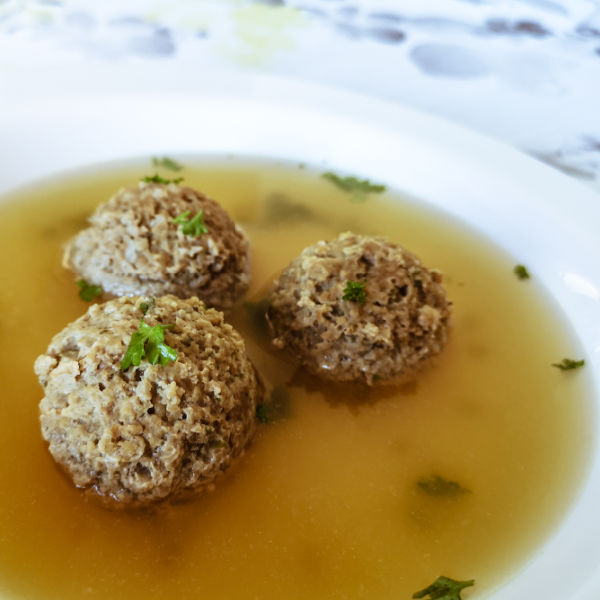 Liver dumplings added to broth make a wonderful authentic German soup. Delicious! Check out the 100's of other recipes here!

Ingredients:
calves liver,
butter,
parsley,
onion,
seasonings,
breadcrumbs,
beef broth,
For the full recipe, scroll up ...
Words to the Wise
"For wisdom is far more valuable than rubies. Nothing you desire can compare with it."
Proverbs 8:11 (NLT)