Oma's Goulash Soup ❤️
➤ by Oma Gerhild Fulson
FTC Disclosure: Making a purchase via a link on the page? I may earn a small commission on the transaction - at no added cost to you. Thanks!
This goulash soup is one of my most traditional of all German soups. It's one I often make when I have company coming over and need something that's easy to prepare ahead. I'll add some fresh crusty homemade artisan bread and dinner's ready.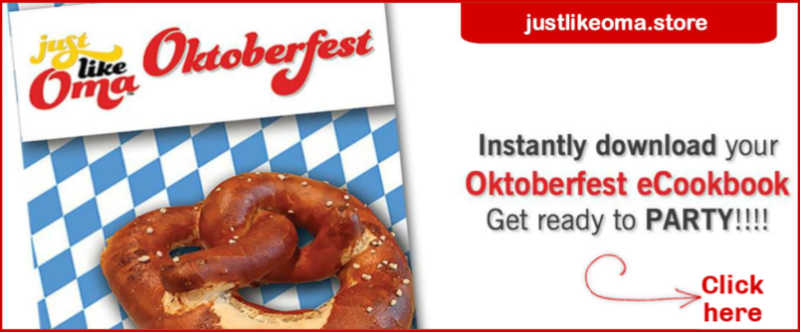 I've even got a quick hack to make this wunderbar soup a lot quicker, easier, and cheaper. Check out the recipe and tips ... and then watch the video below for the super quick hack! 
---
I have to admit that when I make soups, even following my own recipes, I usually double, triple, or even quadruple the recipe!
Why?
Because we love soups! And, because they're so wunderbar, hubby LOVES leftovers.
So, I need and use a HUGE stock pot for this. It's easily the most used pot in my kitchen.
In fact, with it's high sides, I often use it when I'm browning meat in order to minimize the splattering all over my stove. Multi-purpose. Perfect for me! Just think how many rouladen or cabbage rolls you can braise in here!
---
What makes these soups so wunderbar? They bring back such wonderful memories of my Mutti's kitchen. So, of course, I had to write my own soup e-cookbook to share with my grandchildren. I know you'll LOVE it, too!
There are 84 full-color pages filled with step-by-step instructions and hints. Take a quick peek ...
Sharing these soup recipes from my Mutti and Oma to my own young grandchildren ... that's such a delicious way to pass on our German heritage :)
---
Goulash Soup Tips ...
Cut the meat, onions, peppers, and potatoes into approximate 1-inch cubes. This doesn't need to be exact!
Omit the potatoes if you wish and serve with bread or buns. This can also be served in a very Bavarian way, by adding mini bread dumplings to the soup.
Don't have beef broth? Use a cup of water and one beef bouillon cube instead.
Add ¼ cup of whipping cream at the end. That makes this REAL German. Try adding a bit of sugar to at the end as well.
Add 1 can drained kidney beans, either red or white, 5 minutes before the soup is finished.
Use all beef, or a mixture of half beef and half pork.
The above recipe makes enough to serve 4 - 6. I suggest doubling this, simply because you will want leftovers. They are so good the next day for lunch.
You can make this ahead and reheat when company comes. I find soups like this often taste better the next day ... if there are leftovers!
For the Hack in the video, I browned the meat, added the frozen Fajita Blend of onions, red, green, and yellow peppers, added a can of crushed tomatoes instead of the tomato juice, enough water to almost cover, and then continue as in the recipe. Yummy!
Goulash. Hungarian or German?
I'm often asked if goulash is Hungarian or German. The answer? Both. The Hungarian recipes usually have potatoes in them, but the German usually doesn't.
We, Germans, often served with them with the potatoes on the side or even just bread or buns to dip into the amazing gravy-like broth.
However, even the German goulash can have potatoes in it, as shown in the goulash soup recipe below. If you're really, really curious about the Hungarian and German backgrounds, check out The History of Goulash.
Oma's Tip:
Take a look at the video above. It'll show a super simple way to make this goulash soup. My super quick tip!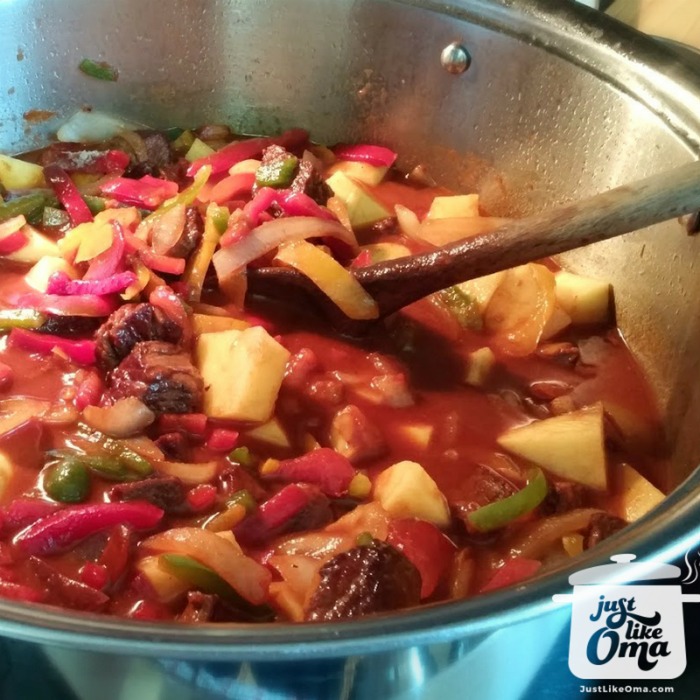 Above, I'm cooking a HUGE pot full of goulash soup, using the hack shown in the video. It's the way I'm making this soup more and more often. It's quicker and cheaper too! 
Oma's Goulash Soup ❤️
Ingredients:
1 lb stewing beef, cut into ¾-inch cubes
2 tbsp oil
2 onions, coarsely diced
1 garlic clove, crushed
1½ cups tomato juice
1 cup beef broth
1 tsp salt
1 tbsp sweet Hungarian paprika
2 - 3 potatoes, cut into 1-inch cubes
3 peppers, preferably different colours, cut into 1-inch pieces
salt, pepper, hot Hungarian paprika (optional)
Instructions:

Heat the oil in a large pot. Brown half the meat. Remove meat and brown remaining meat. Return all the meat to the pot, adding onions and garlic.
Continue to cook on high for several minutes, stirring often.
Add tomato juice, beef broth, salt, and paprika.
Bring to boil, cover, and reduce heat to a simmer. Cook for about 40 minutes.
Add potatoes and peppers. Cook for a further 15 minutes or until the potatoes are tender.
Season with additional salt, pepper, and hot Hungarian paprika, if desired.
Makes 4 - 6 servings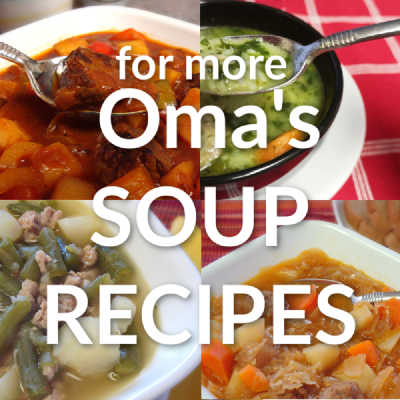 Leave a comment about this recipe or ask a question?
Pop right over to my private Facebook group, the Kaffeeklatschers. You'll find thousands of German foodies, all eager to help and to talk about all things German, especially these yummy foods. 
I pop in all the time as well, to chat and to answer questions. 
Meet with us around Oma's table, pull up a chair, grab a coffee and a piece of Apfelstrudel, and enjoy the visit.
*  *  *  *  *
Want nutritional information for a recipe?
Copy and paste the ingredient list and the number of servings into Calorie Count. 
It will give you an approximate calculation.

Need help doing conversions
between cups and grams or any such thing?
Use this site to give you all the different conversions for the different types of ingredients. 
---
PIN this colourful dish for easy access to recipe while pulling out your tomato juice, beef broth and Hungarian paprika...
---
Schwenkbraten recipe that has been a delish hit an alle familien & freunde... Total Approx. Time: Prep: 15 min. + Marinating 8 hrs min. + Grill: 15 min.

My Oma made this cake every Christmas. She iced it with a white frosting that ran down the sides. She decorated it with little silver balls (candy). It
---
Words to the Wise
"For wisdom is far more valuable than rubies. Nothing you desire can compare with it."
Proverbs 8:11 (NLT)
---
Traditional German Goulash Soup made Just like Oma


By
Oma Gerhild Fulson
This goulash soup is one of my most traditional German soups. It's one I often make when I have company coming over and need something easy to prepare ahead.

Ingredients:
beef,
onions,
clove,
tomato juice,
For the full recipe, scroll up ...