German Pancake Soup Recipe ~ Oma's Flädlesuppe
➤ by Gerhild Fulson
This German pancake soup recipe, Flädlesuppe, is a comfort food that many Germans recall from their childhood. It's literally just a hearty broth poured over rolled crepe-like pancakes. And .... it's heavenly!
To the unimaginative, this sounds really strange. But, in reality, it's more like quick homemade noodles in a broth. But, in true reality, it's much more than that.

For the full list of ingredients & detailed instructions, see the recipe card at the end of this post. But before you scroll, there's important & interesting stuff to know right below.
Stemming from the Swabian area (central and southeastern Baden-Württemberg and the southwest of Bavaria) in the southern part of Germany, cutting leftover thin savory pancakes (sort of like crepes), and using them as quick noodles to add to a simple rich broth, was (and still is) a simple, yet wonderful way to serve delicious comfort.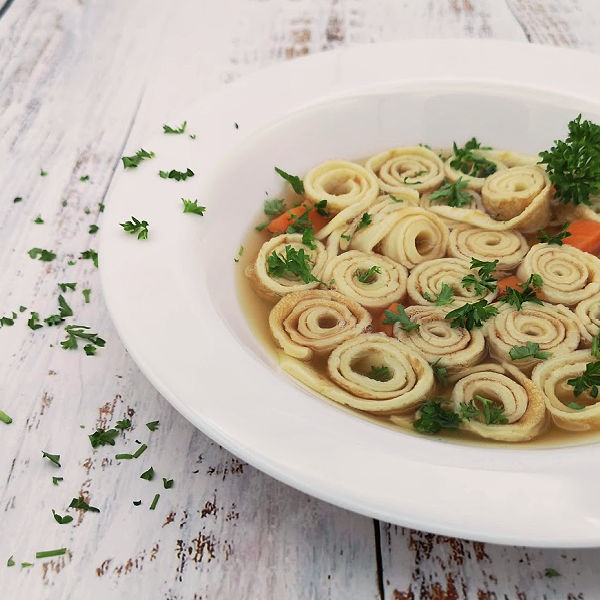 Usually a simple beef broth is used. Other times, thin matchsticks of carrots, celery root, or leeks are quickly cooked in the broth and included in the finished soup. Always though, fresh parsley or chives finishes the dish.
The usual way of making these is to make extra pancakes (without sugar) the day before. That way, when you want to make a quick soup the next day, you're ready to go. Easiest is to heat some purchased broth (the best quality you can buy, not the cheap kind). Cut up the pancakes and put into a bowl. Pour the hot broth over and sprinkle with herbs. Easy. Quick.
However, sometimes the craving for the soup comes and there aren't any leftover pancakes waiting to be used. So it's a quick recipe even from scratch, that really only takes a couple of minutes to make and heating the broth. Lunch is ready!
Grab your copy of Oma's favorite soups collection in Quick Fix German Soups e-Cookbook. You'll LOVE it!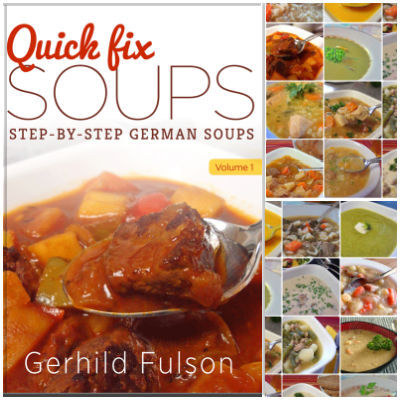 Take a peek at all Oma's eCookbooks. They make sharing your German heritage a delicious adventure!
Oma says,
Let me tell you about the first time I served this to my husband. Although he's also born in Germany and lived there for part of his childhood, he didn't know about this German pancake soup recipe.
In fact, I didn't either. My parents came for the northern part of Germany, so it wasn't until much later in my life that I heard about this unusual soup. 
As I was making it for the very first time, I got to the point where I had the ribbons of pancakes in the bowl and hubby comes in just as I was about to pour the broth over.
He shouted, "Stop!" .... and proceeded to grab the maple syrup from the fridge and poured that over instead. Then, he poured his broth into a soup cup and drank that. He was happy!
However, since then, he's tried the pancake strips in the broth and had to admit that Flädlesuppe actually tasted really good.
---
How to make this German Pancake Soup Recipe:
It's really as simple as making crepe-like pancakes. The batter is fairly thin. It's a straight-forward simple recipe. Flour, egg, milk, and salt. And of course, butter, for frying.

Just give these a quick whisk until a thin batter results.
You'll see that I have an unusual whisk. At one of the Ferienwohnungen (vacation homes) we stayed at, the kitchen had one of these funny looking whisks. 
What they didn't have was a mixer. So when I wanted to make some whipped cream, this is what I had to use. I was surprised how quickly the cream whipped with this. Naturally, my shopping instinct was aroused and I bought one to bring back home with me. 
Once the batter is ready, these Flädle (southern German), Pfannkuchen (northern German), and Frittaten (Austrian) are fried in some butter (for flavor, it really does need to be butter). 
You'll get enough to easily serve 4 people and probably have pancakes left over. They are delicious spread with jam and rolled up. Yum.
Once you have a nice pile of crepes, I mean pancakes, I mean Flädle, start rolling them up.
Roll them up quite tightly and then cut into strips. You can cut them as wide or as narrow as you like. These are how I do mine:
Place the tightly rolled strips of pancake into the bottom of each bowl. The one I was cutting here started to unroll as I took the photo. Right after clicking the photo, I rerolled it so that the 'noodles' look like the rest in the bowl.
Make sure your broth is ready ... steaming hot. 
Then pour the steaming hot broth over the 'noodles'. A sprinkle of fresh herbs as a garnish and serve immediately.

What type of Broth to use?
Mostly, a rich beef broth is used for this German pancake soup recipe, but chicken stock is wonderful as well. Vegetable broth works too. Whatever your favorite is, that's what you should use.

Some people like to cook julienned veggies in the broth first. Some steam veggies separately and add them to the finished bowl. Others even add little pieces of leftover meat. Check the seasoning of the broth to make sure it's perfect, perhaps finishing with a bit of Maggi, nutmeg and/or freshly ground black pepper.
Make sure the broth is steaming hot so that it will warm the noodles in the bowls and serve immediately.
What's the difference between stock and broth?
Basically, stock is made by boiling bones and broth is made by boiling meat with veggies. The stock will be slightly 'thicker' from the collagen-rich bones (it will gel when cold). 
What do I do? Mine is often a mix of broth and stock together. If I have a nice bone with meat on it, I'll use that to make this. To get a darker color, I'll brown the meat and/or roast the bones first. Browning a halved onion first before filling the pot with water and bones/meat, gives a nice brown color and flavor as well.
Which to use for this pancake soup? Your choice. Traditionally, it would be broth, but I've used both. Again, choose whichever you like best. The main thing is that it tastes rich and flavorful, since the pancakes will add little additional flavor to the soup.
Ready to make this Flädlesuppe?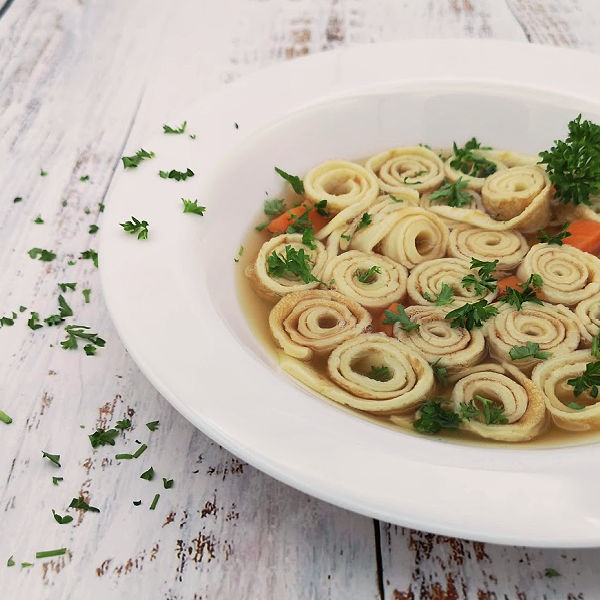 German Pancake Soup Recipe ~ Oma's Flädlesuppe

Flädlesuppe, German pancake soup, is a comfort food that many Germans (esp Swabians) recall from their childhood. It's literally just a hearty broth poured over rolled crepe-like pancakes. And .... it's heavenly! 
Prep Time


5 minutes


Cook Time


10 minutes


Total Time

15 minutes

Servings:

Makes 4 servings
Ingredients:
½ cup (65 grams) all-purpose flour
1 pinch salt
1 large egg
½ cup (120 milliliter) milk

1 tablespoon (14 grams) butter or oil
4 cups (960 milliliters) broth (beef, chicken, or vegetable)
parsley or chives for garnish
Instructions:
Mix the flour, salt, egg, and milk together in a bowl, making a fairly liquid batter.
Melt the butter in a non-stick saucepan. Pour a couple of spoonfuls of batter and immediately swirl/tilt the pan so that the batter forms a thin layer over the bottom. 
Fry until lightly golden, just a few minutes, flip and fry other side about 30 seconds. Remove to plate and repeat with remaining dough. You may need to add a bit more butter.
Let the pancakes cool while you heat the broth to simmering. Adjust the seasonings, if needed.
Roll each pancake and cut into thin slices. Place the rolled up slices in the bottom of each bowl (usually 1 pancake each).
Pour the hot broth over top, garnish with parsley or chives and serve immediately.
Notes/Hints:

Alternatively, cook julienned veggies, such as carrots, celery root, or leeks in the broth first.
Steam veggies separately and add them to the finished soup. 
Add little pieces of leftover meat. 
Season the broth with Maggi, nutmeg and/or freshly ground black pepper.
*  *  *  *  *

Unless otherwise noted recipe, images and content © Just like Oma | www.quick-german-recipes.com

Leave a comment about this recipe or ask a question?

Pop right over to my private Facebook group, the Kaffeeklatschers. You'll find thousands of German foodies, all eager to help and to talk about all things German, especially these yummy foods. 
Meet with us around Oma's table, pull up a chair, grab a coffee and a piece of Apfelstrudel, and enjoy the visit.

Oma's German schnitzel recipe (Schweineschnitzel) is great if you need something delicious that's quick to make as well. So traditionally German and so WUNDERBAR!

Need ideas for what to serve with burgers? Everyone loves a lecker hamburger done on the summer BBQ. But what to serve alongside? Check out these great options!

Oma's baked pork chops with sauerkraut is an easy German dinner that's quick to make. Adding both browned onion rings and apples are scrumptious additions to this traditional meal.
*  *  *  *  *
PIN to SAVE this recipe to your Pinterest board!
And let's be friends on Pinterest!
---
German Pancake Soup Recipe ~ Oma's Flädlesuppe
By
Oma Gerhild Fulson
This German Pancake Soup recipe, Flädlesuppe, is a comfort food that many Germans (esp Swabians) recall from their childhood. A hearty broth poured over rolled crepe-like pancakes. Heavenly!
Ingredients:
flour,
salt,
egg,
milk,
butter,
broth,
For the full recipe, scroll up
Words to the Wise
"Guard your heart above all else, for it determines the course of your life."
Proverbs 4:23 (NLT)