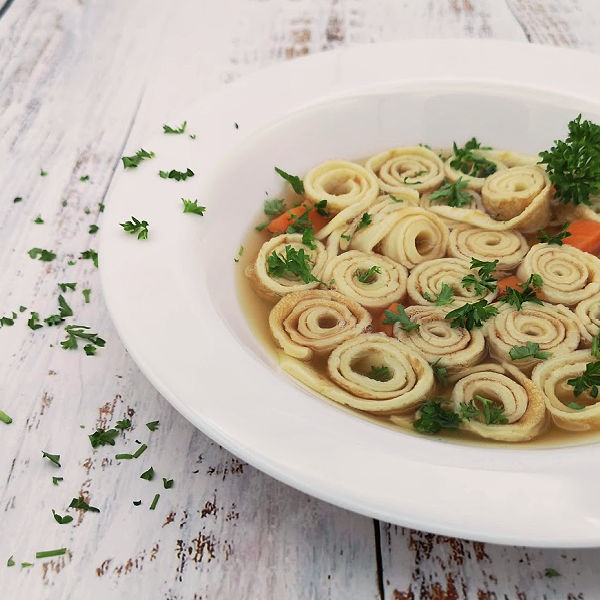 German Pancake Soup Recipe ~ Oma's Flädlesuppe

Flädlesuppe, German pancake soup, is a comfort food that many Germans (esp Swabians) recall from their childhood. It's literally just a hearty broth poured over rolled crepe-like pancakes. And .... it's heavenly! 
Prep Time


5 minutes


Cook Time


10 minutes


Total Time

15 minutes

Servings:

Makes 4 servings
Ingredients:
½ cup (65 grams) all-purpose flour
1 pinch salt
1 large egg
½ cup (120 milliliter) milk

1 tablespoon (14 grams) butter or oil
4 cups (960 milliliters) broth (beef, chicken, or vegetable)
parsley or chives for garnish
Instructions:
Mix the flour, salt, egg, and milk together in a bowl, making a fairly liquid batter.
Melt the butter in a non-stick saucepan. Pour a couple of spoonfuls of batter and immediately swirl/tilt the pan so that the batter forms a thin layer over the bottom. 
Fry until lightly golden, just a few minutes, flip and fry other side about 30 seconds. Remove to plate and repeat with remaining dough. You may need to add a bit more butter.
Let the pancakes cool while you heat the broth to simmering. Adjust the seasonings, if needed.
Roll each pancake and cut into thin slices. Place the rolled up slices in the bottom of each bowl (usually 1 pancake each).
Pour the hot broth over top, garnish with parsley or chives and serve immediately.
Notes/Hints:

Alternatively, cook julienned veggies, such as carrots, celery root, or leeks in the broth first.
Steam veggies separately and add them to the finished soup. 
Add little pieces of leftover meat. 
Season the broth with Maggi, nutmeg and/or freshly ground black pepper.
*  *  *  *  *

Unless otherwise noted recipe, images and content © Just like Oma | www.quick-german-recipes.com