Mutti's Beef Noodle Soup ❤️
➤ by Oma Gerhild Fulson
FTC Disclosure: Making a purchase via a link on the page? I may earn a small commission on the transaction - at no added cost to you. Thanks!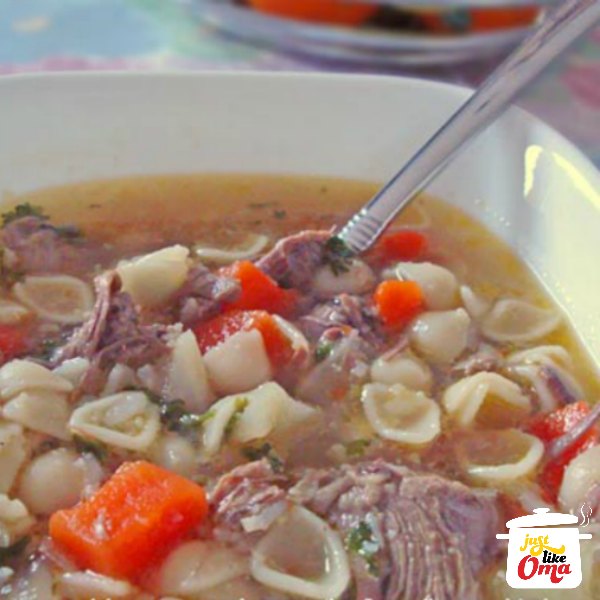 Beef noodle soup, aka Rinder-Nudelsuppe, either made with egg noodles or small pasta shapes, is such an easy and hearty soup to make. Kids love it! Adults love it! You'll love it! Great recipes like this get handed down from generation to generation. This rich beef broth with egg noodles was one of my Mutti's best soups that she learned from her Mutti. And, NOW, I'm handing it down to you!

Do check out the many variations given in the "a bit of this and a bit of that" below this soup recipe.

Mutti's Beef Noodle Soup ❤️

Ingredients:
2½ lb beef roast (preferably with bone)
3 - 4 carrots, scraped or peeled, large chunks
bottom end of celery and the top leaves
1 onion, quartered
2 tsp salt
1 tsp peppercorns
2 bay leaves
8 cups water
2 carrots, peeled and chopped
2 stalks celery, chopped
1 cup pasta shells (or noodles)
salt, pepper, fresh parsley, Maggi (optional)
Instructions:
Trim away most of the fat from the roast, but keep the bones which add flavor to the soup.
Put meat, carrot chunks, bottom and leaves of celery, onion, w tsp salt, peppercorns, bay leaves, and water into a large soup pot.
Bring to boil. Cover and simmer 1½ hours or until the meat is tender.
Remove meat, cool, and cut into bite-sized pieces. Strain broth and return broth to pot.
Add chopped carrots and celery.
Bring to boil, cover, and simmer about 15 minutes. Add pasta or noodles. Add cooked meat. Simmer until pasta or noodles are tender, according to package instructions, usually about 5 - 10 minutes.
Season with salt, pepper and Maggi (optional)
Garnish with chopped parsley.
Makes 4 - 6 servings

---
Like the soup above? You'll love looking at and making more of Oma's soups. All so quick and easy!
What makes these soups so wunderbar? They bring back such wonderful memories of my Mutti's kitchen. So, of course, I had to write my own soup e-cookbook to share with my grandchildren. I know you'll LOVE it, too! There are 84 full-color pages filled with step-by-step instructions and hints. Take a quick peek ...
Sharing these soup recipes from my Mutti and Oma to my own young grandchildren ... that's such a delicious way to pass on our German heritage :)
A bit of this and a bit of that ...
Want a different soup? Add a can of diced tomatoes. Adjust seasoning as needed.
As with most recipes using beef in soups, you can use almost any cut of beef, especially if it has bones and a good marbling of fat. I like to use bottom blade, but if something else is on sale, I'll use that.
Looking for recipes with noodles, or pasta, or macaroni? This one can use any of those.
I love to add other veggies to the soup as well. In the pictured soup, I've added some chopped cauliflower. Sliced mushrooms would be nice as well. At other times, I've even added a package of frozen chopped spinach. A can of kale would be great as well :-)
The broth was so rich tasting. Little did I know it was so easy to make this German soup using boiled beef. My boys loved it when I added alphabet pasta (macaroni) or other shaped pastas. New shape, new soup!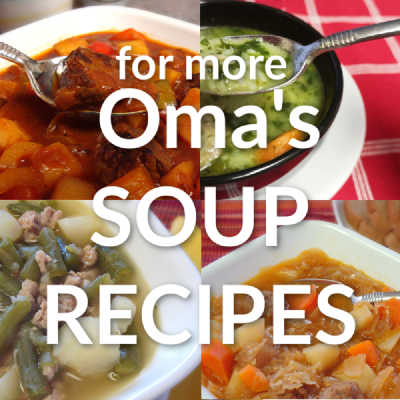 Want to leave a comment about this recipe or ask a question?
Pop right over to my private Facebook group, the Kaffeeklatschers. You'll find thousands of German foodies, all eager to help and to talk about all things German, especially these yummy foods. 
I pop in all the time as well, to chat and to answer questions. 
Meet with us around Oma's table, pull up a chair, grab a coffee and a piece of Apfelstrudel, and enjoy the visit.
*  *  *  *  *
Thinking of starting your own Handmade Business?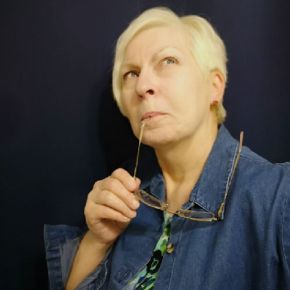 This Oma KNOWS you CAN do it.
How do I know?
Well, if I can do it, anyone can.
I've even figured out how I can help you.
I've teamed up with my own business coach, Renae Christine (yes, do google her!), to bring you this free masterclass. After you watch it, ask me any questions and I'll gladly answer them.
Don't hesitate. I'm not sure how long Renae will keep this free masterclass available.
PS:  Yes, Renae really is as amazing as all the reviews say.
PPS: Yes, the course is for handmade items, but I've used it successfully for my cookbooks. I know others are using her methods for services, direct sales, and even a local ice cream bar & grill that's constantly selling out. You've nothing to lose by taking a look ... and a whole bunch to gain.
*  *  *  *  *
Oma's Cookbooks (downloadable & print)
*  *  *  *  *
Want nutritional information for a recipe?
Copy and paste the ingredient list and the number of servings into Calorie Count. 
It will give you an approximate calculation.

Need help doing conversions
between cups and grams or any such thing?
Use this site to give you all the different conversions for the different types of ingredients. 
---
PIN this ...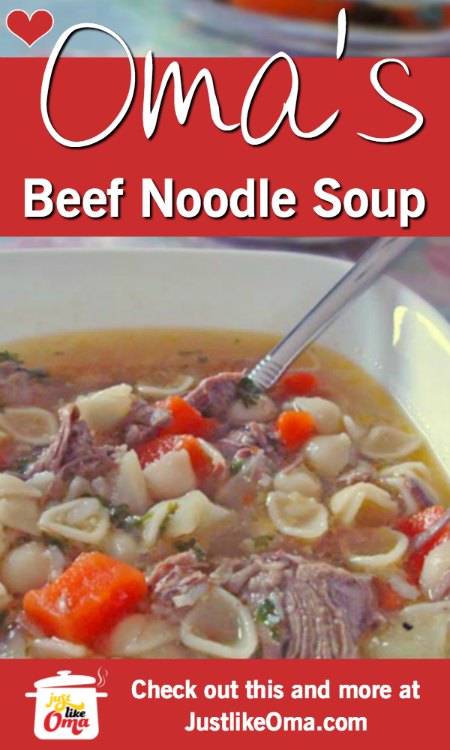 ---
Oma's German schnitzel recipe (Jäger-Schnitzel) is great if you need something delicious that's quick to make as well. So traditionally German and so WUNDERBAR!

Learn how to cook pork hocks, anytime you want something traditionally German and wonderfully delicious! A hearty meal for any time of the year!
---
Words to the Wise
"Don't envy evil people or desire their company. For their hearts plot violence, and their words always stir up trouble."
Proverbs 24:1-2 (NLT)