Oma's Pork Noodle Soup ❤️
➤ by Oma Gerhild Fulson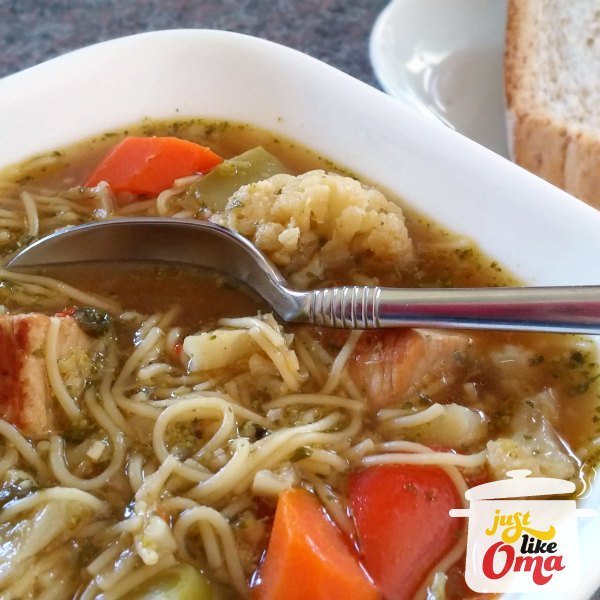 Pork noodle soup, either made with thin egg noodles or small pasta shapes, is such an easy and hearty soup to make. Kids love it! Adults love it! You'll love it! 
What makes this soup so perfect is that you decide what to put into it. Make it with what your family loves. Make it with what's in your fridge.

What makes these soups so wunderbar? They bring back such wonderful memories of my Mutti's kitchen. So, of course, I had to write my own soup e-cookbook to share with my grandchildren. I know you'll LOVE it, too!
There are 84 full-color pages filled with step-by-step instructions and hints. Take a quick peek ...
Sharing these soup recipes from my Mutti and Oma to my own young grandchildren ... that's such a delicious way to pass on our German heritage :)
The following recipe is one I make when I want to have a HUGE pot of soup, either for a party or for a busy, busy week when I need to have quick suppers and lunches available. Thankfully, my hubby doesn't mind left-overs. In fact, he'll often ask if there's any more even after the pot is empty.
I really like to make huge potfuls of soup. Even though it's just my hubby and I, I make this just for us. That way, I've got soup to last the week, for either supper or lunch AND lots to freeze.
As much as I love to cook, I really don't like spending much time doing it. Thankfully, hubby loves leftovers, especially when they taste this great. As we come towards the end of the pot, he's been known to ask for more!
Oma says,
This method works well with beef or chicken as well. It really is easy to make. 

For the starch, you could substitute potatoes, rice, or even some ground flax seeds (if you're on a low-carb diet).
I love the versatility of homemade soups. It really is a bit of this and a bit of that. It's the kind of cooking that I love!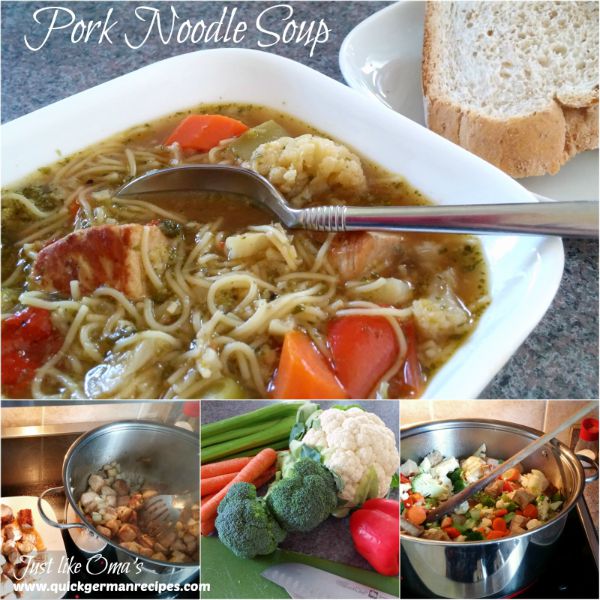 Oma's Pork Noodle Soup ❤️
Ingredients:
4 lb pork (I used boneless pork chops)
Oil for browning
2 onions, chopped
4 - 6 carrots, scraped or peeled, large chunks
4 - 6 celery ribs
2 tsp salt
1 small head cauliflower
1 bunch broccoli
I red pepper
about 3 quarts water
about 250 gm (2 cups) uncooked thin egg noodles
salt, pepper, parsley, Maggi, Montreal Steak Spice, Vegeta
Instructions:

Cut pork into bite-sized pieces.
Pour a bit of oil into large soup pot. 
Over high heat, brown pork in batches. Add chopped onions and return all meat to pot. Cover with water and bring to boil. Reduce heat, cover, and simmer for about 30 minutes.
Meanwhile, prepare all veggies, cutting into bite-sized pieces.
Add veggies to soup pot, add water until most of veggies are covered. Bring to boil, reduce heat, cover, and simmer about 15 minutes or until veggies are tender.
Add egg noodles and continue to simmer for about 5 minutes or until tender.
Season with about 2 tsp salt, freshly ground pepper, 1 Tbsp Montreal Steak Spice, 2 - 3 tbsp Maggie, 1 tbsp Vegeta, and lots of parsley.
Hints:
Change the veggies to what you have available. 
Seasonings are to your taste. Start with a bit and add more as desired.
The Montreal Steak Spice is definitely NOT a German addition. But hubby and I love the extra 'kick' it gives. Omit it if you want a more traditional German taste.
Makes about 7½ quarts of soup (30 cups) 
If you don't have Maggi, Vegeta, and/or Montreal Steak Spice, use whatever spices are your favorites.

Want nutritional information? Copy and paste the above ingredient list and the number of servings into Calorie Count for an approximate calculation.
Need help doing conversions between cups and grams, etc.? Use this site to give you all the different conversions for the different types of ingredients. 
Leave a comment about this recipe or ask a question?
Pop right over to my private Facebook group, the Kaffeeklatschers. You'll find thousands of German foodies, all eager to help and to talk about all things German, especially these yummy foods. 
I pop in all the time as well, to chat and to answer questions. 
Meet with us around Oma's table, pull up a chair, grab a coffee and a piece of Apfelstrudel, and enjoy the visit.
*  *  *  *  *
Want nutritional information for a recipe?
Copy and paste the ingredient list and the number of servings into Calorie Count. 
It will give you an approximate calculation.

Need help doing conversions
between cups and grams or any such thing?
Use this site to give you all the different conversions for the different types of ingredients. 
---
PIN this ...
---
Looking for a German blueberry cake that's so easy to make and so delicious? Look no further. It's here!

This easy recipe for sauerkraut is a staple in our German menu. Delicious with almost anything! This sauerkraut recipe can also be made VEGAN!
---
Words to the Wise
"Justice is a joy to the godly, but it terrifies evildoers."
Proverbs 21:15 (NLT)