Georg's Potato Dumplings ❤️

This recipe for potato dumplings, aka Schlesiche Kartoffelklösse, was sent in by one of our readers, George from Ohio, USA. It's a traditional German food that becomes one of those German side dishes that fits to so many meals.
What's really great about this recipe is that there are so many options. Although most of the potatoes in this recipe are cooked and then riced, the addition, even though it is optional, of the raw potatoes makes this recipe special.
This recipe reminds me of one of my Mom's favorite potato dumplings she made using half raw potaotes and half cooked potatoes.

She called them Halbseidene Kartofelklösse, roughly translated as "half satiny potato dumplings"!

---
Thanks, Georg, for bringing back those memories. Mutti often made them to enjoy when she made Sauerbraten.
In Georg's original post he wrote, "When asked what she wants to eat for any meal, my daughter has been responding "dumplings" since she was 2.
This recipe is my mother's, who grew up in German Oberschlesien before WWII. It is also rather inexact as to amounts, because, well, as she told me many times, you just have a "feel" for it.
The use or exclusion of the optional ingredients changes the texture and color. For instance, the more raw potatoes you use, the "greyer" the dumplings. I have found that kneading the dough for 10 minutes creates a very smooth, almost silky texture. If that's not important to you, knead it less.
In my house, we recognize that the dumplings are different every time - depends on the type and condition of the potatoes, the amounts added for the other ingredients, how long you knead it, etc. - but they're always good."
---
Georg's Potato Dumplings ❤️
Ingredients:
7 medium potatoes
approx. 1 - 1½ cups potato starch
2 tsp salt
Optional:
1 egg
1 - 2 raw peeled and grated potatoes
Instructions:
Peel, boil and rice the potatoes.
In a large mixing bowl, push away the potatoes to create a space that is approximately ¼ of the potatoes.
Fill the space with potato starch. That should be about 1 - 1½ cups, but may be more or less, depending on the size of the potatoes.
Let it cool slightly (20 - 30 minutes), add salt, egg (optional) and raw grated potato(es) (also optional).
Knead as you might bread for 10 minutes. Form into medium balls, then press each ball slightly flat. They should end up about 2.5 inches (diameter) by 1.5 inches (thick).
Boil in salted water. When first added to the pot, they will sink. Boil (rolling boil) for 15 minutes AFTER THEY FLOAT BACK TO THE TOP.
Turn off heat, let stand in hot water for 5 minutes before taking them out of the pot.
Serve with gravy or butter, a roast, rouladen, or whatever you like. Red cabbage is not a must, but doesn't hurt, as well as some nice steamed green beans.
They are even better the next day sliced and fried! Mmmm!
This recipe will make approximately 15 medium dumplings.

Leave a comment about this recipe or ask a question?
Pop right over to my private Facebook group, the Kaffeeklatschers. You'll find thousands of German foodies, all eager to help and to talk about all things German, especially these yummy foods. 
I pop in all the time as well, to chat and to answer questions. 
Meet with us around Oma's table, pull up a chair, grab a coffee and a piece of Apfelstrudel, and enjoy the visit.
*  *  *  *  *
Thinking of starting your own Handmade Business?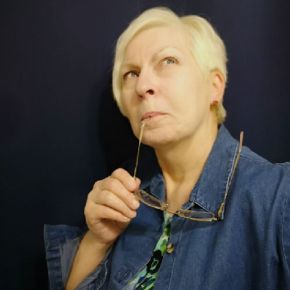 This Oma KNOWS you CAN do it.
How do I know?
Well, if I can do it, anyone can.
I've even figured out how I can help you.
I've teamed up with my own business coach, Renae Christine (yes, do google her!), to bring you this free masterclass. After you watch it, ask me any questions and I'll gladly answer them.
Don't hesitate. I'm not sure how long Renae will keep this free masterclass available.
PS:  Yes, Renae really is as amazing as all the reviews say.
PPS: Yes, the course is for handmade items, but I've used it successfully for my cookbooks. I know others are using her methods for services, direct sales, and even a local ice cream bar & grill that's constantly selling out. You've nothing to lose by taking a look ... and a whole bunch to gain.
*  *  *  *  *
Oma's Cookbooks (downloadable & print)
*  *  *  *  *
Want nutritional information for a recipe?
Copy and paste the ingredient list and the number of servings into Calorie Count. 
It will give you an approximate calculation.

Need help doing conversions
between cups and grams or any such thing?
Use this site to give you all the different conversions for the different types of ingredients. 
---
---
Try this slow cooker roast beef and you'll be amazed at how much this tastes like rouladen WITHOUT the work.

Learn how to cook pork hocks, anytime you want something traditionally German and wonderfully delicious! A hearty meal for any time of the year!
---
Words to the Wise
"A person who promises a gift but doesn't give it is like clouds and wind that bring no rain."
Proverbs 25:14 (NLT)