Oma's Cream of Mushroom Soup Recipe ❤️
➤ by Oma Gerhild Fulson
FTC Disclosure: As an Amazon Associate, I earn from qualifying purchases.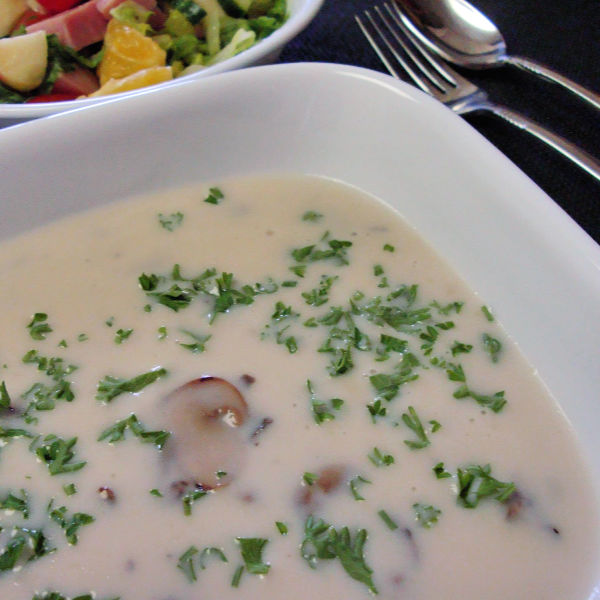 Looking for a German cream of mushroom soup recipe, aka Champignon-Cremesuppe, that is quick and easy?
Here, you'll find one way of how to cook mushrooms that makes a soup that is so delicious. It's made from scratch but really is easy.
Dress it up with a swirl of cream, some raw mushroom slices and chopped parsley. Or, you could slightly fry some sliced mushrooms, if you prefer, and garnish with them.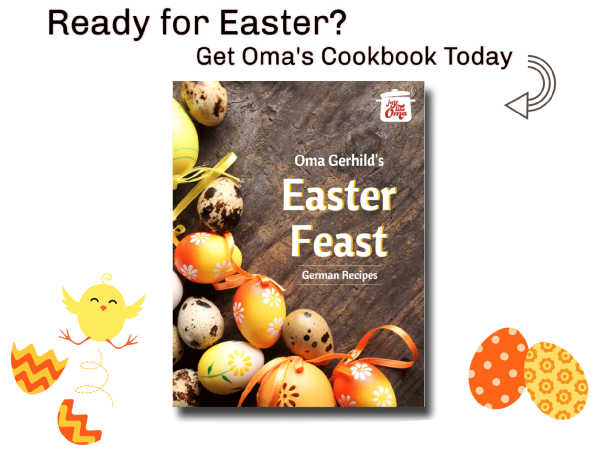 Want super quick and easy? Below this recipe, you'll to find a link to a soup that uses both fresh mushrooms and canned soup?!?
It's my Mutti's creation of one of her best quick and easy soup recipes. Absolutely delicious and nutritious as well. But first, take a look at my cream of mushroom soup recipe and see how easy it is.

What makes these soups so wunderbar? They bring back such wonderful memories of my Mutti's kitchen. So, of course, I had to write my own soup e-cookbook to share with my grandchildren. I know you'll LOVE it, too!
There are 84 full-color pages filled with step-by-step instructions and hints. Take a quick peek ...
Sharing these soup recipes from my Mutti and Oma to my own young grandchildren ... that's such a delicious way to pass on our German heritage :)
A bit of this and a bit of that ...
> Add a swirl of whipping cream (heavy cream) to each bowl.
> Cooking mushrooms this way by chopping them finely and simmering them is great for those who don't like the 'mushroom feel' in their mouth, but like the flavour.
> Vegetarian? Use vegetable stock instead of chicken stock.
> Use a good quality chicken stock or, if you go vegetarian, use a vegetable stock. Don't have that available, then use water and bouillon cubes. Works great as well.
---
Oma says,
Looking for a cream of mushroom soup that's even quicker and easier?
Check out this homemade mushroom soup that I learned from my Mutti. She used canned soup .... YES, CANNED CREAM OF MUSHROOM SOUP .... and FRESH mushrooms for this ... and it tastes fantastic!
---
Some Mushroom Facts
Did you know that mushrooms are a great source of B vitamins, such as riboflavin and niacin.
What a great way to include these nutrients in your soup. Ready to make this? 

---
Oma's Cream of Mushroom Soup Recipe ❤️
Ingredients:
12 oz button mushrooms
1 small onion, finely chopped
2 tbsp butter
1 tbsp flour
3¾ cups chicken stock
1¾ cups milk
salt, pepper, nutmeg
parsley to garnish
Instructions:
Clean mushrooms. Remove 2 nice ones to keep for garnish. Finely chop the remaining mushrooms.
In a large saucepan, sauté the onion and mushrooms in butter for about 4 - 5 minutes.
Add the flour and stir well. Cook for another minute.
Remove saucepan from heat. Add the stock and the milk, stirring well.
Return to heat and cook over medium heat until soup thickens, stirring constantly.
Season with nutmeg, salt, and pepper. Cover and simmer about 15 minutes.
Meanwhile, slice reserved mushrooms.
Serve, garnished with parsley and sliced mushrooms.
Makes 4 servings

Want nutritional information? Copy and paste the above ingredient list and the number of servings into Calorie Count for an approximate calculation.
Need help doing conversions between cups and grams, etc.? Use this site to give you all the different conversions for the different types of ingredients.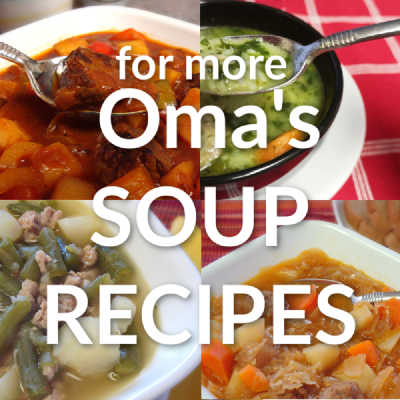 Leave a comment about this recipe or ask a question?
Pop right over to my private Facebook group, the Kaffeeklatschers. You'll find thousands of German foodies, all eager to help and to talk about all things German, especially these yummy foods. 
I pop in all the time as well, to chat and to answer questions. 
Meet with us around Oma's table, pull up a chair, grab a coffee and a piece of Apfelstrudel, and enjoy the visit.
*  *  *  *  *
Want nutritional information for a recipe?
Copy and paste the ingredient list and the number of servings into Calorie Count. 
It will give you an approximate calculation.

Need help doing conversions
between cups and grams or any such thing?
Use this site to give you all the different conversions for the different types of ingredients. 
---
PIN this ...
---
Cheese Spätzle is a traditional German noodle dish. A sort of Germanized version of 'Mac & Cheese', only better!

This Butterkuchen, also called Sugar Cake (Zuckerkuchen), a traditional German cake served for afternoon coffee. Loved by all, easy to make, delicious to eat!
---
Words to the Wise
"A fool is quick-tempered, but a wise person stays calm when insulted."
Proverbs 12:16 (NLT)