Anna's Cream of Broccoli Soup ❤️

➤ by Oma Gerhild Fulson
Anna's broccoli soup aka Brokkolisuppe is so quick and easy to make. It's creamy and so flavorful, it'll become one of your favorite easy soup recipes. 
Need a quick lunch?
Need a light supper?
This cream soup fits the bill. You can make it within about 30 minutes. Crushed garlic is usually added to the onions when you are cooking them. This I leave out (Hubby's not too fond of garlic, so I seldom use it).
If you're wanting something just a bit richer and creamier, then you'll want to try Andy's Broccoli Cheese Soup ... a favorite of my granddaughters.

What makes these soups so wunderbar? They bring back such wonderful memories of my Mutti's kitchen. So, of course, I had to write my own soup e-cookbook to share with my grandchildren. I know you'll LOVE it, too!
There are 84 full-color pages filled with step-by-step instructions and hints. Take a quick peek ...
Sharing these soup recipes from my Mutti and Oma to my own young grandchildren ... that's such a delicious way to pass on our German heritage :)
Broccoli Soup Tips
If you prefer a soup with a bit of "bite", you can omit the blending step and serve the soup as a chunky-style soup.
What makes this soup "German". Well, it's using nutmeg as one of the spices and, then, of course, there's the addition of the sour cream! Germans love their cream. The richer, the better. If you'd rather, you can cut the fat level of the sour cream.
Another option is to replace some of the broth with 10% or 5% cream or milk. Each lowering of the "fat" level will reduce the creaminess of the soup, but it'll still taste great.
If you find the soup is too thin (if you added cream or milk), you can thicken it with some cornstarch dissolved in a bit of cold water and added at the end until you have the right consistency.
---
Oma says,
If you've never before used this wonderful green veggie, this is an easy recipe to learn how to cook broccoli.
To prepare the broccoli, trim off the ends of the stalks. Cut off the stalks and chop the rest of the broccoli. Take the stalks and peel them. Then, chop the stalks and add them as well.
For the broth, you can use water and bouillon cubes. I like using a mixture of chicken and vegetable cubes, but one or the other would work as well.
---
Anna's Cream of Broccoli Soup
Ingredients:
1 onion, diced
2 tbsp olive oil
2 potatoes, cubed
1½ lb broccoli (chopped)
5 cups broth (chicken and/or vegetable)
salt, pepper, nutmeg
1 cup sour cream
Instructions:
In a large saucepan, sauté the onion in the olive oil until translucent, but not browned.
Add potatoes, broccoli, and broth.
Bring to boil and simmer about 15 minutes or until vegetables are tender.
Using an immersion blender, cream the soup. If you want a really silky texture, pour the soup through a strainer and return to the pot.
Season with salt, pepper, and nutmeg.
Stir in the sour cream and readjust seasonings if needed.

Want nutritional information? Copy and paste the above ingredient list and the number of servings into Calorie Count for an approximate calculation.
Need help doing conversions between cups and grams, etc.? Use this site to give you all the different conversions for the different types of ingredients.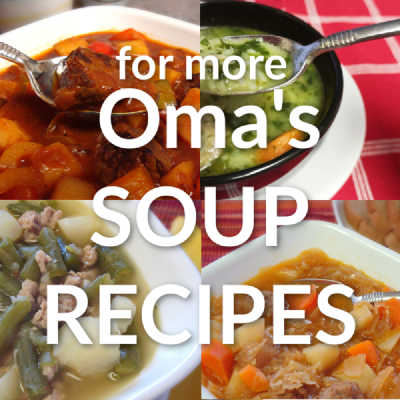 Leave a comment about this recipe or ask a question?
Pop right over to my private Facebook group, the Kaffeeklatschers. You'll find thousands of German foodies, all eager to help and to talk about all things German, especially these yummy foods. 
I pop in all the time as well, to chat and to answer questions. 
Meet with us around Oma's table, pull up a chair, grab a coffee and a piece of Apfelstrudel, and enjoy the visit.
*  *  *  *  *
Want nutritional information for a recipe?
Copy and paste the ingredient list and the number of servings into Calorie Count. 
It will give you an approximate calculation.

Need help doing conversions
between cups and grams or any such thing?
Use this site to give you all the different conversions for the different types of ingredients. 
---
PIN this ...
---
This German sourdough whole grain no knead bread recipe is so delicious and so healthy. Learn this basic method and then alter it to suit your needs. Healthy never tasted this good!

Want a Rhubarb Cake recipe that tastes just like Oma's? Not too sweet, but wunderbar? Try my Rhubarb Streusel Cake that's super quick and easy to make.
---
Words to the Wise
"Telling lies about others is as harmful as hitting them with an ax, wounding them with a sword, or shooting them with a sharp arrow."
Proverbs 25:18 (NLT)