Oma's Red Lentil Soup Recipe (x2) ❤️

➤ by Oma Gerhild Fulson
FTC Disclosure: As an Amazon Associate, I earn from qualifying purchases.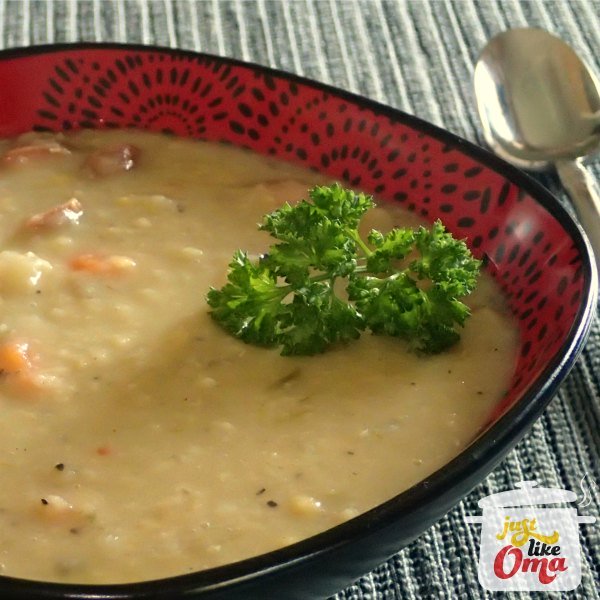 A hearty red lentil soup recipe, aka Rote Linsensuppe, is so easy to make. In fact, I giving two recipes that both cook in 30 minutes. Once cooked, the red lentils take on a reddish-golden color and taste similar to yellow split pea soup. It's a staple in winter, but is good all year round. 
You can use many types of meat such as smoked meat, kielbasa, sausage, ham, or even any kind of wieners you may have. Wunderbar!

Like the soup shown here? You'll love looking at and making more of Oma's soups. All so quick and easy!
What makes these soups so wunderbar? They bring back such wonderful memories of my Mutti's kitchen. So, of course, I had to write my own soup e-cookbook to share with my grandchildren. I know you'll LOVE it, too!
There are 84 full-color pages filled with step-by-step instructions and hints. Take a quick peek ...
Sharing these soup recipes from my Mutti and Oma to my own young grandchildren ... that's such a delicious way to pass on our German heritage :)
A bit of this and a bit of that ...
Like a bit of spice? I love adding Montreal Steak Spice to my soups, and that's what I added here. Don't like it too spicy? Then just omit this and season will with salt and pepper.
Can't buy Vegeta Food Seasoning? Then season with extra salt and pepper. Perhaps some paprika would be nice. Or, use a seasoning salt that you have on hand.
How to make this within 30 minutes? Put the kettle on to boil first. Put oil in saucepan and turn on. Meanwhile dice onion. Add onion to saucepan. While that is sautéing, dice the carrots and celery. Add to saucepan and crush garlic on top. Stir. Add boiling water and you're on your way for making this red lentil soup recipe!
Lentils .... red, green, grey ...
The only lentil soup I grew up with was made with grey/green lentils. It's all my Mutti made.
So, it was all I made until just a few years ago. That's when I discovered these wonderful red lentils. Not only healthy, these cook up so quickly and are so mild in flavor. Everyone loves these soups!
Oma says,
Cut the meat into bite-sized pieces. If you want to leave the sausage whole for serving, pierce it several times to let flavors mingle into the soup.
When I normally think of lentil soup, I know I'll be adding vinegar to my bowl of soup. Just not with this soup. Red lentils are very delicate in flavor and the vinegar would overpower it. Vinegar goes with green or brown lentil soup, not the red (at least in my opinion!)
Then why use red? They cook so much quicker!
How to make soup ... my way ... your way
Basically, I looked what was in my crisper and cleaned it out with this soup. If I only would have had 1 carrot and the bottom of the celery stalk and perhaps a parsnip or two, that's what I would have used. If no celery, I would have added some celery seed to the soup, about 1/2 tsp.
I think about similar cooking times and most root vegetables are similar. Sautéing all the veggies first heightens the flavor, so that's what I did. If I didn't have time for that, I'd skip that step. 
If needed, I would add a bouillon cube, but this time I didn't need it. The Vegeta Food Seasoning added a really nice taste.
For the meat, I looked into my freezer to see what needed to be used. This time it was some cooked Bavarian White Sausage ... an unusual choice, but, it worked. They tasted like regular wieners in this soup. If I would have had some cooked beef, or pork, or kielbasa, or ham ... that would have been really nice as well.
That's my thinking process when creating my own soups. Rarely do I get exactly the same flavor twice. And that's OK. This time, I noted what I used so that I could share it with you, my very own red lentil soup recipe.
Be creative. It's fun
1.  Oma's Red Lentil Soup Recipe ❤️

Ingredients:
1 package (1 lb) red lentils, rinsed

8 cups water

2 - 3 vegetable bouillon cubes

1 onion, large dice

2 carrots, large dice

1 - 2 stalks celery, large dice

2 - 3 raw potatoes, large dice

1 lb (approx.) meat (such as smoked meat, kielbasa, sausage, ham, or wieners )

salt, pepper

Instructions:
Put rinsed lentils in large stock pot. Add water, bouillon cubes, onion, carrots, celery, potatoes, and meat.

Bring to boil. Cover and simmer for at least 20 minutes, stirring occasionally.

Season to taste.

Hints:
If soup is too thick, add extra water. If it's too thin, stir in some instant mashed potato flakes.

You can adjust the quantities of potatoes, onions, carrots, celery, and onion to your taste.

If you like, add some chopped garlic or garlic powder.

Green (or brown) lentil soup is made the same way - you may need to add extra water. This will also take longer to cook - I usually simmer this for about one hour. Stir occasionally.

Check out this vegan lentil soup that I make this one in the slow cooker.
Instead of the bouillon cubes, I often just use Vegeta powder to taste, before I season with salt.
2.  German Red Lentil Soup Recipe ❤️
Ingredients:
2 - 3 tbsp olive oil
1 medium onion, diced
4 carrots, diced
4 stalks celery, diced
2 cloves garlic, crushed
8 cups water, hot or boiling
2 cups rinsed red lentils
3 bay leaves
pinch curry powder
Montreal Steak Spice (about 1 tsp)
1 tbsp Vegeta* Food Seasoning
smoked sausages or wieners (about 3 or 4)
salt, pepper
Instructions:
Heat the oil in a large saucepan. Sauté onions until translucent.

Add carrots, celery and garlic. Continue sautéing for several minutes.

Add hot water, lentils, bay leaves and pinch curry powder.

Bring to boil, reduce heat to a simmer, cover, and cook for about 20 minutes or until lentils are soft and veggies are tender.

Add sliced sausages or wieners. Simmer for a few minutes to heat the meat.

Season with salt, pepper and Montreal Steak Spice.

Remove bay leaves and serve.

Makes 8 servings

---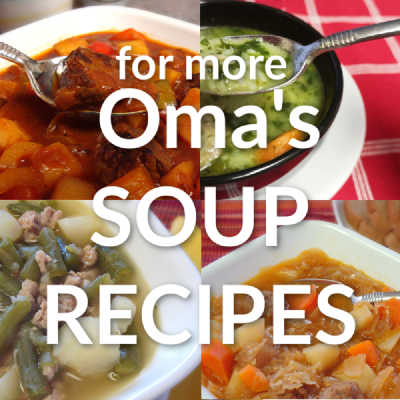 Leave a comment about this recipe or ask a question?
Pop right over to my private Facebook group, the Kaffeeklatschers. You'll find thousands of German foodies, all eager to help and to talk about all things German, especially these yummy foods. 
I pop in all the time as well, to chat and to answer questions. 
Meet with us around Oma's table, pull up a chair, grab a coffee and a piece of Apfelstrudel, and enjoy the visit.
*  *  *  *  *
Want nutritional information for a recipe?
Copy and paste the ingredient list and the number of servings into Calorie Count. 
It will give you an approximate calculation.

Need help doing conversions
between cups and grams or any such thing?
Use this site to give you all the different conversions for the different types of ingredients. 
---
PIN this ...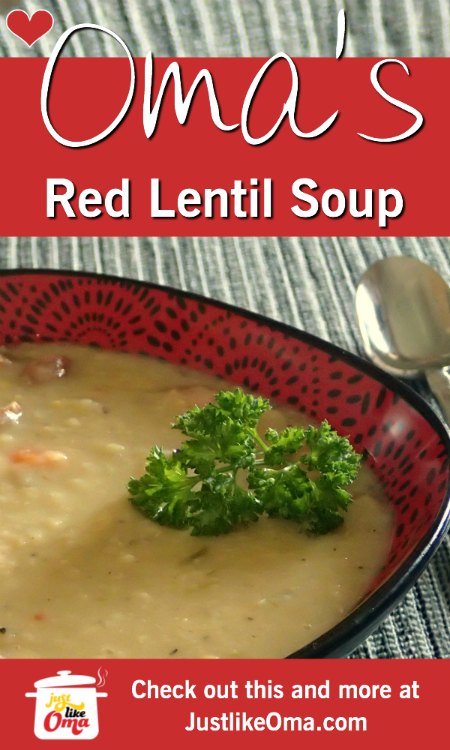 ---
These German gingerbread cookies, or Lebkuchen, are such a traditional cookie to have for Christmas. They're very easy to make, there's no reason to buy them.

Oma's German schnitzel recipe (Jägerschnitzel) is great if you need something delicious that's quick to make as well. So traditionally German and so WUNDERBAR!
---
Words to the Wise
"A cheerful look brings joy to the heart; good news makes for good health."
Proverbs 15:30 (NLT)