Oma's Slow Cooker Split Pea Soup Recipe ❤️
➤ by Oma Gerhild Fulson
FTC Disclosure: Making a purchase via a link on the page? I may earn a small commission on the transaction - at no added cost to you. Thanks!
Yum
This slow cooker split pea soup is so quick to put together in the morning before you leave for the day. Then, when you come home, and you're hungry, dinner's ready! This tastes best if it's cooked with a ham bone. If you don't have that, smoked sausage or kielbasa work well too. (Even a small cooked or smoked ham can be used.)
If you like your soup thinner, add some milk or cream. Want it creamy? Use an immersion blender. Either way, serve this pea soup with some fresh bread, and enjoy!

I love using my new Cuisinart Slow Cooker!    (I gave away my old one!)
Not only is it a slow cooker, but it's a Multicooker!
That means it can be used to quickly brown or sauté the meat  (up to 400 °F) before setting it to slow cook (at various temps) ...
and there's a 'steam' option as well!
With a 24-hour timer and an automatic Keep Warm feature, I LOVE this! Click on the photo for more information!!!!! You'll love using this, just like I do!

Oma's Slow Cooker Split Pea Soup ❤️
Ingredients:
1 cup chopped onion
2 cups (1 lb) split yellow or green peas, washed
1 cup celery, chopped
1 cup carrots, chopped
4 cups potatoes, chopped
meaty ham bone, smoked sausage, or kielbasa (optional)
8 cups water
⅛ tsp each dried savory and dried marjoram
1½ tsp salt
¼ tsp pepper
optional: 1 bay leaf and ⅛ tsp cloves

Instructions:
Put everything in slow cooker.
Cover and cook on LOW for 8 - 10 hours,
If you like it thicker or thinner, see comments above.
Season with extra salt and pepper if needed.
Remove ham bone and bay leaf before serving. If there is any meat on the bone, remove it, dice it, and add it back to the soup. If you used sausage or kielbasa, remove and cut into pieces, and return to the soup.
Hints:
To make the soup extra special, only put about ½ cup chopped onions into the soup. The rest of the onions are browned in butter, and added to the soup just before serving.

Like the soup above? You'll love looking at and making more of Oma's soups. All so quick and easy!
What makes these soups so wunderbar? They bring back such wonderful memories of my Mutti's kitchen. So, of course, I had to write my own soup e-cookbook to share with my grandchildren. I know you'll LOVE it, too! There are 84 full-color pages filled with step-by-step instructions and hints. Take a quick peek ...
Sharing these soup recipes from my Mutti and Oma to my own young grandchildren ... that's such a delicious way to pass on our German heritage :)
Slow Cooker Tips ...
Get the vegetables peeled and chopped the night before, making sure the chopped potatoes are put in a bowl and covered with water so that they don't turn brown. In the morning, just put all the vegetables (drained potatoes), meat, spices, peas, and water into the crock pot and turn on.
You may have to adjust the times to suit your slow cooker. Times will vary with different brands of cookers (crockpots). Keep track of the settings and times you use for the various recipes to help gauge times for new recipes.
If you like your soup thicker, once it is cooked, turn cooker to high, remove lid and simmer till desired consistency is reached. Stir occasionally so that it doesn't stick to the bottom.
Using your slow cooker means you come home to a dinner that's ready to serve.

Quick and Easy! That's the way this Oma loves to cook!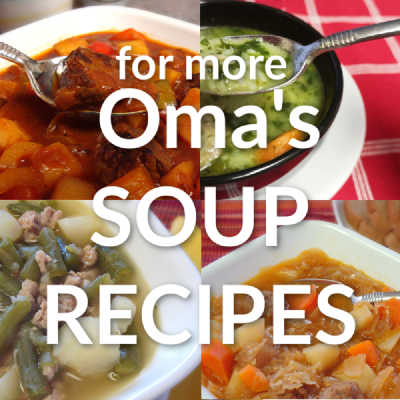 *  *  *  *  *
Thinking of starting your own Handmade Business?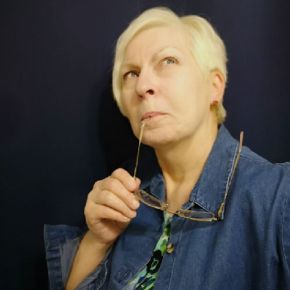 This Oma KNOWS you CAN do it.
How do I know?
Well, if I can do it, anyone can.
I've even figured out how I can help you.
I've teamed up with my own business coach, Renae Christine (yes, do google her!), to bring you this free masterclass. After you watch it, ask me any questions and I'll gladly answer them.
Don't hesitate. I'm not sure how long Renae will keep this free masterclass available.
PS:  Yes, Renae really is as amazing as all the reviews say.
PPS: Yes, the course is for handmade items, but I've used it successfully for my cookbooks. I know others are using her methods for services, direct sales, and even a local ice cream bar & grill that's constantly selling out. You've nothing to lose by taking a look ... and a whole bunch to gain.
*  *  *  *  *
Oma's Cookbooks (downloadable & print)
*  *  *  *  *
Want nutritional information for a recipe?
Copy and paste the ingredient list and the number of servings into Calorie Count. 
It will give you an approximate calculation.

Need help doing conversions
between cups and grams or any such thing?
Use this site to give you all the different conversions for the different types of ingredients. 
---
PIN this
---
Words to the Wise
"Commit your actions to the Lord, and your plans will succeed."
Proverbs 16:3 (NTL)