Oma's Slow Cooker Lentil Soup Recipe
➤ by Gerhild Fulson
Here's a lentil soup recipe, aka Linsensuppe, you can put together quickly in the morning and come home to a delicious dinner. (This Oma just loves slow cooker soups!)  
You can make it a vegan soup or add some meat such as smoked sausage. Either way -- delicious! I like adding tomatoes, a great variation on the traditional lentil soup. If you want really traditional, omit the tomatoes.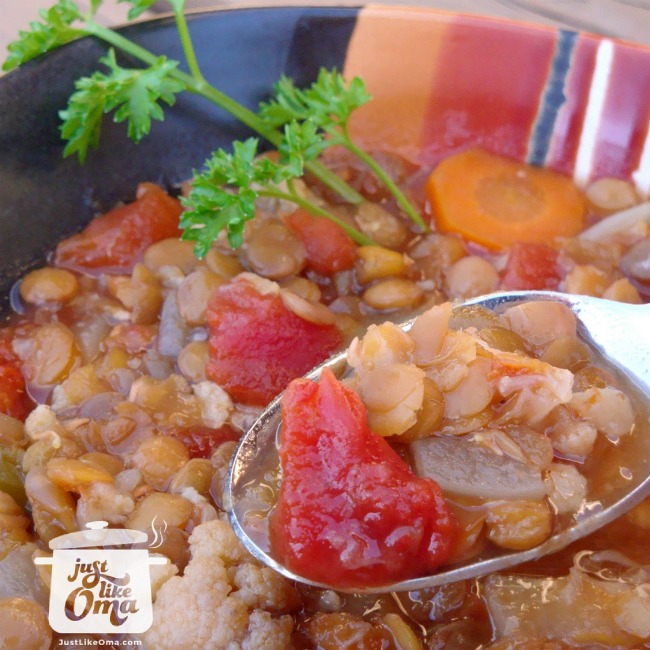 Make this with or without meat. Smoked sausage is wonderful. A slab of smoked bacon with rind is fabulous. Check out the "a bit of this and a bit of that" at the end of the recipe for so many different ways to create your own slow cooker lentil soup recipe.

A bit of this and a bit of that ...
If you don't have vegetable stock, use water and vegetable bouillon cubes using the quantities on the bouillon package to make up 8 cups of stock.
Want some other flavors? The following are nice in this: cumin, coriander, turmeric, thyme, or oregano. Finish off with a bit of lemon juice or vinegar (that's German). Add 1/2 cup chopped fresh cilantro just before serving.
Add a bunch of chopped fresh spinach about 1/2 hour before soup is done for an extra punch of vitamins.
Traditionally, tomatoes and cauliflower are not part of this soup. Potatoes are.
Not vegetarian or vegan? Use chicken stock for a really rich flavor. Also Feta sprinkled on each serving is a treat. Add some smoked sausage or wieners for some hearty flavor!
My Way ...
I usually make this with some kind of meat broth ... adding smoked sausages.
However, if you're into some meatless meals, this one is an easy one to start with.
It's so healthy ... with protein from the lentils ... that you really won't miss the meat.
This is great with any number of veggies added.
Change the spices. Make it your own! Change the way you serve it ... with vinegar or honey!
I love using my Cuisinart multi-cooker slow cooker for this. However, you can cook it on the stove top as well. Plan for about 1 to 2 hours cooking time on a gentle simmer. 
Grab your copy of Oma's favorite soups collection in Quick Fix German Soups e-Cookbook. You'll LOVE it!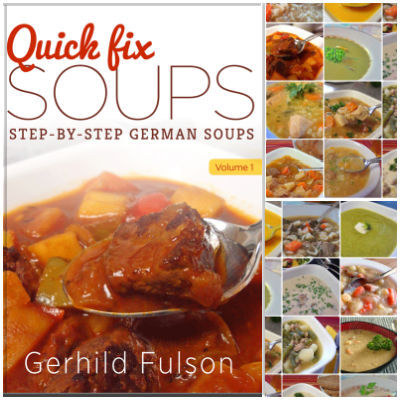 Take a peek at all Oma's eCookbooks. They make sharing your German heritage a delicious adventure!
How to serve Lentil Soup ...
I grew up with adding a spoonful of vinegar to my bowl of soup. So good!
However, my Vati's Mutti would add a spoonful of honey to her bowl. Somehow I never could try it her way. I just loved my 'vinegary' taste too much :)
Are there any other things you add to your lentil soup? Let me know!
---
Oma says:
Looking for other bean soup recipes?

How about a red lentil soup? I've got a one that's so quick to make.
Red lentils will cook in about 1/2 hour and taste much more delicate than the green or brown. 
---
Ready to make Lentil Soup?
Is the recipe below locked? Here's why. Unlock to see ALL the exclusive recipes on this site. Click here for help.
➤ As an Amazon Associate, I earn from qualifying purchases.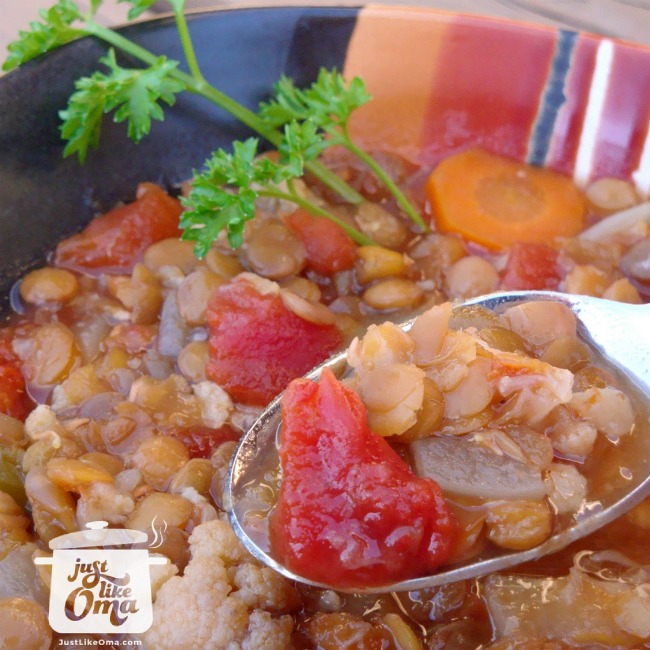 Oma's Slow Cooker Lentil Soup Recipe

Here's a lentil soup recipe, aka Linsensuppe, you can put together quickly in the morning and come home to a delicious dinner. (This Oma just loves slow cooker soups!)  
You can make it a vegan soup or add some meat such as smoked sausage. Either way -- delicious!
Prep Time


10 minutes


Cook Time


4 - 10 hours


Total Time

4 - 10 hours

Servings:

Makes 8 servings
Ingredients:
2 cups green or brown lentils
2 cups chopped carrots
2 cups chopped onions
2 ribs celery, chopped
2 cups chopped cauliflower and/or cubed potatoes
1 clove garlic, minced or crushed
8 cups vegetable stock
28-ounce can diced tomatoes (with juice) (optional)
2 bay leaves
½ teaspoon salt
¼ teaspoon freshly ground pepper
Instructions:
Wash lentils and pick over and remove any little stones, etc., if necessary.
Place everything in slow cooker. 
Cook on high for about 4 hours or on low for 8 to 10 hours or until lentils are soft.
Check seasonings, adding more salt or pepper as needed.
*  *  *  *  *

Unless otherwise noted recipe, images and content © Just like Oma | www.quick-german-recipes.com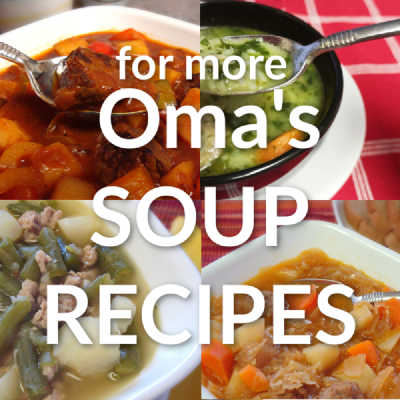 Leave a comment about this recipe or ask a question?

Pop right over to my private Facebook group, the Kaffeeklatschers. You'll find thousands of German foodies, all eager to help and to talk about all things German, especially these yummy foods. 
Meet with us around Oma's table, pull up a chair, grab a coffee and a piece of Apfelstrudel, and enjoy the visit.

Discover the history behind the German Apple Pancake recipe, aka Apfelpfannkuchen. Quick, very easy, and wunderbar! Get Oma's delicious recipe here.

I loved to wander thru Trier in the winter evenings when all was quiet. Usually, on Friday nights around Christmas, there would be a small band playing
*  *  *  *  *
PIN to SAVE this recipe to your Pinterest board!
And let's be friends on Pinterest!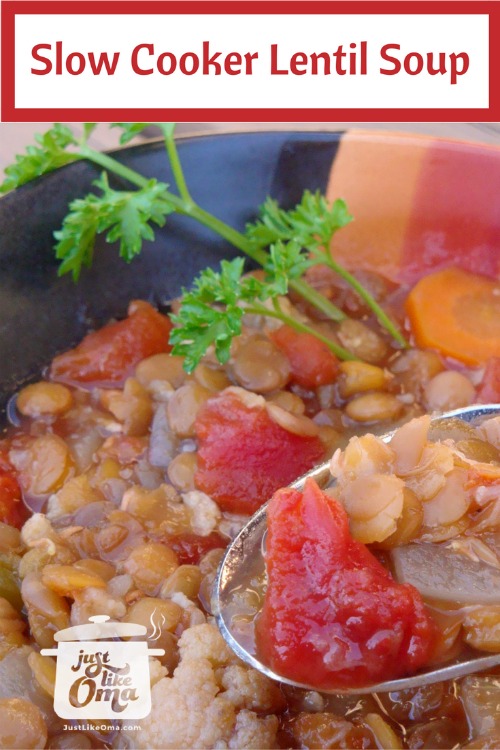 ---
Slow Cooker Lentil Soup Recipe made Just like Oma


By
Oma Gerhild Fulson
Here's a lentil soup recipe you can put together quickly in the morning and come home to a delicious dinner. Make it vegan or add some meat. Either way -- delicious!

Ingredients:
lentils,
carrots,
celery,
potatoes,
garlic,
vegetable stock,
diced tomatoes,
seasonings,
onion,
For the full recipe, scroll up ...
Words to the Wise
"The crooked heart will not prosper; the lying tongue tumbles into trouble."
Proverbs 17:20 (NLT)