Andy's Broccoli Cheese Soup Recipe ❤️
➤ by Oma Gerhild Fulson
FTC Disclosure: As an Amazon Associate, I earn from qualifying purchases.
Need a broccoli cheese soup recipe, aka Brokkoli-Käse-Suppe, that's easy to make? Delicious and creamy? This one's among my hubby's favorites ... one that gets rave reviews every time I make it!
My hubby, Andy, is a great food critic. He knows when something is good. He knows when something is very good. He knows when something is great.
This easy broccoli cheese soup recipe is in the GREAT category!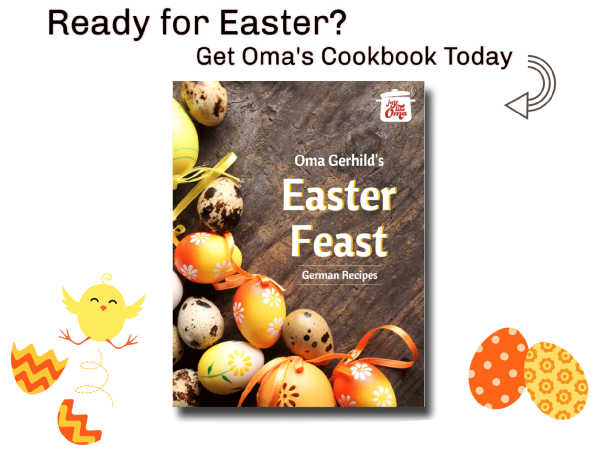 My granddaughter loves ordering broccoli cheese soup whenever she goes to her favorite restaurant.
So, I did some research and experimentation, and this creamy, rich broccoli cheese soup is the winner! And, having cream, nutmeg, and Emmentaler cheese.... well ... it's got to be German! :)
What makes these soups so wunderbar? They bring back such wonderful memories of my Mutti's kitchen. So, of course, I had to write my own soup e-cookbook to share with my grandchildren. I know you'll LOVE it, too!
There are 84 full-color pages filled with step-by-step instructions and hints. Take a quick peek ...
Sharing these soup recipes from my Mutti and Oma to my own young grandchildren ... that's such a delicious way to pass on our German heritage :)
A bit of this and a bit of that ...
> Don't have an immersion blender? Carefully pour hot soup into blender and puree. Then, return to the pot and reheat gently if needed.
> Want to keep the calories down. Omit the cream and add an extra cup of milk or chicken stock.
> Use any kind of melting cheese.
Did  you know ...
Broccoli is high in vitamin C as well as dietary fiber. It is also rich in lutein. For the best nutrient punch, it is best eaten raw or slightly steamed.
If your broccoli has been sitting in the fridge for a while and doesn't look like it would be nice for a salad, then making this soup is one of those easy vegetable recipes that would be a great way of using a less-than-fresh veggie.
---
Oma says,
I was looking for an easy broccoli recipe, something a bit different, but still German. This soup was the result. With such easy lunch ideas as this one, you'll treat your family like royalty.
---
Andy's Broccoli Cheese Soup Recipe ❤️
Ingredients:
about 1 lb broccoli
¼ cup butter
½ cup finely diced shallots or onions
¼ cup flour
3 cups hot milk
1 cup 18% cream 
ground nutmeg (optional)
salt, pepper
3 cups grated cheese (Emmentaler or old cheddar)
Instructions:

Prepare the broccoli by cutting off the stems. Peel the stems and dice. Coarsely chop the broccoli heads.
Melt butter in a large saucepan. Add the shallots or onions and cook until translucent.
Stir in flour and continue cooking for a few minutes until golden (but not browned!)
Stir in the hot milk, stirring continually so that no lumps form. Add the cream.
Add the broccoli stems and heads. Season with a pinch of nutmeg and some pepper.
Bring to a boil, reduce heat and cover. Gently simmer for about 20 - 30 minutes or until the broccoli is tender. Stir occasionally to make sure the soup doesn't settle on the bottom and burn.
Use an immersion blender to puree the soup if you wish.
Add the cheese and stir until it has melted and the soup is well mixed.
Season with salt, pepper, and additional nutmeg if desired.
Serve, sprinkled with additional grated cheese if desired.
Makes about 4 - 6 servings.

Want nutritional information? Copy and paste the above ingredient list and the number of servings into Calorie Count for an approximate calculation.
Need help doing conversions between cups and grams, etc.? Use this site to give you all the different conversions for the different types of ingredients.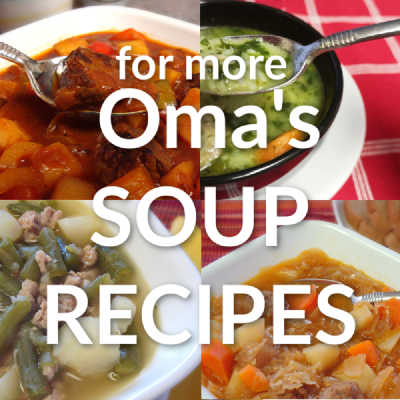 Leave a comment about this recipe or ask a question?
Pop right over to my private Facebook group, the Kaffeeklatschers. You'll find thousands of German foodies, all eager to help and to talk about all things German, especially these yummy foods. 
I pop in all the time as well, to chat and to answer questions. 
Meet with us around Oma's table, pull up a chair, grab a coffee and a piece of Apfelstrudel, and enjoy the visit.
*  *  *  *  *
Want nutritional information for a recipe?
Copy and paste the ingredient list and the number of servings into Calorie Count. 
It will give you an approximate calculation.

Need help doing conversions
between cups and grams or any such thing?
Use this site to give you all the different conversions for the different types of ingredients. 
---
PIN this ...
---
Cheese Spätzle is a traditional German noodle dish. A sort of Germanized version of 'Mac & Cheese', only better!

This Butterkuchen, also called Sugar Cake (Zuckerkuchen), a traditional German cake served for afternoon coffee. Loved by all, easy to make, delicious to eat!
---
Words to the Wise
"Wise words bring many benefits, and hard work brings rewards."
Proverbs 12:1 (NLT)