Oma's German Red Cabbage
➤ by Oma Gerhild Fulson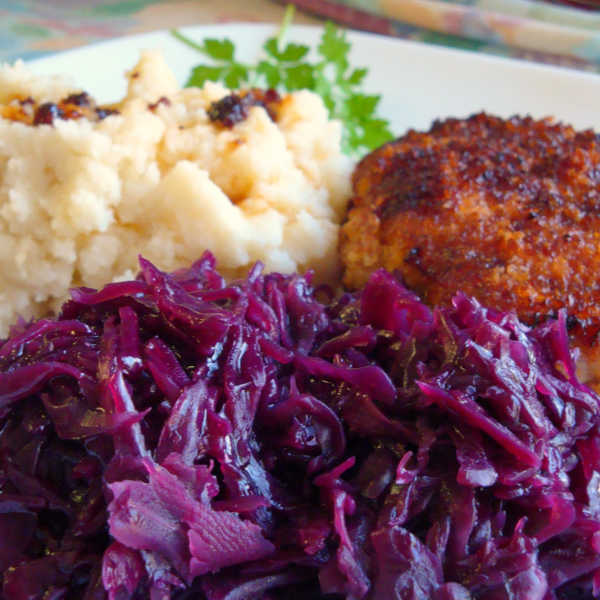 German red cabbage recipes, aka Rotkohl, Rotkraut, and Blaukraut, are among those best vegetable recipes that Germans love!
They go so well with dishes like rouladen (or flatladen in my family) and meat loaf. 
It's THE traditional German side dish that fits so well to almost anything.
How to cut red cabbage ...
The first thing to realize when cooking with any red cabbage recipes is that you'll end up with red fingers if you're not careful. Red cabbage can be used to dye yarn and Easter eggs! So, unless you want purplish-red fingers, wear some disposable gloves while shredding/cutting the cabbage.
I normally just cut the cabbage into quarters, and then with a good sharp knife, I slice it fairly thinly. I don't bother to use a "kitchen gadget" for this, because it goes quickly enough this way.
Be careful though, if you're working on a "plastic-type" cutting board. It, too, will stain red. On a wooden board, the red color normally washes off easily, but if you are concerned you may ruin a good butcher-block type board, just use a cheapie plastic one.

Oma Says:

I love how our families get used to the way we, as mothers, make our foods. Our children always ask for more when I make it the way they are familiar with it. As well, the leftovers are great.
My solution to this. I always choose the largest red cabbage I can find. Then, I'll double or triple the recipe.
Can you make vegan German red cabbage?

Since we've got newly converted vegans in our family, I'm working hard at trying to make German foods that we can all love and enjoy together. Red cabbage is a family favorite. And now, it still is by making just a small adjustment. The change? Just use oil rather than butter or bacon fat. It wouldn't taste absolutely the same, but it is good!

Need that "all's good with the world" feeling? Comfort food will do that. Get your copy of Oma's German favorites in her Comfort Foods e-Cookbook.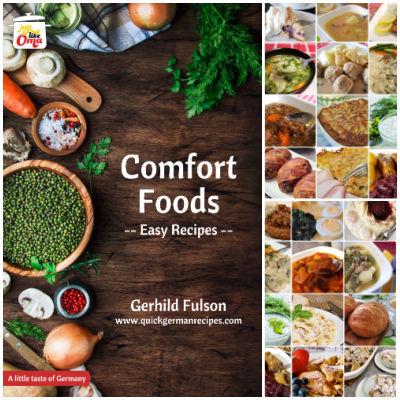 Take a peek at all Oma's eCookbooks. They make sharing your German heritage a delicious adventure!
Oma's Tip:
Make sure you add the vinegar at the end of the cooking time.
At first, when you look at the cooked red cabbage, it'll look really 'mucky' in color. Add the vinegar and POOF! Beautiful!
A traditional addition to red cabbage is to add apples. Check out this Red Cabbage Recipe if you're wanting it to be authentic.
---
Ready to make this red cabbage?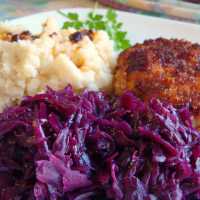 Oma's German Red Cabbage
German red cabbage recipes, aka Rotkohl, Rotkraut, and Blaukraut, are among those best vegetable recipes that Germans love!
They go so well with dishes like rouladen (or flatladen in my family) and meat loaf. It's THE traditional German side dish that fits so well to almost anything.
Prep Time


10 minutes


Cook Time


60 minutes


Total Time

70 minutes

Servings:

Makes 6 - 8 servings
Ingredients:
2 - 3 tbsp butter, oil, or bacon fat (oil, if making this vegan)

1 onion, diced

1 head red cabbage, shredded (about 2 lbs)

salt, pepper, sugar

ground cloves, vinegar, cornstarch
Instructions:
In large pot, heat butter, oil, bacon fat, or combination. Lightly sauté onion.

Add red cabbage. Continue to sauté for several minutes, stirring. When some of the cabbage has browned, add about 1 cup of water.

Add about 1 tsp salt, some freshly ground pepper, about ¼ tsp cloves, and 2 tsp sugar. Stir.

Bring to simmer, cover. Simmer for about 30 - 60 minutes or until cabbage is tender. Add water as necessary and stir occasionally during simmering.

Add about 2 tbsp vinegar. Taste and season with more salt, cloves, pepper, sugar, and vinegar as needed.

Mix about 2 tbsp cornstarch with cold water and slowly stir in just enough to thicken red cabbage liquid. Serve.
Notes/Hints:

The traditional "red cabbage" is cooked till almost the "mush" stage. If you prefer, you can slice the cabbage instead of shredding and cook it only about ½ hour instead if you prefer a cabbage dish with a bit of 'bite'.
For an extra quick red cabbage recipe, use canned or jarred red cabbage and season with extra ground cloves and vinegar as needed. Thicken with corn starch as above.
If you only have whole cloves, you can cut your onion in half and stud the cut side with 4 - 6 whole cloves. Omit the sautéing part for the onion. Remove the onion (with the cloves) before serving.

*  *  *  *  *

Unless otherwise noted recipe, images and content © Just like Oma | www.quick-german-recipes.com

Want Nutritional Information?

Copy and paste the above ingredient list and the number of servings into Calorie Count for an approximate calculation.
Need Help Doing Conversions?

Make it easier to convert between cups and grams, etc. Use this site to give you all the different conversions for the different types of ingredients. 
Leave a comment about this recipe or ask a question?
Pop right over to my private Facebook group, the Kaffeeklatschers. You'll find thousands of German foodies, all eager to help and to talk about all things German, especially these yummy foods. 
I pop in all the time as well, to chat and to answer questions. 
Meet with us around Oma's table, pull up a chair, grab a coffee and a piece of Apfelstrudel, and enjoy the visit.
These roasted Brussels spouts with balsamic vinegar and maple syrup are so quick and easy to prepare, yet so delicious! This may just be your new favorite go-to recipe for roasted FROZEN Brussels spro…

Love German cabbage rolls? You'll absolutely love Oma's unstuffed cabbage roll casserole. Same great taste, but a LOT less work. No rice or tomatoes here. Just real German goodness.

THE German Krapfen or jelly donut recipe you'll need if you plan to make Berliner Pfannkuchen ~ that traditional treat for New Year's and throughout the year!
*  *  *  *  *
PIN this ...

---
German Red Cabbage Recipes made Just like Oma
By
Oma Gerhild Fulson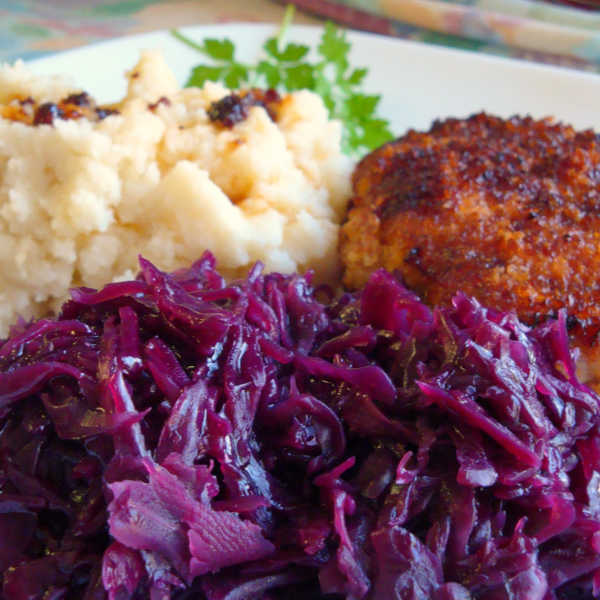 Red cabbage recipes are great vegetable dishes, very traditional and super delicious. Inexpensive and easily made, this German side dish is a family favorite
Ingredients:
butter,
red cabbage,
spices,
onion,
vinegar,
cornstarch,
For the full recipe, scroll up ...
Make every day a day of VICTORY!
"Despite all these things, overwhelming victory is ours through Christ, who loved us."
Romans 8:37 (NLT)

---