Oma's German Red Cabbage ~ Rotkohl
➤ by Oma Gerhild Fulson
German red cabbage recipes, aka Rotkohl, Rotkraut, and Blaukraut, are among those best vegetable recipes that Germans love! That sweet and sour taste ... it's almost like eating candy!
They go so well with dishes like rouladen (or flatladen in my family) and meat loaf. It's THE traditional German side dish that fits so well to almost anything.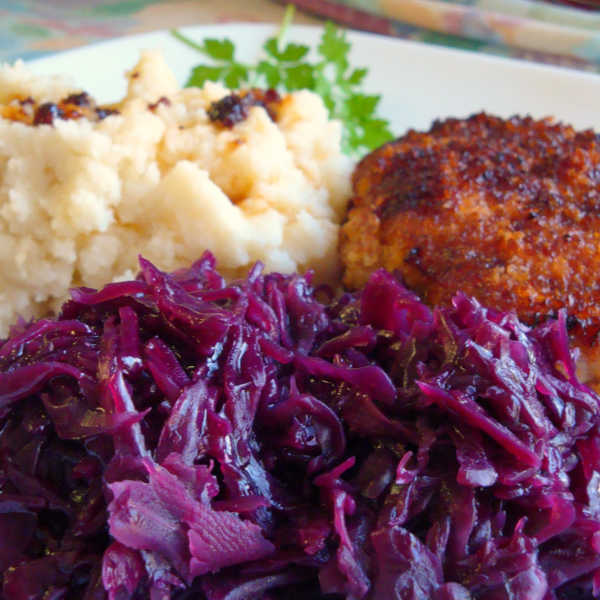 Sweet and sour red cabbage is that ONE German food that's so traditional throughout all of Germany. It's a German recipe that's so traditional, yet there are many little changes that every Oma does to make hers unique. 
What's the best way to cut red cabbage?
The first thing to realize when cooking with any red cabbage recipes is that you'll end up with red fingers if you're not careful. Red cabbage can be used to dye yarn and Easter eggs! So, unless you want purplish-red fingers, wear some disposable gloves while shredding/cutting the cabbage.
Remove any outer wilted leaves. With a good sharp knife, cut off the root end and cut the cabbage in half through the stem. Cut cabbage into quarters and diagonally cut out the core. Then, thinly slice the cabbage from the top end to the bottom. You ca also shred the cabbage using a mandoline, cheese grater, or food processor. I don't bother to use a "kitchen gadget" for this, because it goes quickly enough just using a knife.
Be careful though, if you're working on a "plastic-type" cutting board. It, too, will stain red. On a wooden board, the red color normally washes off easily, but if you are concerned you may ruin a good butcher-block type board, just use a cheapie plastic one.
What can you do with leftover red cabbage?

If your cabbage is too big to use just for cooking the recipe below, the best thing to do is to double or triple the recipe!
Why? Because having leftover cooked red cabbage is the BEST! Although it tastes wonderful when it's made fresh, it's even better the next day. And, thankfully it freezes really well, meaning you can always have some in the freezer ready for those days when you need a quick side dish.
Oma Says:

I love how our families get used to the way we, as mothers, make our foods. Even though it may be different than others of our same culture, it becomes the traditional way for making it for ourselves. And, it's the way our children love it!
Our boys always ask for more when I make it the way they are familiar with it. Now, even though they have families of their own, I'll make lots so I can send the leftovers home with them.
My solution to this. I always choose the largest red cabbage I can find. Then, I'll double or triple the recipe. That way there's leftovers for them and for hubby and me!
Can you make vegan German red cabbage?

Since we've got newly converted vegans in our family, I'm working hard at trying to make German foods that we can all love and enjoy together. Red cabbage is a family favorite. And now, it still is by making just a small adjustment.
The change? Just use oil rather than butter or bacon fat. It wouldn't taste absolutely the same, but it is good!

Need that "all's good with the world" feeling? Comfort food will do that. Get your copy of Oma's German favorites in her Comfort Foods e-Cookbook.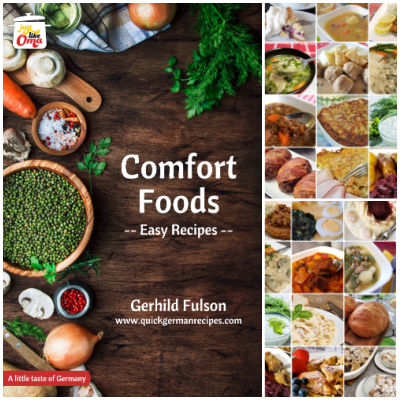 Take a peek at all Oma's eCookbooks. They make sharing your German heritage a delicious adventure!
How to get cooked red cabbage to look red?
Make sure you add the vinegar at the end of the cooking time.
At first, when you look at the cooked red cabbage, it'll look really 'mucky' in color. Add the vinegar and POOF! Beautiful! Vibrant!
A traditional addition to red cabbage is to add apples. Check out this Red Cabbage Recipe if you're wanting it to be totally authentically German.
Lydia Remembers ...
I have so many wunderbar memories in the kitchen with my Oma, and have had MANY of her most popular and traditional recipes, like this red cabbage.
This red cabbage recipe has become one of my very, very favorites. Every family get-together we have where there is red cabbage sitting on the table, I can about imagine the priceless look on my face. Of course, I'll have more than a couple servings of it. How can I resist Oma's famous cabbage!
I tend to cheat a little bit and buy the red cabbage in a jar, instead of making it totally from scratch like Oma does for the family. Though sometimes, I know Oma likes to keep it simple and use the jarred red cabbage one, too!
When I make red cabbage, I love to serve it alongside Oma's recipe for slow cooker roast beef (tastes like rouladen), and gravy made from the meat juice. 
---
Ready to make this red cabbage?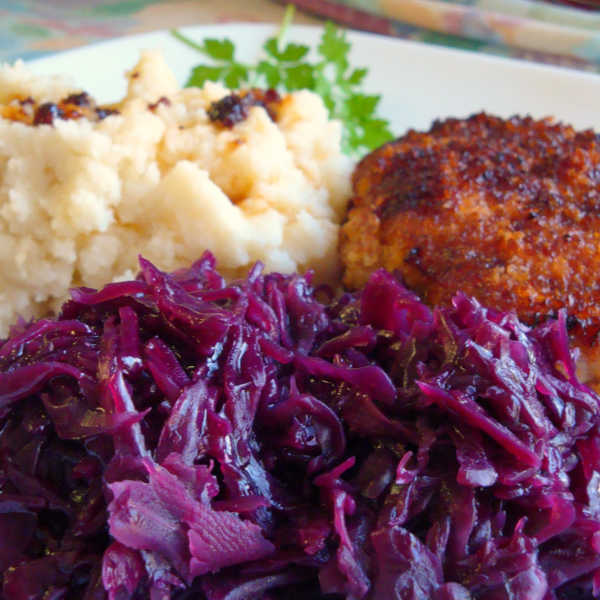 Oma's German Red Cabbage
German red cabbage recipes, aka Rotkohl, Rotkraut, and Blaukraut, are among those best vegetable recipes that Germans love!
They go so well with dishes like rouladen (or flatladen in my family) and meat loaf. It's THE traditional German side dish that fits so well to almost anything.
Prep Time


10 minutes


Cook Time


60 minutes


Total Time

70 minutes

Servings:

Makes 6 - 8 servings
Ingredients:
2 - 3 tbsp butter, oil, or bacon fat (oil, if making this vegan)

1 onion, diced

1 head red cabbage, shredded (about 2 lbs)

salt, pepper, sugar

ground cloves, vinegar, cornstarch
Instructions:
In large pot, heat butter, oil, bacon fat, or combination. Lightly sauté onion.

Add red cabbage. Continue to sauté for several minutes, stirring. When some of the cabbage has browned, add about 1 cup of water.

Add about 1 tsp salt, some freshly ground pepper, about ¼ tsp cloves and 2 tsp sugar. Stir.

Bring to simmer, cover. Simmer for about 30 - 60 minutes or until cabbage is tender. Add water as necessary and stir occasionally during simmering.

Add about 2 tbsp vinegar. Taste and season with more salt, cloves, pepper, sugar and vinegar as needed.

Mix about 2 tbsp cornstarch with cold water and slowly stir in just enough to thicken red cabbage liquid. Serve.
Notes/Hints:

The traditional "red cabbage" is cooked till almost the "mush" stage. If you prefer, you can slice the cabbage instead of shredding and cook it only about ½ hour instead if you prefer a cabbage dish with a bit of 'bite'.
For another version, try this red cabbage with apples recipe. 

Here's how to make this using canned or jarred red cabbage for an extra quick version.
If you only have whole cloves, you can cut your onion in half and stud the cut side with 4 - 6 whole cloves. Omit the sautéing part for the onion. Remove the onion (with the cloves) before serving.

*  *  *  *  *

Unless otherwise noted recipe, images and content © Just like Oma | www.quick-german-recipes.com

03.07.2021 revision update
Leave a comment about this recipe or ask a question?

Pop right over to my private Facebook group, the Kaffeeklatschers. You'll find thousands of German foodies, all eager to help and to talk about all things German, especially these yummy foods. 
Meet with us around Oma's table, pull up a chair, grab a coffee and a piece of Apfelstrudel, and enjoy the visit.

Make this slow cooker roast beef and be amazed how much this tastes like rouladen WITHOUT the work. Same wonderful gravy, tender meat, and perfect for family and guests.

This German streusel fruit tart, Obstkuchen mit Streusel, uses either fresh or canned fruit, such as apricots, peaches, cherries. A delicious treat, just like Oma bakes.

German sauerkraut salad is so easy, delicious, and goes with almost anything. It's super healthy when made with your homemade sauerkraut that's so easy to make, as well.
*  *  *  *  *
PIN this ...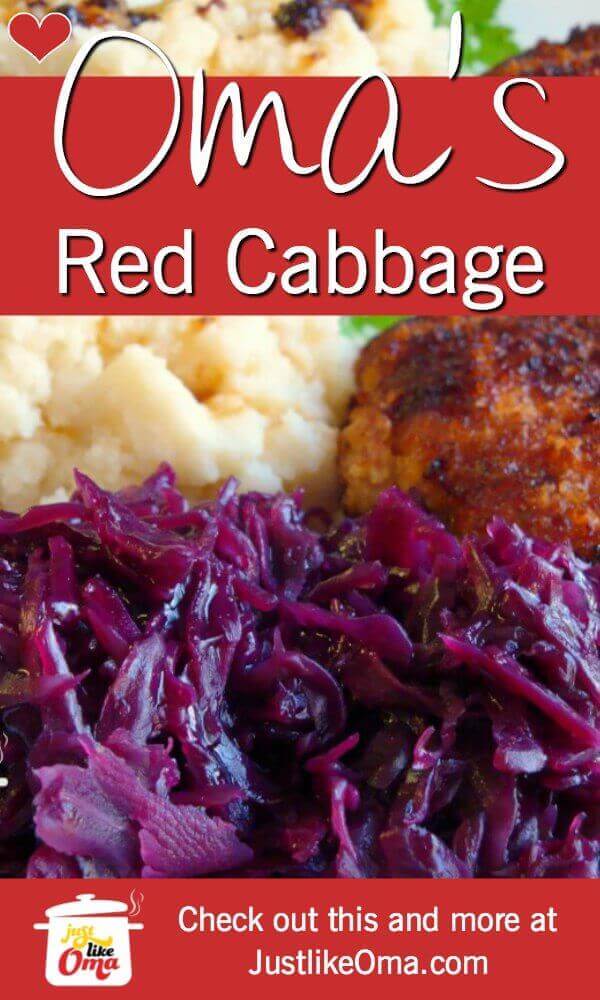 ---
Oma's German Red Cabbage Recipe ~ Rotkohl
By
Oma Gerhild Fulson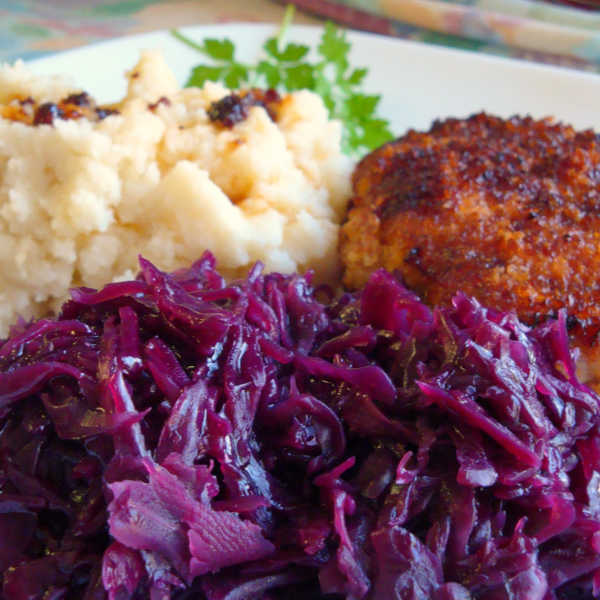 Red cabbage recipes are great vegetable dishes, very traditional and super delicious. Inexpensive and easily made, this German Rotkohl is a family favorite.
Ingredients:
butter,
red cabbage,
seasonings,
onion,
vinegar,
cornstarch,
For the full recipe, scroll up ...
Make every day a day of VICTORY!
"Despite all these things, overwhelming victory is ours through Christ, who loved us."
Romans 8:37 (NLT)

---