Oma's Kale Recipes ❤️
➤ by Oma Gerhild Fulson
These kale recipes, aka Grünkohl,  make the most out of this very healthy vegetable. High in beta carotene, vitamins K and C, and rich in calcium, this vegetable used to be the most common green vegetable in Europe until the Middle Ages. 
Now, because of its health benefits, it is again considered one of the super foods!
Below you'll find several recipes that use kale. They range from the simple to the more elaborate. All delicious. Use these as starting points to creating your own variations.
Kale is a member of the cabbage family and comes with either smooth leaves or curly, crinkly ones. The leaves form a loose rosette at the top of the stem and, although often green, can also be tinged with blue or purple.
When choosing fresh kale, go for the smaller leaves as they will be more tender. Use as soon as possible because storing it for long increases its bitter taste.
How to Cook Kale
To cook fresh kale, first trim off the tough center stalk. Rinse well and put them into a pan without shaking the water off. Cover and cook for about 2 minutes until wilted. Drain. Use in the following recipes when it asks for blanched kale.
For speed and ease, buy either frozen, canned, or jarred kale. These are ready to use.
1. Kale Soup with Cheese
Ingredients: (4 servings)
1 - 2 tbsp oil
1 onion, diced
1 garlic clove, crushed
1 lb wieners, sliced
1 large can/jar kale, drained (about 3 cups blanched)
2 cups broth (or use bouillon cubes and water)
6 to 7 oz cream cheese, cut into cubes
mustard, nutmeg, salt, pepper to taste
Instructions:
Heat oil in pot. Add onions and garlic and fry until golden.
Add sliced wieners and continue frying for a few minutes, stirring.
Add kale and briefly fry.
Add broth and bring to boil.
Add cream cheese, stirring to help melt the cheese.
Simmer about 10 minutes.
Season with about 1 tsp mustard, salt, pepper and nutmeg.
Hints:
For a bit of spice, season with cayenne pepper

Want nutritional information? Copy and paste the above ingredient list and the number of servings into Calorie Count for an approximate calculation.
Need help doing conversions between cups and grams, etc.? Use this site to give you all the different conversions for the different types of ingredients. 
---
---
2. Kale Casserole (in the oven)
Ingredients: (4 servings)
1 large can/jar kale (about 3 cups blanched), drained
1 lb cooked potatoes, sliced
1 lb smoked sausage or kielbasa, sliced
salt and pepper
1 cup broth (or bouillon cube and water)
1 cup whipping cream
2 eggs
½ lb gouda, grated
Instructions:
Preheat oven to 400°F.
Layer kale, potato slices, and sausage in a greased casserole dish, sprinkling with a bit of salt and pepper as you layer.
Mix broth, whipping cream, and eggs and season with a bit of salt and pour into casserole dish.
Sprinkle with grated gouda.
Bake, uncovered, for about 45 minutes, until thoroughly heated through and cheese nicely browned.
Hints:
You can substitute your favorite cheese; cheddar would be nice.

---
3. Kale Casserole (stove-top)
Ingredients: 
2 lbs fresh kale

¼ cup lard or butter

4 slices bacon, diced

1 large onion, diced
2 - 3 lbs potatoes, peeled and diced

1 quart chicken broth

salt, pepper, allspice

1 lb smoked sausage  
Instructions: 
Prepare fresh kale by washing well. Trim stalks and ribs from leaves. Immerse leaves briefly in boiling water. Drain and then chop. Set aside.
Heat lard or butter in large pan. Add bacon and sauté lightly.

Add onions and sauté until transparent.

Add prepared kale, diced potatoes, and broth. Season with salt, pepper, and pinch of ground allspice.

Cover and simmer 45 minutes without stirring. 
Put sausage on top of other ingredients. Cover and simmer another 20 minutes.

The casserole may be stirred slightly if desired before serving.

Serve with mustard. 
Serves 4

4. Kale with Potatoes
Cooking kale and then mixing it with mashed potatoes is a favorite way of serving this healthy vegetable to kids in both Holland and Germany.
Try it. You'll like it! Check out the recipe here.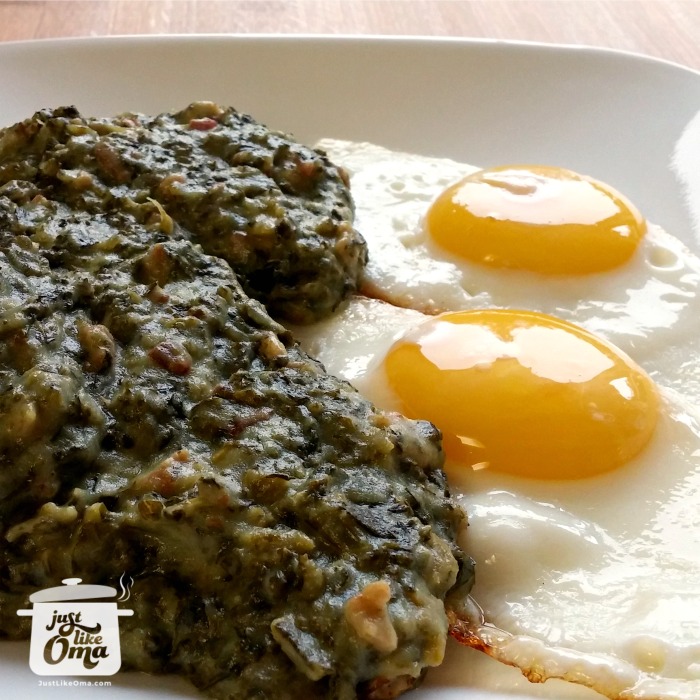 Above, the kale and mashed potatoes are mixed together and served with fried eggs.

---
---
Leave a comment about this recipe or ask a question?
Pop right over to my private Facebook group, the Kaffeeklatschers. You'll find thousands of German foodies, all eager to help and to talk about all things German, especially these yummy foods. 
I pop in all the time as well, to chat and to answer questions. 
Meet with us around Oma's table, pull up a chair, grab a coffee and a piece of Apfelstrudel, and enjoy the visit.
*  *  *  *  *
Want nutritional information for a recipe?
Copy and paste the ingredient list and the number of servings into Calorie Count. 
It will give you an approximate calculation.

Need help doing conversions
between cups and grams or any such thing?
Use this site to give you all the different conversions for the different types of ingredients. 
---
---
Looking for a German blueberry cake that's so easy to make and so delicious? Look no further. It's here!

This easy recipe for sauerkraut is a staple in our German menu. Delicious with almost anything! This sauerkraut recipe can also be made VEGAN!
---
Words to the Wise
"Good people leave an inheritance to their grandchildren, but the sinner's wealth passes to the godly."
Proverbs 13:22 (NLT)