Gerhild's Super Quick Red Cabbage Recipe ❤️

➤ by Oma Gerhild Fulson
FTC Disclosure: Making a purchase via a link on the page? I may earn a small commission on the transaction - at no added cost to you. Thanks!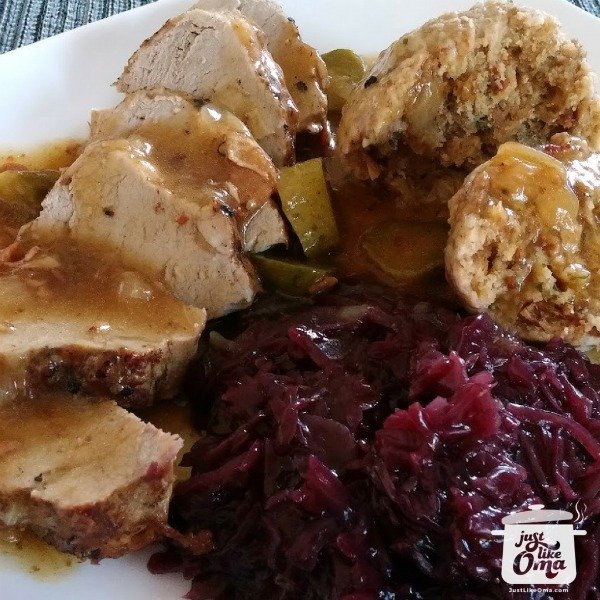 Gerhild's red cabbage recipe is so super simple. It's quick, freezes well, and doesn't stain your hands red!  Why? Shhhh (don't tell anyone!) It uses jarred or canned red cabbage. With the addition of extra ingredients, the resulting red cabbage tastes just like home-made. But, if you're looking for a red cabbage recipe that starts from scratch, check it out below!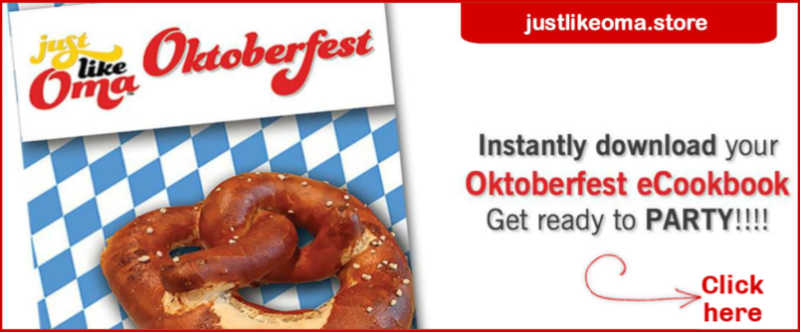 Check out the other "Gerhild's" (my name is Gerhild as well!) and you'll discover this recipe "Rotkohl auf schnelle Art" as the recipe sent in by Gerhild Naggert from Chicago, USA. Now, it's a way I often make mine as well. Simply, because it's so quick and it tastes so good. Really. I think you'll be surprised. 
---
Oma's Traditional Homemade Red Cabbage
If you're looking for a recipe for red cabbage that starts from scratch, then check out my own red cabbage. Yes, this is what my son asks for when he comes for a visit. He'll ask for red cabbage ... and not the jarred one. He can really taste the difference.
Personally, I like both. But, as a Mutti and Oma, I'll make the 'from-scratch' kind when family comes! 
Gerhild's comments ...
By using jarred or canned red cabbage, you can forget about the red-stained hands you get by grating the red cabbage. As well, the cooking time is reduced.
Gerhild Naggert says that she's often asked for her recipe, so she's happy to share it. Since it freezes well, she always has at least 2 to 3 packages in the freezer for emergencies. The microwave is great for reheating it. Above, you'll find the translated version, complete with the weight/volume conversions for the ingredients.
Gerhild's Super Quick Red Cabbage Recipe ❤️

Ingredients:
4 stripes bacon, diced
1 medium onion, diced
32 oz. jarred or canned red cabbage
2 medium apples, grated (use coarse side of grater)
1 bay leaf
salt, pepper, sugar
red wine (to taste)
Instructions:
Fry the bacon in pan until browned.
Add onion and continue frying until onion is golden brown.
Add red cabbage and grated apples.
Add bay leaf. Season with salt, pepper, sugar, and red wine.
Bring to boil and let simmer for about 20 minutes.
Serve and enjoy!

Leave a comment about this recipe or ask a question?
Pop right over to my private Facebook group, the Kaffeeklatschers. You'll find thousands of German foodies, all eager to help and to talk about all things German, especially these yummy foods. 
I pop in all the time as well, to chat and to answer questions. 
Meet with us around Oma's table, pull up a chair, grab a coffee and a piece of Apfelstrudel, and enjoy the visit.
*  *  *  *  *
Thinking of starting your own Handmade Business?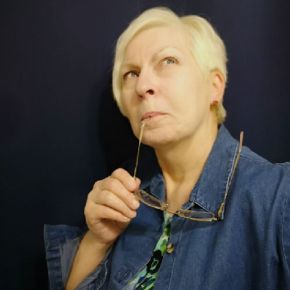 This Oma KNOWS you CAN do it.
How do I know?
Well, if I can do it, anyone can.
I've even figured out how I can help you.
I've teamed up with my own business coach, Renae Christine (yes, do google her!), to bring you this free workshop. After you watch it, ask me any questions and I'll gladly answer them.
Don't hesitate. I'm not sure how long Renae will keep this free workshop available.
PS:  Yes, Renae really is as amazing as all the reviews say.
PPS: Yes, the course is for handmade items, but I've used it successfully for my cookbooks. I know others are using her methods for services, direct sales, and even a local ice cream bar & grill that's constantly selling out. You've nothing to lose by taking a look ... and a whole bunch to gain.
*  *  *  *  *
Want nutritional information for a recipe?
Copy and paste the ingredient list and the number of servings into Calorie Count. 
It will give you an approximate calculation.

Need help doing conversions
between cups and grams or any such thing?
Use this site to give you all the different conversions for the different types of ingredients. 
---
PIN this ...
---
These German cookie recipes in English are quick and simple recipes to delight your family and friends.

My homemade chicken rice soup recipe is one you're sure to make often. Why? 'Cause it's so easy and so good. Make a huge batch that'll feed a crowd. Or, just so you can enjoy leftovers.
---
Words to the Wise
"You can make many plans, but the Lord's purpose will prevail."
Proverbs 19:21 (NLT)