Oma's Fennel Recipes
➤ by Oma Gerhild Fulson
FTC Disclosure: Making a purchase via a link on the page? I may earn a small commission on the transaction - at no added cost to you. Thanks!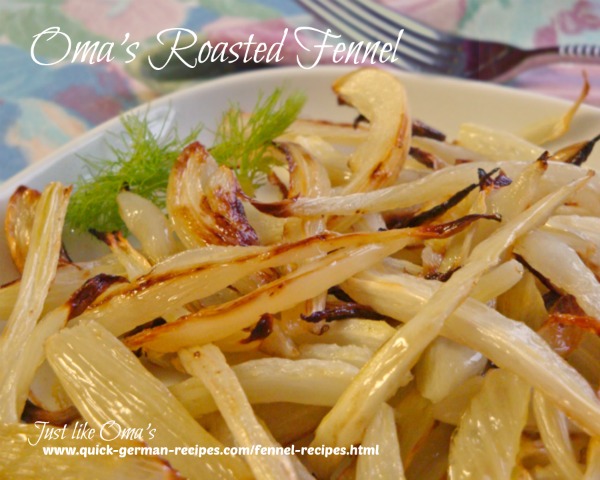 Yum
These fennel recipes, aka Fenchel, are both traditional German ones and non-traditional. Easy to make, delicious to eat, and so different! Fennel is one of those German vegetables that finds itself being used both raw and cooked. If you've never tasted fennel, you're in for a surprise. It tastes like anise! Don't know anise? Think liquorice. It becomes quite mild, though, when it is roasted. Vegan? Then the first recipe is for you!
Here the fennel is one of my easy side dishes that will WOW your guests. So mild when roasted, it pairs with almost anything!
Oma's Fennel Recipes:
1. Roasted Fennel
Ingredients:
3 - 4 fennel bulbs
½ tsp salt
2 Tbsp olive oil
Instructions:
Preheat oven to 400° F. Line cookie sheet with parchment paper.
Trim the top leaves off the bulb. These can be used to garnish the final dish.
Cut the fennel in quarters (vertically) and remove the tough center core. Slice the fennel.
Spread fennel over parchment paper and sprinkle with salt and olive oil.
Roast about 15 minutes. Stir and continue roasting for about another 15 minutes or until done.
Makes 4 servings
2. Fennel Gratin ~ Überbackener Fenchel
Ingredients:
4 fennel bulbs
1 tsp salt
1 cup grated Emmentaler cheese
3 Tbsp butter
Instructions:
Clean and trim the fennel bulbs. 
Cook fennel bulbs in salted water until they are just tender, about 15 minutes, depending on their size.
Drain. Cut bulbs in half.
Preheat oven to 400° F
Place fennel into a greased casserole dish and sprinkle with grated cheese. Sprinkle slivers of butter over the top.
Bake until cheese is melted and top is golden.
Traditionally served with tomato sauce or ketchup. 
Makes 4 servings.

Fennel is ...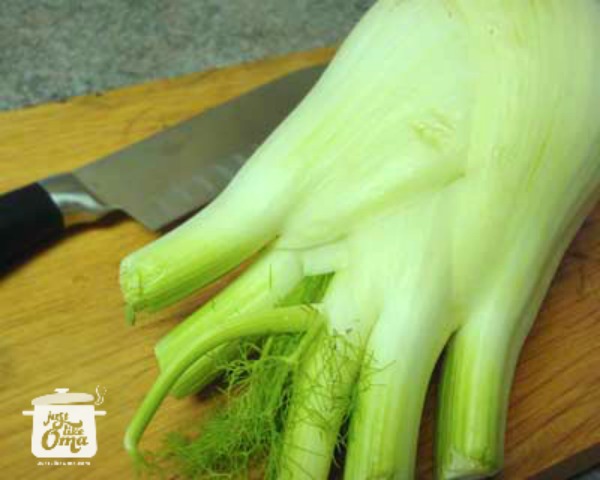 To prepare the fennel, cut off the roots at the bottom. Remove some of the tough outer leaves and trim away the top leafy section. 
If you've ever wondered how to cook fennel, use one of the above methods, and then change them to suit your own tastes. 
For example, the roasted fennel tastes great when it's sprinkled with bread crumbs or Parmesan cheese for the last few minutes of roasting.
Some German Fennel & Endive Recipes
*  *  *  *  *
Want nutritional information for a recipe?
Copy and paste the ingredient list and the number of servings into Calorie Count. 
It will give you an approximate calculation.

*  *  *  *  *
Need help doing conversions between cups and grams or any such thing?
Use this site to give you all the different conversions for the different types of ingredients. 
*  *  *  *  *
---
---
Words to the Wise
"Don't testify against your neighbors without cause; don't lie about them. And don't say, "Now I can pay them back for what they've done to me! I'll get even with them!"
Proverbs 24:28-29 (NLT)