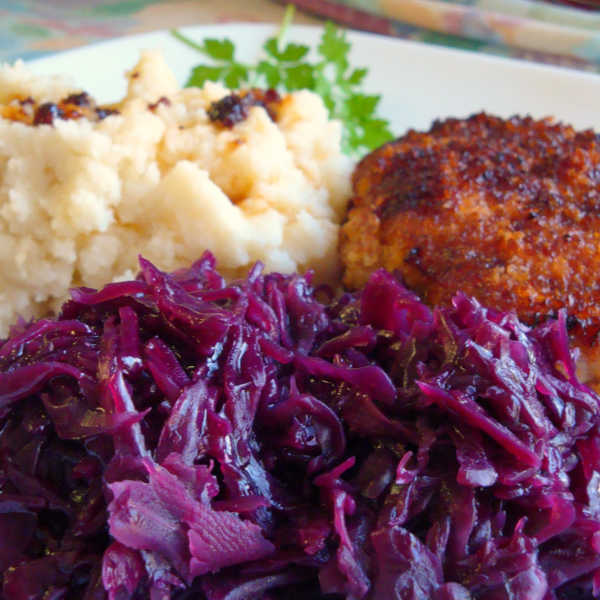 Traditional German Red Cabbage – Oma's Rotkohl
If you're a cabbage fan, then you'll love this German red cabbage recipe, aka Rotkohl, Rotkraut, and Blaukraut. It's among the best vegetable side dishes that Germans love! We just love that sweet and sour taste that goes so well with dishes like
 rouladen (or flatladen in my family) and meat loaf. This traditional recipe is absolutely wunderbar with just about any German meal.

Prep Time


10 minutes


Cook Time


60 minutes


Total Time

70 minutes

Servings:

Makes 6 - 8 servings
Ingredients:
2 - 3 tablespoons butter, bacon or pork fat, or olive oil (use oil, if making this vegan)
1 onion, diced
1 head red cabbage, shredded (about 2 pounds)
1 teaspoon salt
freshly ground black pepper, to taste
¼ teaspoon ground cloves
2 teaspoons sugar
2 tablespoons white vinegar
2 tablespoons cornstarch
Instructions:
In a large saucepan or large dutch oven, melt butter over medium heat. Lightly sauté onion.
Add red cabbage. Continue to sauté for several minutes, stirring. When some of the sauteed red cabbage has browned, add about 1 cup water.
Add salt, pepper, cloves, and sugar. Stir.
Bring to a simmer and cover. Simmer for about 30 - 60 minutes or until cabbage is tender. Add a little water, as necessary, and stir occasionally during simmering.
Once cabbage is tender, add vinegar. This will give the cabbage that beautiful red colour. Taste, and season with more salt, cloves, pepper, sugar, and/or extra vinegar as needed.
Mix cornstarch with cold water and slowly stir in just enough to thicken the red cabbage liquid. Serve and enjoy!
Notes/Hints:

The traditional red cabbage is cooked till almost the "mush" stage. If you prefer, you can slice the cabbage instead of shredding and cook it only about ½ hour instead if you prefer a cabbage dish with a bit of bite.
I use white granulated sugar, but you could use brown sugar too.
Try using apple juice instead of water and apple cider vinegar instead of white vinegar.
Store leftovers in an airtight container in the fridge. It tastes even better the next day!
Next time, try this red cabbage with apples recipe. 
Here's how to make this using canned or jarred red cabbage for an extra quick version.
If you only have whole cloves, you can cut your onion in half and stud the cut side with 4 to 6 whole cloves. Omit the sautéing part for the onion. Remove the onion (with the cloves) before serving.
*  *  *  *  *

Unless otherwise noted recipe, images and content © Just like Oma | www.quick-german-recipes.com

12.21.2021 revision update