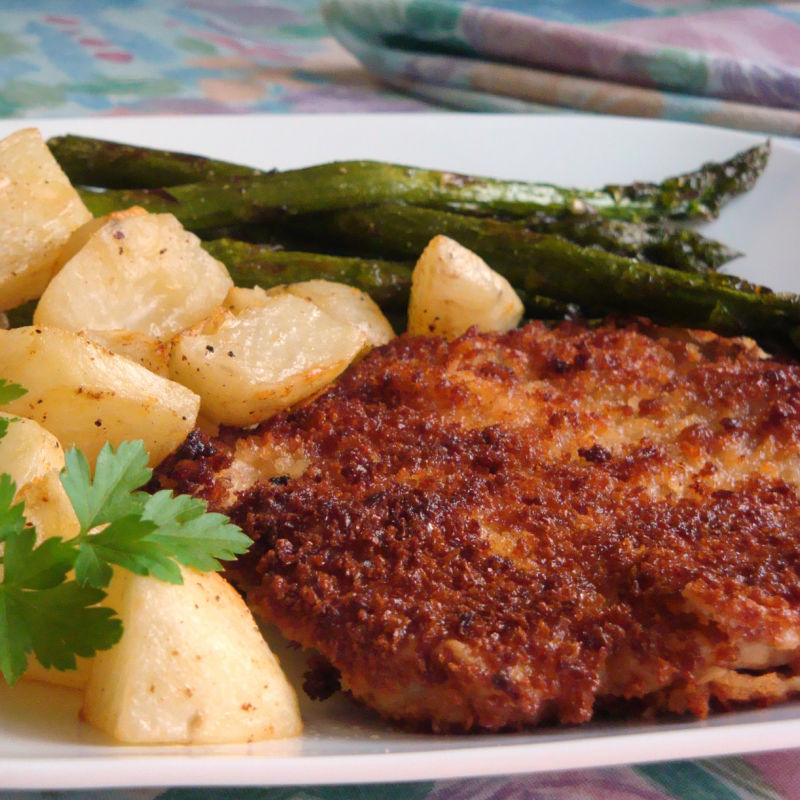 Easy German Pork Schnitzel Recipe: The Authentic Schweineschnitzel

Oma's easy German Schnitzel recipe is a family favorite. Serve this with mushroomy Jägersosse (Hunter's sauce) and you'll have the makings of a totally traditional German meal.
Schnitzel are thin cutlets and can be made from any type of meat, such as veal, pork, chicken, and turkey. Here, I use pork which is one of the easiest to buy and use. And, so delicious!
Prep Time


15 minutes


Cook Time


12 minutes 


Total Time

27 minutes

Servings:

This makes 4 servings.

Ingredients:
4 Schnitzel, about ¼-inch thick or less
1 tablespoon (15 milliliter) lemon juice
½ teaspoon (3 grams) salt
about ½ cup (65 grams) all-purpose flour
3 tablespoons (45 milliliter) water
1 large egg
about 1 cup (224 grams) breadcrumbs
3 tablespoons (42 grams) butter
3 tablespoons (45 milliliters) peanut or vegetable oil
1 lemon, sliced
Instructions:
Preheat the oven to 160°F (70°C). Line a baking sheet with parchment paper. Put several sheets of paper towels onto a large plate. Set these aside.
Sprinkle the Schnitzel with lemon juice and salt.
Place 3 shallow bowls onto the counter. In the first one, put flour. In the second one, mix the egg and water. In the third one, put the breadcrumbs.
Dredge a Schnitzel, first into the flour, then into the egg mixture, and then into the breadcrumbs. Place the breaded Schnitzel onto a large plate and repeat with the remaining Schnitzel.
Heat butter and oil over medium heat in a large skillet.
Fry the Schnitzel in the hot oil and butter mixture until golden brown, about 3 minutes per side. Do not crowd the Schnitzel. Depending on the size, you may only be able to fry 1 or 2 at a time.
Remove the cooked Schnitzel to the paper towel-lined plate to drain any fat and then place it on the baking sheet into the oven to keep warm.
Fry the remaining Schnitzel.
Serve immediately, garnished with lemon slices or lemon wedges. 
Notes/Hints:

If you are serving this as Jagerschnitzel, you'll want to make the mushroom sauce first and then fry the Schnitzel.
If you want to make this non-breaded, then just dredge in the flour and omit the egg/milk and breadcrumbs. 
My favorite side with this? Bratkartoffeln!
*  *  *  *  *

Unless otherwise noted recipe, images and content © Just like Oma | www.quick-german-recipes.com

09.09.2023 revision update