Oma's Southern German Cucumber Salad ~ Gurkensalat

➤ by Oma Gerhild Fulson
My German cucumber salad, aka Gurkensalad, is so delightfully refreshing, especially in the summer. It's a perfect side dish for almost any meal.
This version (unlike my Mutti's) has no sour cream or yogurt, so it's perfect for a buffet table or to take along for picnics.
This recipe is a great way to use up those cucumbers that have been sitting in your crisper. Put them to use in this lovely picnic salad!
This salad is like so many from southern Germany, made without cream or mayonnaise. Most of the salads use a type of vinaigrette. Northerners like their mayo and cream, so they are incorporated in many salads, whether cucumber salad, or cabbage salad, or potato salad.
So many different varieties of the same salads, and that is really due to the many regions of Germany. Yes, some southerners use mayo and some northerners don't. The main thing is, make it just the way you like it!

Should you remove the cucumber seeds?

If your cucumber has a large center seeds, you can always remove them. Do this by cutting your cucumber lengthwise and then scrape a spoon down the center to remove the seeds.
Doing this will also remove much of the "water" from the cucumber ... which is a good thing for this salad.
Grab your copy of Oma's favorite salads in her Summer Salads e-Cookbook.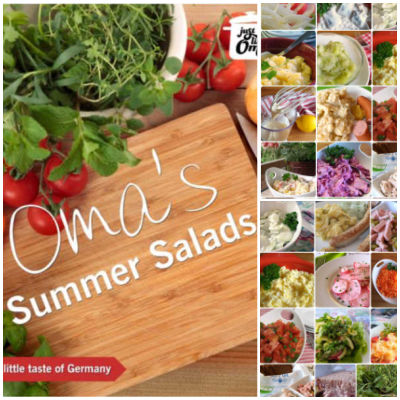 Take a peek at all Oma's eCookbooks. They make sharing your German heritage a delicious adventure!
How Long will it Keep?
If you are making this salad the Southern way, made with vinegar, then it is best to eat it within the next few days. 
The longer the cucumbers sit in vinegar, the more soft and limp they will get. They will lose their crispness with time and become slimy. Though that will likely only happen if you let it go too long, just as other foods would. 
If it is sitting for only a couple days in the refrigerator it should be just fine, and will have even more flavor since it has had more time to soak up that juicy vinegar goodness.
Wanting Cucumber Salad with Cream?
If you're looking for the recipe for German cucumber salad made with sour cream or yogurt, you'll find it by clicking here. So creamy good! It's the kind of salad I grew up with since Mutti was from northern Germany, where cream was used everywhere!

Is This Salad Healthy?
Oma's cucumber salad is full of nutritious benefits. Cucumber in itself is extremely healthy for your body, being jam packed full of different vitamins and important nutrients. 
In cucumbers, you can find vitamins C and K, and lots of fibre!
Did you know that soaking cucumbers in vinegar actually makes them even better for you? By soaking them in vinegar, you're helping create the perfect fuel for your belly. The incredible amounts of fibre increase the healthy bacteria needed for proper digestion.
As you may already know, cucumbers are a huge source of water and keep your body hydrated. This is why they are so highly recommended as an after-workout snack! They are also full of electrolytes, which help prevent dehydration.
I'm sure you've seen those people with cucumbers on their eyes while at the spa...well, that isn't just for the looks! By putting a circle slice of cucumber over your eyes it can help reduce puffiness, swelling and irritation. 
---
Oma says,

This German cucumber salad below, without the cream, is one that will keep well in the fridge over night. In fact, it's similar to being pickled and the flavors get a chance to mingle.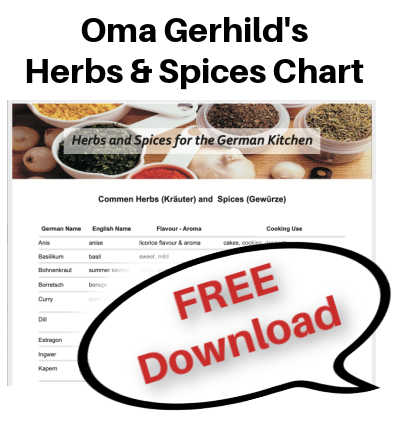 ---
Lydia Remembers...
I have so many wunderbar memories in the kitchen with my Oma, and have had MANY of her most popular and traditional recipes, like this cucumber salad! 
Oma and I have made this refreshing cucumber salad for many family functions and it has certainly become a favorite. It adds a bright and summery feel to any meal! 
Making this recipe is quite the yummy treat for me considering pickles are my FAVORITE snack of all. The dill flavoring is spectacular. For all you dill lovers looking for a light summer snack, this is the one! (I mean pickles are really just little pickled baby cucumbers!)
I remember learning to make this salad a few different ways. The Northern and the Southern way! The dill makes for such a nice punch of flavor. 
Learn a little bit about me, Lydia, and my kitchen adventures with Oma!
---
Ready to make this cucumber salad?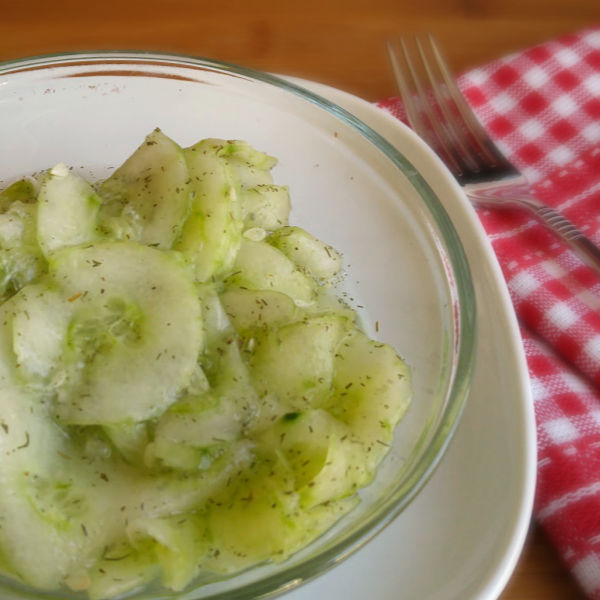 Oma's Southern German Cucumber Salad
My German cucumber salad, aka Gurkensalad, is so delightfully refreshing, especially in the summer. It's a perfect side dish for almost any meal.
This version (unlike my Mutti's) has no sour cream or yogurt, so it's perfect for a buffet table or to take along for picnics.
Prep Time


10 minutes


Cook Time


none


Total Time

10 minutes

Servings:

Makes 4 servings
Ingredients:
2 cucumbers, peeled and thinly sliced 

4 tbsp white vinegar
4 tbsp water
1 - 2 tbsp granulated sugar
½ tsp salt

1 tbsp fresh dill or ½ tsp dried dill
Instructions:
Put thinly sliced cucumbers into serving bowl.

In separate bowl, mix together vinegar, water, sugar, and salt. Pour over cucumbers.
Sprinkle with dill and stir. Season with additional salt and/or sugar if needed.
Notes/Hints:

Try using different types of vinegar ... white wine vinegar, cider vinegar ... or try your favorite.
If you have very tender English cucumbers, they do not have to be peeled.
Add some thinly sliced onions.
If you're wanting this made with sour cream/yogurt, check out this northern German version of cucumber salad.
Unless otherwise noted recipe, images and content © Just like Oma | www.quick-german-recipes.com

Want Nutritional Information?

Copy and paste the above ingredient list and the number of servings into Calorie Count for an approximate calculation.
Need Help Doing Conversions?

Make it easier to convert between cups and grams, etc. Use this site to give you all the different conversions for the different types of ingredients. 
Leave a comment about this recipe or ask a question?
Pop right over to my private Facebook group, the Kaffeeklatschers. You'll find thousands of German foodies, all eager to help and to talk about all things German, especially these yummy foods. 
I pop in all the time as well, to chat and to answer questions. 
Meet with us around Oma's table, pull up a chair, grab a coffee and a piece of Apfelstrudel, and enjoy the visit.
Make this chicken fricassee recipe and you'll think you're back in Oma's kitchen. German comfort food. Originally just a 'leftover' meal, now it graces the best restaurant menus.

Oma's TOP 10 German foods that will have you thinking you're back in your Omas kitchen in Germany. Cooking and baking together, but best of all, making memories!

This German apple cake always looks amazing and tastes scrumptious! So quick and easy to make, it's just like Oma's versunkener Apfelkuchen served fresh from the oven.
*  *  *  *  *
PIN this ...

---
Oma's Southern German Cucumber Salad ~ Gurkensalat
By
Oma Gerhild Fulson
Oma's German cucumber salad is so delightfully refreshing, especially in the summer. Since it's from the south, there's no mayo in it which makes it a perfect picnic side.!
Yield:
4 servings
Ingredients:
cucumbers,
vinegar,
sugar,
salt,
dill,
For the full recipe, scroll up ...
Words to the Wise
"Lazy people are soon poor; hard workers get rich."
Proverbs 10:4 (NLT)