Oma's German Cucumber Salad ❤️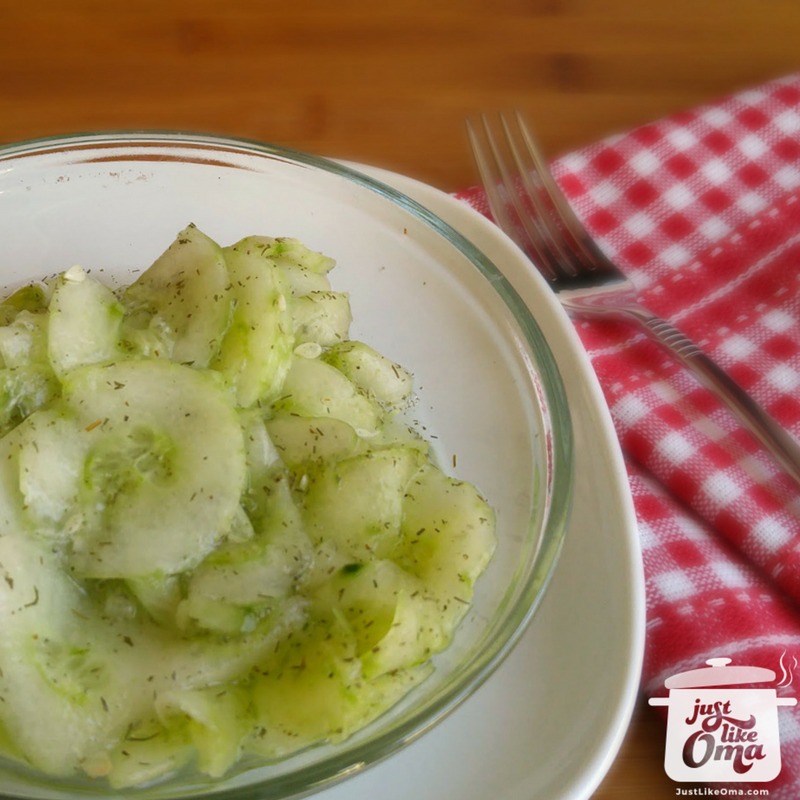 Yum
My German cucumber salad, aka Gurkensalad, is so delightfully refreshing, especially in the summer. It's a perfect side dish for almost any meal. This version (unlike my Mutti's) has no sour cream or yogurt, so it's perfect for a buffet table or to take along for picnics.
---
My most used kitchen tool has to be, or rather, was my box grater, especially for salads and potato pancakes.
However, scrapped knuckles are now a thing of the past!
Making cucumber salad or grating potatoes for potato pancakes goes so quickly and safely with my new toy, this T-Fal electric food slicer and grater.
I wish I would have bought it years ago! It would have been so easy for the boys to help in the kitchen!
I was always hesitant for them to do any grating until they were older. With this, they could have helped earlier.
This T-Fal one comes with 5 different cones to grate, shred and slice a variety of fruit, vegetables, cheese, and even nuts! A perfect addition for your kitchen or for a bride-to-be.
---
Oma's German Cucumber Salad 

❤️

Ingredients:
2 cucumbers, peeled and thinly sliced 

4 Tbsp white vinegar
4 Tbsp water
1 - 2 Tbsp granulated sugar
½ tsp salt

1 Tbsp fresh dill or ½ tsp dried dill
Instructions:
Put thinly sliced cucumbers into serving bowl.

In separate bowl, mix together vinegar, water, sugar, and salt. Pour over cucumbers.
Sprinkle with dill and stir. Season with additional salt and/or sugar if needed.
Serves 4.
Hints:
Try using different types of vinegar ... white wine vinegar, cider vinegar ... or try your favorite.
If you have very tender English cucumbers, they do not have to be peeled.
Add some thinly sliced onions.

If your cucumber has a large center seeds, you can always remove them. Do this by cutting your cucumber lenthwise and then scrape a spoon down the center to remove the seeds
Cucumber Salad with Cream
If you're looking for the recipe for German cucumber salad made with sour cream or yogurt, you'll find it by clicking here.
Oma says,
This German cucumber salad, without the cream, is one that will keep well in the fridge over night. In fact, it's similar to being pickled and the flavors get a chance to mingle.
More Salads to Try
*  *  *  *  *
Want nutritional information for a recipe? Copy and paste the ingredient list and the number of servings into Calorie Count. It will give you an approximate calculation.

---
---
---
---
---
PIN this ...
---
Words to the Wise
"Lazy people are soon poor; hard workers get rich."
Proverbs 10:4 (NLT)
---
Oma's German Cucumber Salad ❤️


By
Oma Gerhild Fulson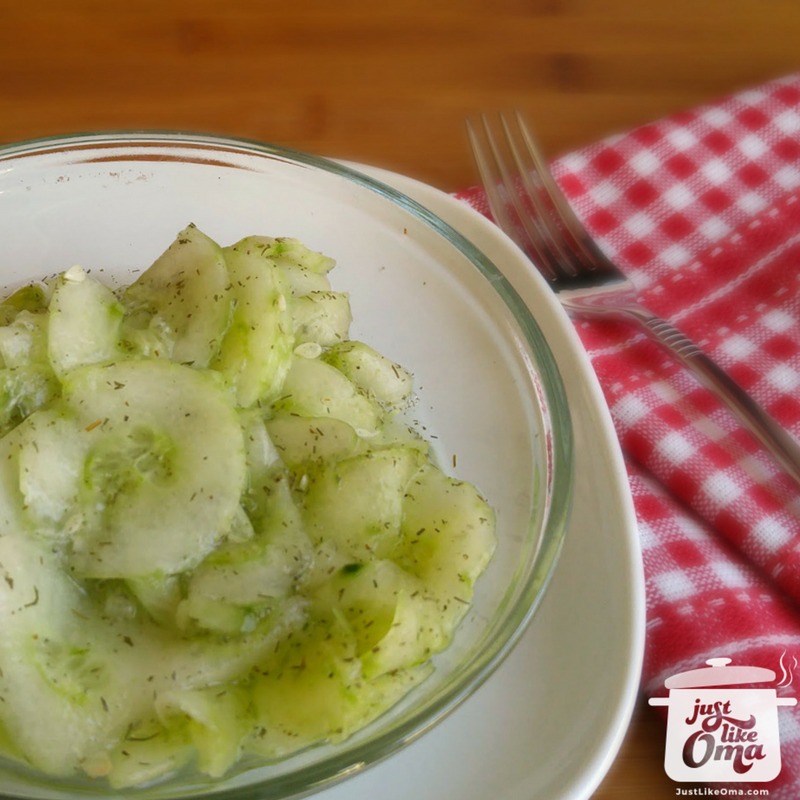 Oma's German cucumber salad is so delightfully refreshing, especially in the summer. It's a perfect side dish for almost any meal.

Yield:
4 servings

Ingredients:
2 cucumbers,
4 Tbsp vinegar,
2 Tbsp sugar,
1 Tbsp dill,
For the full recipe, scroll up ...