Oma's Recipe for Corn Salad ❤️

➤ by Oma Gerhild Fulson
This German recipe for corn salad, aka Maissalat,  is so very easy. Colorful and quick, a great addition to a summer buffet or picnic. It's among the best unusual salad recipes because it really is so quick.
I really do love corn and finding corn recipes this easy is great. This salad relies on canned corn ... easy! Although, using frozen or fresh corn would work as well.
Looking through old German cookbooks, it is rare to find corn recipes. Check below to find out why. However, it's now quite common to find in newer cookbooks ... as well as in fancy restaurants.
Adding fresh green peppers and bright red tomatoes, and this salad is a feast for the eyes as well. Add to that, the fact that it's healthy, too!
Corn? For the table and not the stable?
It's interesting to note that corn is not a common vegetable in Germany - at least not in years gone by. My parents immigrated to Canada in the early 1950's and the tradition they brought with them was that corn ("mais") was only fit for cattle.
Corn was certainly not for human consumption! It took a while before we started eating it in Canada - it still carried a negative connotation.
Things changed in Germany and now corn is often added to salads. Even in the finest restaurants, I've had canned corn sprinkled on top of their house salads.
To me, this is most unusual and even strange, as it is not even common here in Canada to use canned corn in that way.
Grab your copy of Oma's favorite salads in her Summer Salads e-Cookbook.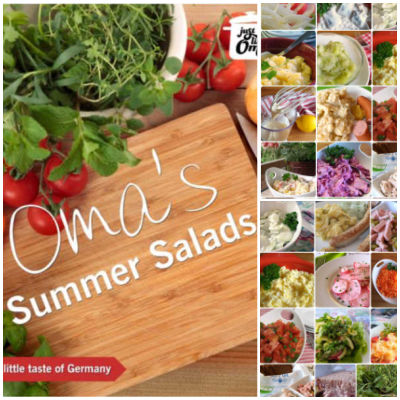 Take a peek at all Oma's eCookbooks. They make sharing your German heritage a delicious adventure!
---
Oma Says:
As I travel throughout Germany, I'm always on the look out for new recipes, and, keeping my eyes open for how and where corn is used, is always fun.

Besides its new use as a bio-fuel, where mounds and mounds of it are under tarps, there's lots left to enjoy in salads!
---
Ready to make Oma's Corn Salad?
Oma's Recipe for Corn Salad 

This German recipe for corn salad, aka Maissalat,  is so very easy. Colorful and quick, a great addition to a summer buffet or picnic. It's among the best unusual salad recipes because it really is so quick.
Prep Time


10 minutes


Cook Time


none


Total Time

10 minutes

Servings:

Makes 4 servings
Ingredients:
2 small cans corn, drained
2 green peppers, diced
2 red tomatoes, diced
4 tbsp mayonnaise
4 tbsp vinegar
salt, pepper
Instructions:
Put drained corn, diced green peppers, and diced tomatoes into bowl.
Mix mayonnaise and vinegar. Season with salt and pepper.
Pour mayonnaise/vinegar over vegetables and stir.
Serve or let stand briefly to let flavors mingle.
Notes/Hints:

Use fresh or frozen (thawed) corn instead.
*  *  *  *  *

Unless otherwise noted recipe, images and content © Just like Oma | www.quick-german-recipes.com

Want Nutritional Information?

Copy and paste the above ingredient list and the number of servings into Calorie Count for an approximate calculation.
Need Help Doing Conversions?

Make it easier to convert between cups and grams, etc. Use this site to give you all the different conversions for the different types of ingredients. 
Leave a comment about this recipe or ask a question?
Pop right over to my private Facebook group, the Kaffeeklatschers. You'll find thousands of German foodies, all eager to help and to talk about all things German, especially these yummy foods. 
I pop in all the time as well, to chat and to answer questions. 
Meet with us around Oma's table, pull up a chair, grab a coffee and a piece of Apfelstrudel, and enjoy the visit.
These roasted Brussels spouts with balsamic vinegar and maple syrup are so quick and easy to prepare, yet so delicious! This may just be your new favorite go-to recipe for roasted FROZEN Brussels spro…

Love German cabbage rolls? You'll absolutely love Oma's unstuffed cabbage roll casserole. Same great taste, but a LOT less work. No rice or tomatoes here. Just real German goodness.

THE German Krapfen or jelly donut recipe you'll need if you plan to make Berliner Pfannkuchen ~ that traditional treat for New Year's and throughout the year!
*  *  *  *  *
PIN this ...
Words to the Wise
"Whoever loves a pure heart and gracious speech will have the king as a friend."
Proverbs 22:11 (NLT)