Air Fryer Pork Schnitzel – Luftfritteuse Schweineschnitzel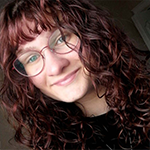 by: Lydia Fulson  /  Writer, Artist, Traveler, Granddaughter & Ever-Learning German Cook

This post may contain affiliate links, which means I'll receive a commission if you purchase through my links, at no extra cost to you. Please read full disclosure for more information.
Making an air fryer pork schnitzel, aka Luftfritteuse Schweineschnitzel, is one of the easiest German meals to prepare. Fast, easy and delicious, is there anything better? 
Drizzle it with a little lemon on top, and you're in for quite the tasty traditional treat! Schnitzel never disappoints. It quickly became a favorite in our house. They're just like breaded pork chops, and you can use pork chops to make this as well!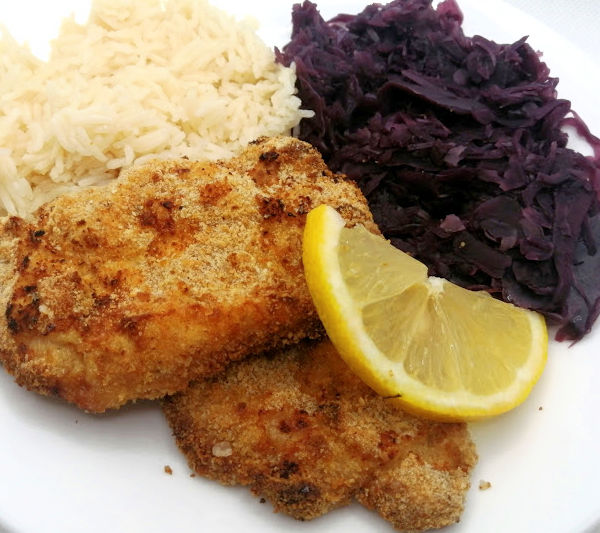 Believe it or not, this was my very first time making schnitzel! I had enjoyed it at Oma's growing up and would often find myself looking for it on restaurant menus. But I never thought of making it myself until my Dad requested it. I looked over at my air fryer and thought, 'with this, I'm sure I can do that.'
You'll love making these crispy pork chops as an easy weeknight dinner. It's one of those easy meals that are always going to impress and became a huge family favorite.
While taking Oma's recipe for schnitzel and adding some of my own little flares, I came out with these amazing tender pork chops, breaded to perfection, leaving a crispy crust overtop... can you taste it already?

This recipe couldn't have been easier than it was to make it in the air fryer. I don't think I've ever had a meat dish cooked and ready so quickly. Making these in the Instant Vortex Plus Air Fryer Oven was such a timesaver. Thanks to the powerful fan inside the fryer, this recipe is made the best way, fast!
I made these air fryer breaded schnitzel using pork cutlets, which are just thin cut pork chops that are boneless. Regular pork chops could be used as well and I'll explain how to do so a little further down by the recipe.
What do you serve with Air Fryer Schnitzel?
The best part about German meats is that they're so easy to pair with other delicious things as they can go with just about anything.
It wasn't a difficult decision while choosing our sides. For us, we always love some authentic red cabbage. Even though we like to take the easy way out and buy the jarred kind, it works just as well! But nothing compares to Oma's true recipe. Check it out below, as well as some other yummy sides you can try with your air fryer schnitzel!
There's something absolutely mouth-watering about having a German meat-and-potato dinner. Get Oma's revised collection of her favorites in German Meat Dishes.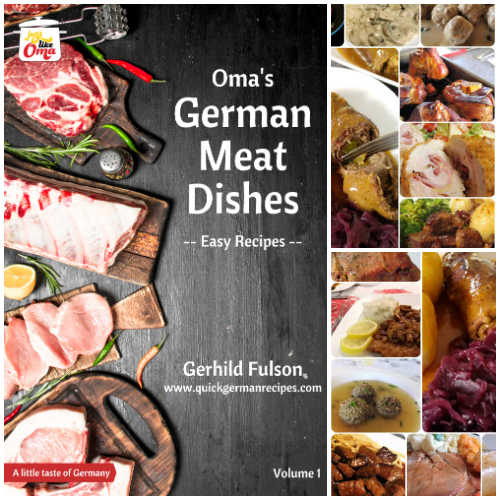 Take a peek at all Oma's eCookbooks. They make sharing your German heritage a delicious adventure!
What's the Difference Between Schnitzel and Milanese?
These two dishes could easily be confused for each other but, when you dig a little deeper you can see that there are some differences.
Let's start with where they originate from and are most popular. Milanese is from, you guessed it, Milan, Italy! This is a very popular dish served in Italian cuisine and is typically made using veal, while German schnitzel is made commonly with pork.
Milanese is often made with some kind of parmesan in one of the breading mixtures as well. But schnitzel is focused more on incorporating our most cherished German spices into our breadings. Such as paprika, nutmeg, caraway, and mustard! Yum! You can also throw some onion powder or garlic powder to add a punch of flavor into your breading mixture.
Both Milanese and schnitzel are simply thin cuts of meat, breaded and fried. But both dishes are especially delicious in their own authentic and tasty way.
What If I Can't Find Pork Cutlets?
It can sometimes be tricky to find the meat you need in the grocery store, so what if you can't find pork cutlets? No worries! 
While pork cutlets are usually the best to use because they have more meat, there is a wunderbar substitute.
I've made this using pork sirloin chops, and there was hardly any difference. If you can find boneless sirloin chops, this is more convenient. They may be smaller in size, but that just means you get to have more!
By using these as a substitute, you also don't need to pound them as thin, seeing as these come quite thin already. It saves the hassle and time, and if you're like me, you love that in the kitchen!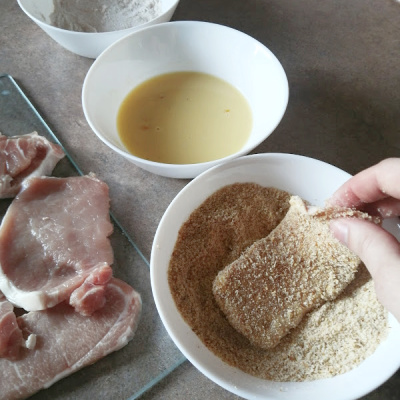 As you can see in the picture above, the sirloin cutlets I used were quite small, which saved on breading ingredients as well. On the left-hand side of the picture, you can see the rest of the cutlets and just how thin they already are. While you can get bigger sirloin cutlets, I purposely went for smaller ones width-wise so that they could all fit nicely on one tray in the fryer. 
Do keep in mind that this was only for me, my Mom, and Dad, so I didn't need to make an enormous portion. But if you're cooking for more, you could always choose bigger sirloin cutlets and use more than one tray.
If using regular pork chops be sure to get boneless chops and to pound the thickest part of the meat to a thin size. You can buy thick boneless pork chops and pound them down to ¼" thick, just as you would if using a pork cutlet. Or, find thin pork chops.
For the best results, I found that using boneless sirloin cutlets made the process go by much faster. Finding the easiest way to make a recipe, then sticking to it can make cooking so much more enjoyable if you're not a kitchen person.
I always love those easy dinners that take less time, and if you're using the air fryer to make this pork recipe, you will not be disappointed with the total time it takes to make!

Ready to Air Fry these German Pork Schnitzel?

Is the recipe below locked? Here's why.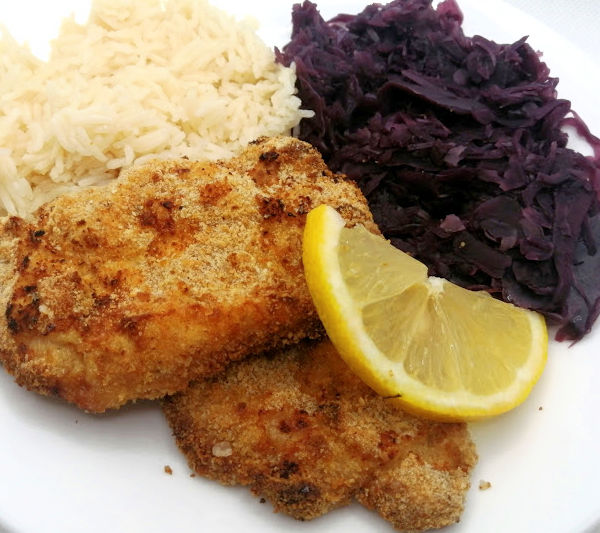 Air Fryer Pork Schnitzel – Luftfritteuse Schweineschnitzel

Making an Instant Pot Vortex Plus Air Fryer Oven pork schnitzel, aka Luftfritteuse Schweineschnitzel, is one of the easiest German meals to prepare. Fast, easy and delicious, is there anything better? 
Wanting to make Jägerschnitzel? Follow Oma's recipe for the Jägerschnitzel Sauce and make it while your schnitzel are air frying.
Prep Time


10 minutes


Cook Time


10 minutes


Total Time

20 minutes

Servings:

Makes 6 servings
Ingredients:
6 pork cutlets
1 tablespoon lemon juice (approx.)
¼ cup all-purpose flour

2 teaspoon seasoned salt
½ teaspoon garlic salt

1 teaspoon pepper
2 tablespoon milk
1 egg
1 cup dry breadcrumbs
2 teaspoon paprika
Instructions:
Preheat air fryer to 375°F on air fry and set aside three bowls.
Prepare sirloin cutlets by using a meat mallet to pound them to about ¼" thick.
Brush a few drops of lemon juice onto the tops of your cutlets and then set aside.
In one of the bowls, mix flour, seasoned salt, garlic salt, and pepper. In the second bowl, add egg and milk, and then whisk until mixed thoroughly. In the third bowl, mix dry breadcrumbs and paprika. 
Dip each cutlet into flour mixture until both sides are evenly coated, then dip into egg mixture, and then into breadcrumb mixture.
Repeat for each cutlet and place each laying flat in a single layer on the air fryer cooking tray.
Set on middle rack in the air fryer and cook for 5 minutes. Flip and cook for another 5 minutes.
Serve with lemon slice on top or drizzle with any remaining lemon juice.
Notes/Hints:

When coating cutlets in egg mixture, be sure to let the excess drip off. It can be harder to coat with breadcrumbs next if egg is dripping all over.
As well as when dredging in breadcrumbs, shake off excess to avoid loose crumbs in your fryer afterward.
If you like pickle flavor as I do, you could add fresh dill into your mixture for a punch of flavor. The taste of deep-fried pickles but as a schnitzel ... YUM!
If you want a crispier coating, lightly spray with a cooking spray/ olive oil spray, before cooking. 
Use your choice of regular or panko breadcrumbs. Both work wunderbar!
If you're using a different air fryer, adjust your times and temperature settings according to the manufacturer's guidelines. 
*  *  *  *  *

Unless otherwise noted recipe, images and content © Just like Oma | www.quick-german-recipes.com

Leave a comment about this recipe or ask a question?

Pop right over to my private Facebook group, the Kaffeeklatschers. You'll find thousands of German foodies, all eager to help and to talk about all things German, especially these yummy foods. 
Meet with us around Oma's table, pull up a chair, grab a coffee and a piece of Apfelstrudel, and enjoy the visit.

Cooking just like Oma, making those German meals, is actually quite easy. Let me, Oma Gerhild, help you with my step-by-step methods to re-create those yummy meals you remember from your Oma.

If you're looking for tasty, traditional, and easy German cake recipes (in English) to try, then you've come to the right place! Check out these lecker treats!

Discover the ultimate German schnitzel recipe with Oma's quick and easy method - perfect for any occasion! Taste the authentic flavors of Germany today.
*  *  *  *  *
PIN to SAVE this recipe to your Pinterest board!
And let's be friends on Pinterest!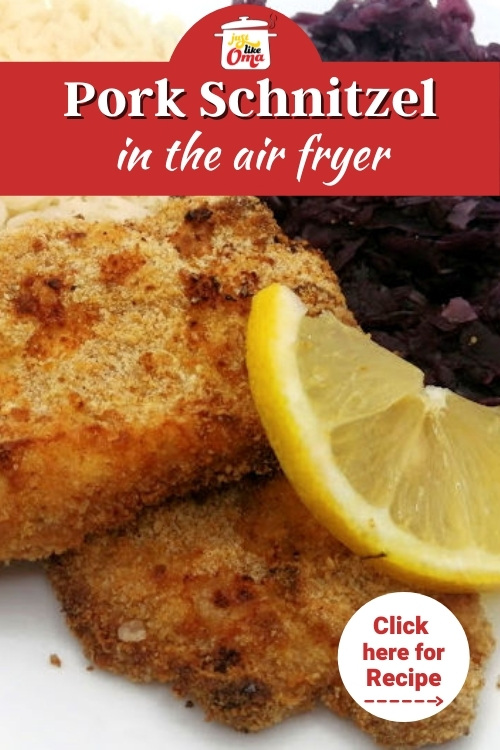 ---
Air Fryer Pork Schnitzel ~ Luftfritteuse Schweineschnitzel
By
Lydia Fulson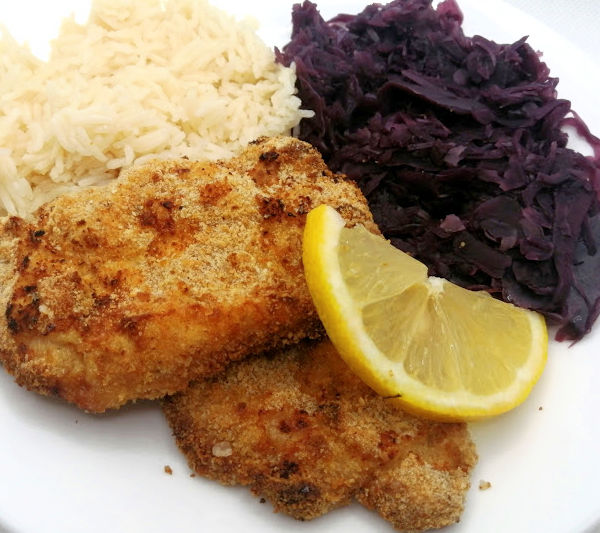 Making an Instant Pot Vortex Plus Air Fryer Oven pork schnitzel, aka Luftfritteuse Schweineschnitzel, is one of the easiest German meals to prepare. Fast, easy and delicious, is there anything better?
Ingredients:
pork cutlets,
lemon juice,
flour,
seasoned salt,
garlic salt,
pepper,
milk,
egg,
breadcrumbs,
paprika,
For the full recipe, scroll up ...
Words to the Wise
"A gentle answer deflects anger, but harsh words make tempers flare."
Proverbs 15:1 (NLT)