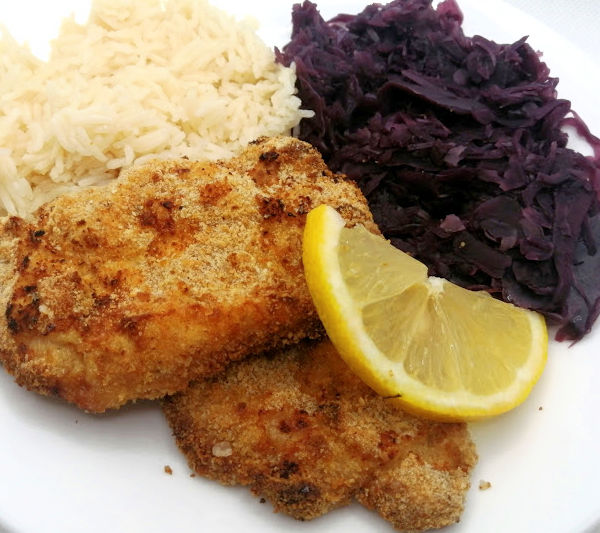 Air Fryer Pork Schnitzel – Luftfritteuse Schweineschnitzel

Making an Instant Pot Vortex Plus Air Fryer Oven pork schnitzel, aka Luftfritteuse Schweineschnitzel, is one of the easiest German meals to prepare. Fast, easy and delicious, is there anything better? 
Wanting to make Jägerschnitzel? Follow Oma's recipe for the Jägerschnitzel Sauce and make it while your schnitzel are air frying.
Prep Time


10 minutes


Cook Time


10 minutes


Total Time

20 minutes

Servings:

Makes 6 servings
Ingredients:
6 pork cutlets
1 tablespoon lemon juice (approx.)
¼ cup all-purpose flour

2 teaspoon seasoned salt
½ teaspoon garlic salt

1 teaspoon pepper
2 tablespoon milk
1 egg
1 cup dry breadcrumbs
2 teaspoon paprika
Instructions:
Preheat air fryer to 375°F on air fry and set aside three bowls.
Prepare sirloin cutlets by using a meat mallet to pound them to about ¼" thick.
Brush a few drops of lemon juice onto the tops of your cutlets and then set aside.
In one of the bowls, mix flour, seasoned salt, garlic salt, and pepper. In the second bowl, add egg and milk, and then whisk until mixed thoroughly. In the third bowl, mix dry breadcrumbs and paprika. 
Dip each cutlet into flour mixture until both sides are evenly coated, then dip into egg mixture, and then into breadcrumb mixture.
Repeat for each cutlet and place each laying flat in a single layer on the air fryer cooking tray.
Set on middle rack in the air fryer and cook for 5 minutes. Flip and cook for another 5 minutes.
Serve with lemon slice on top or drizzle with any remaining lemon juice.
Notes/Hints:

When coating cutlets in egg mixture, be sure to let the excess drip off. It can be harder to coat with breadcrumbs next if egg is dripping all over.
As well as when dredging in breadcrumbs, shake off excess to avoid loose crumbs in your fryer afterward.
If you like pickle flavor as I do, you could add fresh dill into your mixture for a punch of flavor. The taste of deep-fried pickles but as a schnitzel ... YUM!
If you want a crispier coating, lightly spray with a cooking spray/ olive oil spray, before cooking. 
Use your choice of regular or panko breadcrumbs. Both work wunderbar!
If you're using a different air fryer, adjust your times and temperature settings according to the manufacturer's guidelines. 
*  *  *  *  *

Unless otherwise noted recipe, images and content © Just like Oma | www.quick-german-recipes.com