Oma's Brussel Sprouts Recipe ❤️
➤ by Oma Gerhild Fulson
FTC Disclosure: Making a purchase via a link on the page? I may earn a small commission on the transaction - at no added cost to you. Thanks!
Yum
The Brussel sprouts recipe, aka Rosenkohl, that I grew up with was always a treat. Mutti kept them for special dinners, because they were quite expensive where we lived. I kept that tradition ... only for special, until I realized that I could buy them less expensively frozen and have similar results as fresh. So, I learned how to cook Brussel sprouts just the way my Mutti made them.
It's an easy way. It's a quick way. These little cabbages that have a bold taste and make a wonderful side dish that fits to most meats.

Oma's Brussel Sprouts Recipe
Ingredients:
1 lb Brussels Sprouts, frozen

1 - 2 Tbsp butter

¼ cup milk or cream

salt, pepper
Instructions:
Place frozen sprouts in pot with enough water to just cover them. Add ½ tsp salt.

Bring to boil, cover, and simmer until tender, about 5 - 8 minutes.

Drain.

Add butter, stir to melt. Add milk (or cream) and stir. The milk should absorb into the sprouts. 

Season with freshly ground pepper (I use lots) and extra salt if needed.

Serves 4.
Hints:
For extra flavor, u

se cream (5%, !0% or higher) instead of milk and add extra butter.




Sprinkle with Parmesan cheese (not German, but so good!).




Add fried bacon bits.




Cooking the sprouts until they are very tender and then stirring so they break apart, helps them absorb more of the butter and cream --a real rich treat! (you may need to add more cream if they appear too dry).




If using fresh Brussels sprouts, trim

them and cut a crisscross incision in the base of each sprout to encourage even cooking. These will take a little longer to cook, about 10 - 15 minutes.

Brussels Sprouts or Brussel Sprouts?
Now before I go any further, I need to clarify this. Sometimes I see this written as Brussels Sprouts and sometimes as Brussel Sprouts.
I know it best with the "s", but some leave it off. Either way, they are delicious when prepared properly. Really! 
For those who 'hate' Brussels Sprouts ...
Even though we love them, there are people who absolutely hate them. May I suggest this recipe for Roasted Brussels Sprouts ... they are absolutely wunderbar! I think you'll love them this way.
I have to admit when I was first married, I rarely cooked these little "cabbages". I really don't know why. 
I loved them when Mutti made them. Once I started to make them for company, this became one of my best vegetable recipes that my husband asked for. He'd see the frozen sprouts at the store and make his request.

More German Cabbage Recipes
*  *  *  *  *
Want nutritional information for a recipe?
Copy and paste the ingredient list and the number of servings into Calorie Count. 
It will give you an approximate calculation.

*  *  *  *  *
Need help doing conversions between cups and grams or any such thing?
Use this site to give you all the different conversions for the different types of ingredients. 
*  *  *  *  *
---
PIN this ...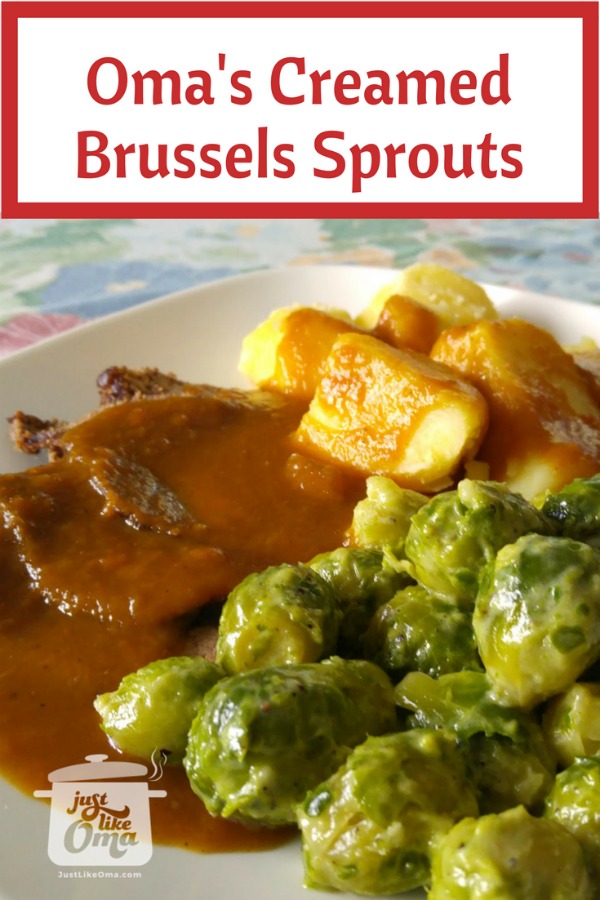 ---
Words to the Wise
Those who mock the poor insult their Maker; those who rejoice at the misfortune of others will be punished."
Proverbs 17:5 (NLT)