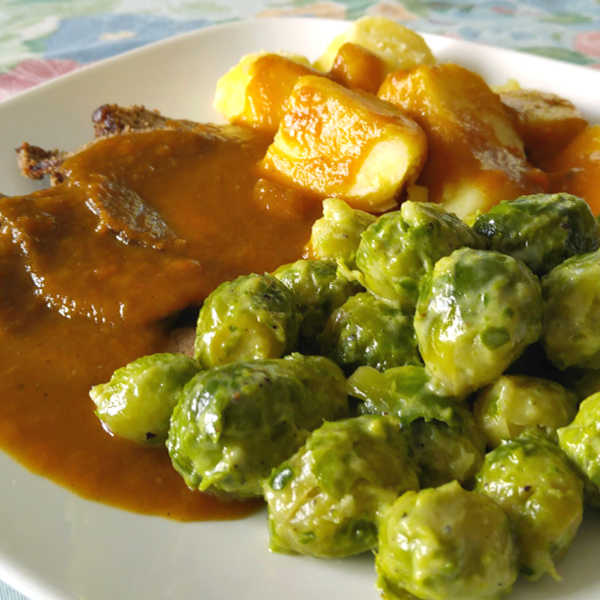 Creamed Brussels Sprouts Recipe – Oma's Rosenkohl Rezept 

The Brussel sprouts recipe, aka Rosenkohl, that I grew up with was always a treat. Mutti kept them for special dinners, because they were quite expensive where we lived.
I kept that tradition ... only for special, until I realized that I could buy them less expensively frozen and have similar results as fresh. 
Prep Time


5 minutes


Cook Time


10 minutes


Total Time

15 minutes

Servings:

Makes 4 servings
Ingredients:
1 pound (454 grams) frozen Brussels sprouts (see Hints below)
½ teaspoon (3 grams) salt
1 to 2 tablespoons (14 to 28 grams) butter 

¼ cup (60 milliliters) milk or cream
freshly ground black pepper, to taste
Instructions:
Place the frozen sprouts in a pot with enough water to just cover them. Add the salt.
Bring to a boil, cover, and simmer until tender, about 5 to 8 minutes. Drain.
Add the butter and stir to melt. Add the milk or cream and stir. The milk should absorb into the sprouts. 
Season with pepper (I use lots) and extra salt, if needed, and serve.
Notes/Hints:

For extra flavor, use cream (5%, !0% or higher) instead of milk and add extra butter.

Sprinkle with Parmesan cheese (not German, but so good!).

Add fried bacon bits.

Cooking the sprouts until they are very tender and then stirring, so they break apart, helps them absorb more of the butter and cream – a real rich treat! (you may need to add more cream if they appear too dry).

If using fresh Brussels sprouts, trim them and cut a crisscross incision in the base of each sprout to encourage even cooking. These will take a little longer to cook, about 10 to 15 minutes.
*  *  *  *  *

Unless otherwise noted recipe, images and content © Just like Oma | www.quick-german-recipes.com