Oma's Roasted Brussels Sprouts Recipe ❤️

➤ by Oma Gerhild Fulson
FTC Disclosure: Making a purchase via a link on the page? I may earn a small commission on the transaction - at no added cost to you. Thanks!
Oma's Brussels sprouts recipe is so easy to make. Not only that, but Oma (that's me) knows how to make this healthy veggie into extraordinary. WUNDERBAR! And that's by ROASTING! These little 'rose cabbages' (as translated from the German "Rosenkohl") take on a whole new flavor when made this modern way.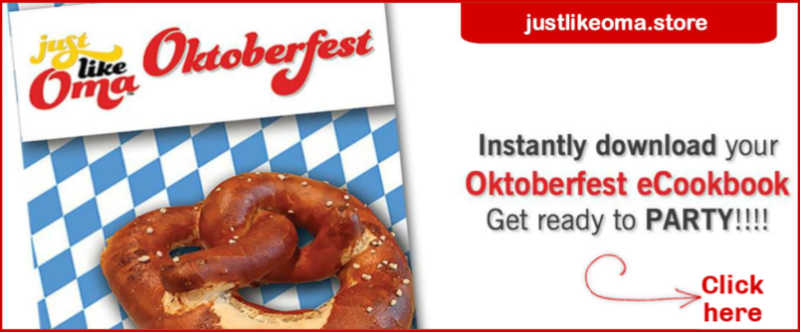 Now, if you've ever wondered how to roast Brussels sprouts, the temps, the times, and the extras added, just follow along below. I love taking a modern approach to traditional German recipes!

These little cabbages have a bold taste and can be served in a variety of ways. Try them roasted with bacon! Wunderbar! Or roast up an extra batch to turn into a salad!
That's right, a salad. Mix with baby spinach or kale. Add a dressing .... check out the recipe below as well as my more traditional Brussels Sprouts recipe.
Below I've roasted Brussels sprouts with lots of bacon, roasted potatoes and roasted sausage!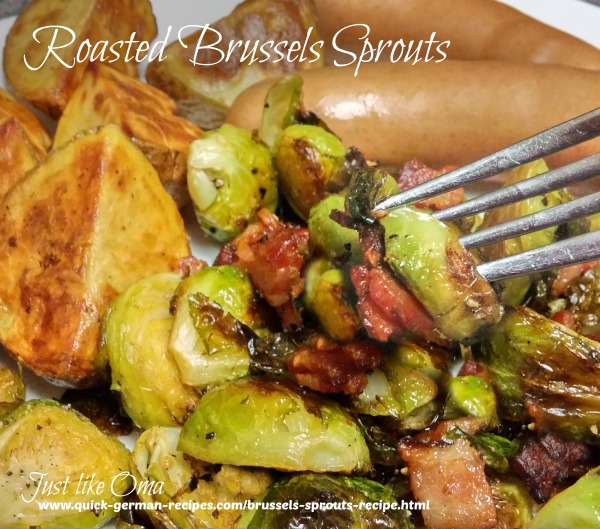 I just love how my Mutti would take those traditional German vegetables and create easy vegetable recipes. Above, is an example of how this Oma turned it even easier! 
If you're looking for a more traditional German approach for Brussel sprouts, check out this one made with cream -- yes, that's traditional German food for sure!
---
Brussels Sprouts Salad:
Why not make a double batch of these roasted Brussel sprouts -- and let the second batch cool.
Mix them together with about 4 cups of baby spinach (or kale). Pour over some balsamic vinaegrette.
Add some cheese (goat's cheese would be awesome).
You've got yourself a wonderful Brussels sprout salad!
Ready to roast your Brussels Sprouts?
Roasted Brussels Sprouts Recipe ❤️

Ingredients:
1 lb fresh Brussels sprouts

3 tbsp olive oil 

3 - 4 slices bacon

salt, pepper
Instructions:
Preheat oven to 400°F.
Clean Brussels sprouts, discarding outer loose leaves. Cut in half.
Put the Brussels sprouts into a plastic bag. Pour in olive oil and season with salt and pepper. Shake gently to coat sprouts.
Pour sprouts onto cookie sheet (with a rim) spreading them out into one layer. 
Dice bacon and sprinkle over the sprouts.
Roast for 30 - 35 minutes, stirring every 10 minutes or so, until golden brown on the outside and tender on the inside. Any leaves that are loose will be crispy and brown (extra delicious!)
Serves 4
Hints:
For a non-German addition, sprinkle with Parmesan cheese during the last 5 minutes.

Leave a comment about this recipe or ask a question?
Pop right over to my private Facebook group, the Kaffeeklatschers. You'll find thousands of German foodies, all eager to help and to talk about all things German, especially these yummy foods. 
I pop in all the time as well, to chat and to answer questions. 
Meet with us around Oma's table, pull up a chair, grab a coffee and a piece of Apfelstrudel, and enjoy the visit.
*  *  *  *  *
Want nutritional information for a recipe?
Copy and paste the ingredient list and the number of servings into Calorie Count. 
It will give you an approximate calculation.

Need help doing conversions
between cups and grams or any such thing?
Use this site to give you all the different conversions for the different types of ingredients. 
---
PIN this ...
---
Schwenkbraten recipe that has been a delish hit an alle familien & freunde... Total Approx. Time: Prep: 15 min. + Marinating 8 hrs min. + Grill: 15 min.

My Oma made this cake every Christmas. She iced it with a white frosting that ran down the sides. She decorated it with little silver balls (candy). It
---
Words to the Wise
"The wise are cautious and avoid danger; fools plunge ahead with reckless confidence."
Proverbs 14:16 (NLT)