Whole Chicken in the Air Fryer
Whole Chicken in the Air Fryer - Brathendl in Luftfritteuse
➤ by Lydia Fulson
This whole chicken in the Air Fryer, aka Brathendl in Luftfritteuse, is so delicious! It's so quick, easy, and flavorful! There's something so lecker about the flavors and crispy textures on this chicken recipe.
Now, this is where your trusty rotisserie basket comes in handy! Just slide your basket in your fryer, wait, and out comes this wonderfully cooked chicken that will leave you reaching for seconds ... or thirds.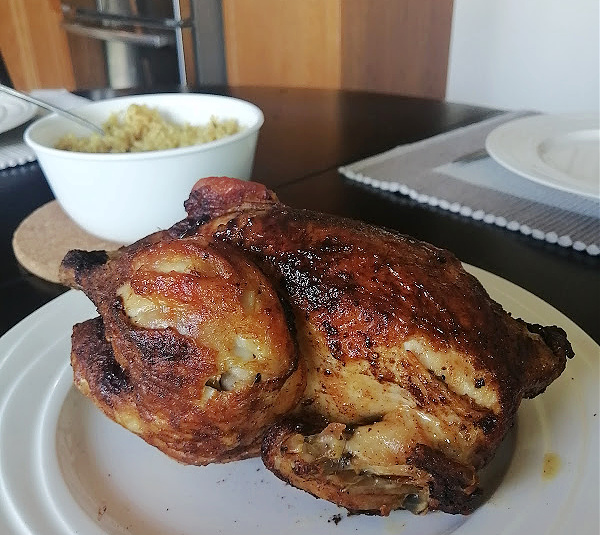 Doesn't that look amazing? It sure does taste yummy. I made this roast chicken in the Instant Vortex Plus Air Fryer Oven and it was so easy, really! I know it may seem complicated looking and sometimes it can be tricky to decide which spices to use. Or which ones are German. We all love to add some German flair to our dishes.

Follow my hints and tips to help you along the way as you make your own roast chicken. So let's get our aprons on and head to the kitchen!
But first ... let's get to know our equipment.
How To Use The Rotisserie Basket
If you are using the Instant Vortex Plus Air Fryer Oven, you'll notice that there aren't too many pieces to the basket, which makes this recipe even easier.
Rotisserie baskets work in the air fryer because they allow air to circulate all the way around as your food rotates in the basket. As it rolls around, the meat is basting in its own juices. This makes it the perfect tool for making chicken, leaving a golden, evenly cooked skin and juicy center from even air circulation.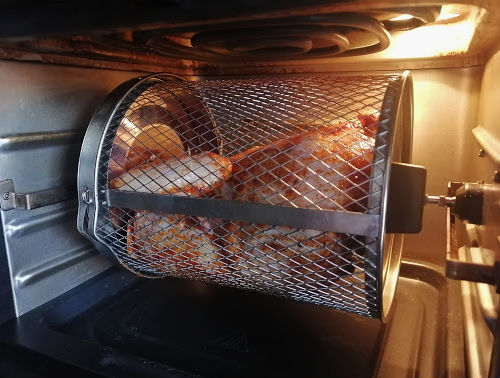 The long process of trussing a chicken to put it onto a rotisserie spit is the last thing you want to do after spending all that time prepping your yummy chicken. The second you finish getting that chicken ready, you just want to get it in the fryer as quick as you can so you can enjoy it!
So, if your chicken is less than around 3 pound, use that rotisserie basket. So easy! If you need a little extra help with this, no worries at all! In the video below, I'm showing you step by step how to put your basket together. :)
What Size Will Fit In The Rotisserie?
It can be difficult to gauge exactly what size chicken will fit in your rotisserie basket, but we figured it out ... (the hard way), so you don't have to.
After trial and error, we learned pretty quickly that if your chicken is slightly too big for your basket, the lid won't securely stay on or fit in the fryer. We found that the best size is to keep it under 3 pounds.
You can find these whole chickens at your local grocery store and they aren't too costly either. The picture at the top of the page is the chicken that I found locally. It weighed about 2.5 pounds and was the perfect amount for my parents and me. Depending on how big your appetite is, you may want to aim more for the 3 pound mark, so you get more out of it.
But, if you don't want to use the rotisserie basket or your chicken is too big, just use your rotisserie spit! 

Using A Rotisserie Spit
What is a rotisserie spit? Well ...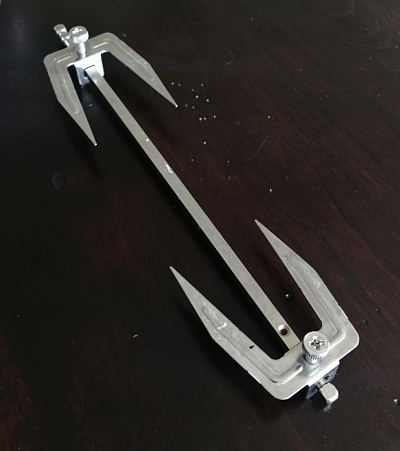 It's this funky-looking contraption! It looks strange, but it does work! Because it can be cumbersome to get the chicken on the prongs, you may need an extra pair of hands to help with this one. 
You can get your chicken on your spit by adjusting those screws as needed to fit the size of your chicken, then poke those prongs through the front and back of the chicken. 
Using the spit will give you the same type of cook as the basket. Very juicy, golden, evenly cooked deliciousness! It also gives you a bit more room than the basket does, so don't be afraid to go up to 4 pounds when using this tool.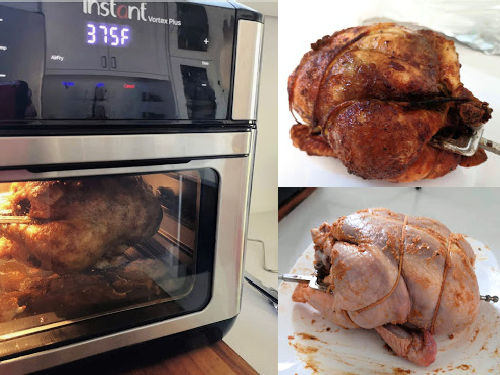 Here is Oma's chicken made on the Instant Vortex Plus Air Fryer Oven spit. Now that's making me hungry!
When you are using the spit, you'll need to truss your chicken with kitchen twine very tightly, so that the wings and legs don't start to dance around.
Don't want to use the rotisserie spit either? No problem! You can also make this chicken on one of the trays that came with your air fryer. You'll need to turn the chicken over half way through the roasting time. By doing it this way, you can get very crispy skin! YUM! 
What Can I Add to Make it More German?
There is a very colorful spice that we Germans LOVE and that is paprika! 
It has been a staple spice in German cuisine for years and it's no secret as to why that is. The flavors that it adds are so bold and delicious, and its beautiful red hue gives any bland-looking dish a lovely burst of color.
I wasn't too familiar with paprika until Oma introduced me to it. I was never too adventurous with spices ... then I tried paprika. I used paprika when making my chicken and was not left disappointed. 
Not only is it delicious, but it's beneficial as well. Did you know that paprika is full of vitamin A and antioxidants? That's right! It benefits your overall cholesterol and blood sugar.
Rosemary and nutmeg are also very German and give off wunderbar flavors. There really are no rights and wrongs when it comes to spices. Don't be afraid to experiment with some to find the best combination to suit your taste!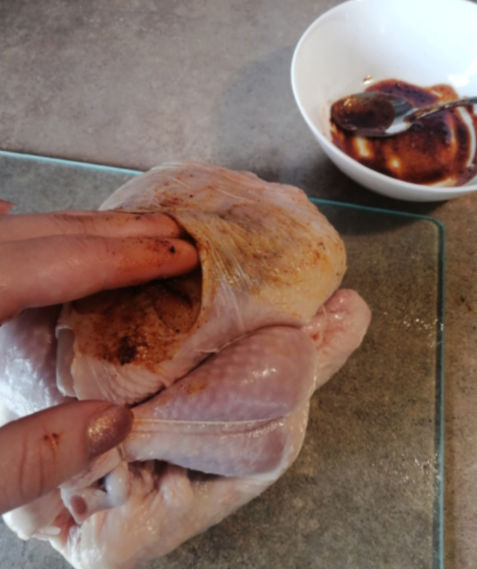 As you can see in the picture above, I made sure to work my fingers between the skin and the meat. This is so I can get inside and get our yummy mixture right on the meat for extra flavor! Start by sliding your fingers between the meat and the skin. Work slowly, separating as much of the skin from the meat as you can reach and massage in the mixture.
This part can get messy. I do suggest wearing gloves so that the paprika doesn't stain your hands orange. I didn't remember this until it was too late ... 
---
Ready to air fry your chicken?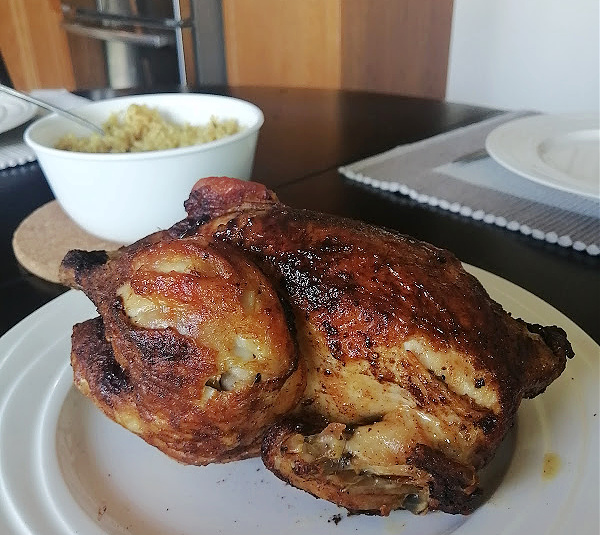 Oma's Whole Chicken in the Air Fryer ~ Brathendl in Luftfritteuse

This whole chicken in the Air Fryer is so delicious! It's so quick, easy, and flavorful! There's something so lecker about the flavors and crispy textures on this chicken recipe. Done either in the rotisserie basket or using your spit, you'll be reaching for seconds or thirds. It's so good.
I based this recipe on my Oma's Brathendl recipe from her German Meals at Oma's cookbook.
Prep Time


15 minutes


Cook Time


60 minutes


Total Time

75 minutes

Servings:

Makes 1 chicken
Ingredients:
1 whole chicken, around 3 pounds
¼ cup olive oil
2 - 3 tsp paprika
1 tsp salt
½ tsp pepper
Instructions:
Preheat air fryer to 375°F on AirFry.
In a small bowl mix together olive oil, paprika, salt and pepper.
Slide your fingers between the meat and the skin, and working slowly, separate as much of the skin from the meat as you can reach. Scoop in some of the oil mixture, while pushing under the skin with your fingers.
Massage remainder of mixture all over the chicken, including underneath.
Place chicken in basket or on to spit. Place into air fryer.
Air fry for about 1 hour or until internal temperature of the thighs is 170°F. 
For a crispier skin, set roasted chicken on tray and return to air fryer at 400°F. Cook for 5 minutes, flip, then return for another 5 minutes. Watch carefully so that it doesn't burn.
Cut, serve and enjoy!
Notes/Hints:

When using rotisserie basket, make sure you put it in the air fryer with the lid facing the motor (left side).
If you wish, instead of olive oil you can use melted butter for a more traditional flavor. However, the butter will quickly harden from the cold of the chicken and won't spread nicely. Olive oil will stay liquid and allow you to evenly coat your chicken.
Getting in between the skin and meat with your fingers to spread the mixture inside will add extra flavor and juiciness.
A rotisserie chicken doesn't naturally have crispy skin since it is constantly being basted by its own juices. By putting the chicken on a tray just at the end and air frying for several more minutes, allows the skin to crisp up.
*  *  *  *  *

Unless otherwise noted recipe, images and content © Just like Oma | www.quick-german-recipes.com

Want Nutritional Information?

Copy and paste the above ingredient list and the number of servings into Calorie Count for an approximate calculation.
Need Help Doing Conversions?

Make it easier to convert between cups and grams, etc. Use this site to give you all the different conversions for the different types of ingredients. 
Leave a comment about this recipe or ask a question?

Pop right over to my private Facebook group, the Kaffeeklatschers. You'll find thousands of German foodies, all eager to help and to talk about all things German, especially these yummy foods. 
Meet with us around Oma's table, pull up a chair, grab a coffee and a piece of Apfelstrudel, and enjoy the visit.

Similar to Italian gnocchi potato dumplings, these German potato noodles, Schupfnudeln, are a traditional side or main dish in southern Germany. So easy to make! Really!

Oma's German cucumber salad is so delightfully refreshing, especially in the summer. Since it's from the south, there's no cream in it which makes it a perfect picnic side!

Oma's best German potato salad recipe is traditional in northern Germany. Yes, it's made with mayonnaise. In the South, it's without mayo. Both authentic and wunderbar!
*  *  *  *  *
---
Whole Chicken in the Air Fryer ~ Brathendl in Luftfritteuse


By
Lydia Fulson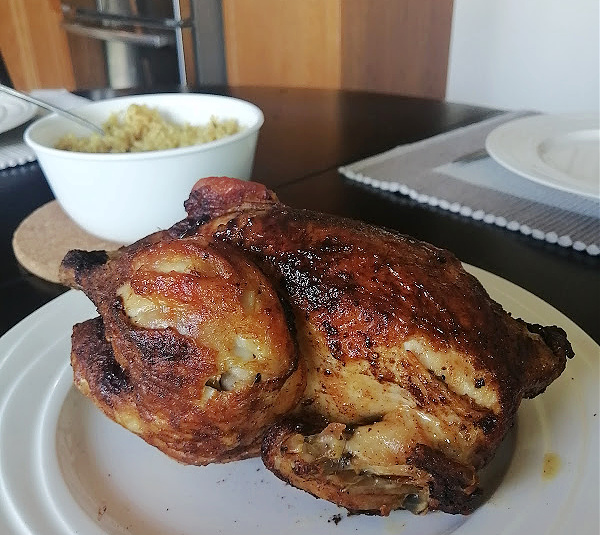 You have got to try this whole chicken in the air fryer, aka Brathendl in Luftfritteuse, so crispy and delicious! It's so quick, easy, and flavorful! This recipe is sure to become family favorite.

Ingredients:
chicken,
olive oil,
seasonings,
For the full recipe, scroll up ...
Words to the Wise
"Watch your tongue and keep  your mouth shut, and you will stay out of trouble."
Proverbs 21:23 (NLT)