Air-Fried Buffalo Cauliflower Bites ~ Luftfritteuse Büffel Blumenkohl 
➤ by Lydia Fulson
These air-fried buffalo cauliflower bites are the perfect appetizer for any occasion. A great and healthy snack alternative to buffalo wings that still gives that punch of flavor. 
You'll love how quickly you can whip this tasty snack together by making them in your air fryer. They taste absolutely lecker paired with some celery sticks and blue cheese dressing!
I used the Instant Vortex Plus Air Fryer Oven to make this delicious air fryer cauliflower recipe which made the cooking process all that much easier. If you use a different type of fryer, no problem. Simply adjust settings and cook time accordingly. 
I love making these air fryer buffalo cauliflower wings / bites for many reasons. Not only are they an affordable side to make, but it's such an easy recipe that can be done so quickly by air frying!
I would take these over french fries any day, and I love that they aren't greasy or oily like they would be if they had been done in the deep fryer. They're vegetarian wings ... just without all the grease!
Which Sauce Is Best For Cauliflower Bites?
My Mutti is the one who taught me this wunderbar recipe, and the first time she made it, she used Frank's hot sauce.
We all came to an agreeance that using regular hot sauce was a bit too spicy for us ... SO ... we then tried Frank's Wing Sauce. This was so good, and coming from a not-so-spicy food lover like myself, that is saying a lot.
I love using this sauce from now on. It has the perfect amount of bite that you're looking for. Something that isn't too overpowering. But the right amount of spice to pair with your preferred dressing or topping. I love these bites with blue cheese dip! YUM! But I could see these being absolutely delectable with ranch dressing as well.
What's the Difference Between Regular and Panko Breadcrumbs?
Regular breadcrumbs have always been my go-to, simply because I'm so used to using them and I know how to use them properly. But, once I heard about Panko crumbs, I was intrigued. 
But what's the difference? 
Panko crumbs are made using white bread that is crustless. But these are not ground as finely as regular breadcrumbs, meaning they are larger and resemble flakes. When you use Panko crumbs, because they are so much larger in size, they crisp quite nicely, which would make them a great addition to this air-fried buffalo cauliflower bites recipe!
But there's one way of making breadcrumbs that I haven't mentioned yet, and that's Oma's buttered breadcrumbs! She uses this scrumptious bread crumb method for a topping on her delicious cauliflower recipe. Since we're on the topic of bread crumbs AND cauliflower ... I had to mention her amazing recipe. I always loved this one.
Need that "all's good with the world" feeling? Comfort food will do that. Get your copy of Oma's German favorites in her Comfort Foods e-Cookbook.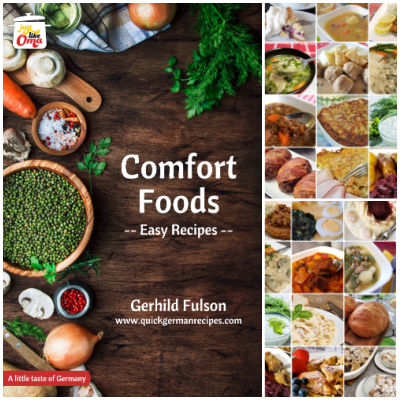 Take a peek at all Oma's eCookbooks. They make sharing your German heritage a delicious adventure!
Here's how easy it is to coat your buffalo cauliflower bites.
Start by mixing melted butter and wing sauce together, then pouring over cauliflower pieces.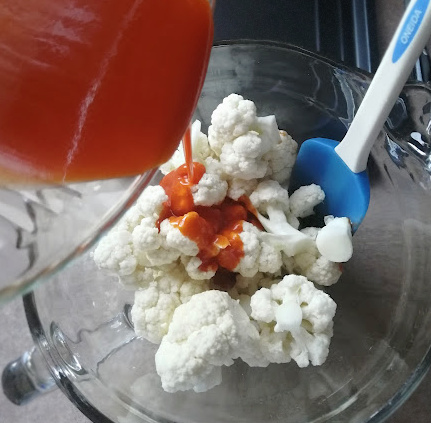 Mix until all pieces are evenly coated.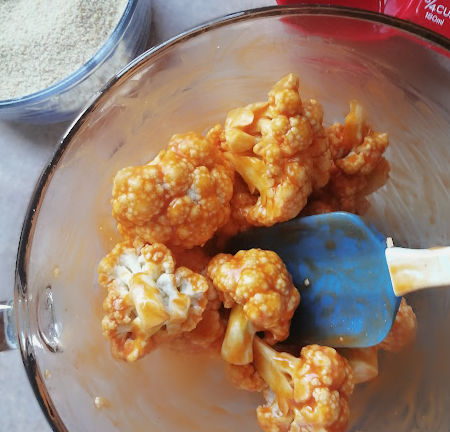 Pour breading mixture over sauced cauliflower and mix until all pieces are evenly coated.
Lay cauliflower in a single layer on air fryer tray, and drizzle some extra Frank's Wing Sauce over top.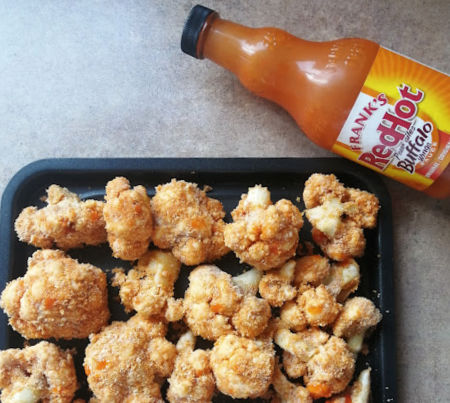 From there, simply air fry, and dig in. I wasn't kidding when I said this recipe is quick and easy! Just how we like it.
Ready to Air Fry these Buffalo Cauliflower Bites?

Is the recipe below locked? Here's why. Unlock to see ALL the exclusive recipes on this site. Click here for help.
➤ As an Amazon Associate, I earn from qualifying purchases.

Air Fried Buffalo Cauliflower

This buffalo cauliflower recipe made easily in the air fryer may not be German, but it sure is lecker! This recipe adds that extra kick of spicy flavor that everyone will love.
I used the Instant Vortex Plus Air Fryer Oven to make this delicious cauliflower. If you have something different, no problem. Simply adjust settings and cook time accordingly. 

Prep Time


20 minutes


Cook Time


12 minutes


Total Time

32 minutes

Servings:

Makes 4 servings
Ingredients:
1 head of cauliflower
2 tablespoons melted butter
3/4 cup Frank's wing sauce
1 cup dry breadcrumbs
1 tablespoon paprika
2 teaspoons garlic salt
Instructions:
Start by preheating air fryer to 400°F on air fry mode.
Wash and chop cauliflower into large bite-sized pieces, and set aside in a large bowl.
In a small bowl, mix Frank's wing sauce and melted butter together.
Pour sauce over cauliflower, evenly coating all pieces, then set aside for 10 minutes to marinate.
Into a small bowl mix breadcrumbs, paprika, and garlic powder. 
Pour breadcrumb mixture over cauliflower after marinating is finished and mix until evenly coated. 
In a single layer, lay cauliflower on air fryer baking sheet and drizzle a little bit of wing sauce over top.
Air fry for 10 to12 minutes until golden brown, or slightly darkened on the tops.
Serve with celery sticks and dip in blue cheese dressing or your choice of dipping sauce.
Notes/Hints:

To make these in your trusty air fryer basket, the process is very much the same! Simply spray your basket or brush with olive oil, and add your breaded cauliflower bites into the basket, then let them rotate for 10 to 12 minutes.
*  *  *  *  *

Unless otherwise noted recipe, images and content © Just like Oma | www.quick-german-recipes.com

Leave a comment about this recipe or ask a question?

Pop right over to my private Facebook group, the Kaffeeklatschers. You'll find thousands of German foodies, all eager to help and to talk about all things German, especially these yummy foods. 
Meet with us around Oma's table, pull up a chair, grab a coffee and a piece of Apfelstrudel, and enjoy the visit.

Make this easy German Mulled Wine recipe to enjoy as a traditional German Christmas drink. It'll make you think you're back in Germany at the wonderful Christmas markets.

Wurstsalat ... a traditional meat salad from southern Germany. In the north, it's Fleischsalat. Both are wonderfully different and utterly delicious! Perfect party pairing.

Making rhubarb syrup has never been so easy, or so tasty. The best part- you get two in one. A syrup and a butter. Both equally as lecker as the other.
*  *  *  *  *
PIN to SAVE this recipe to your Pinterest board!
---
Air-Fried Buffalo Cauliflower Bites ~ Luftfritteuse Büffel Blumenkohl
By
Lydia Fulson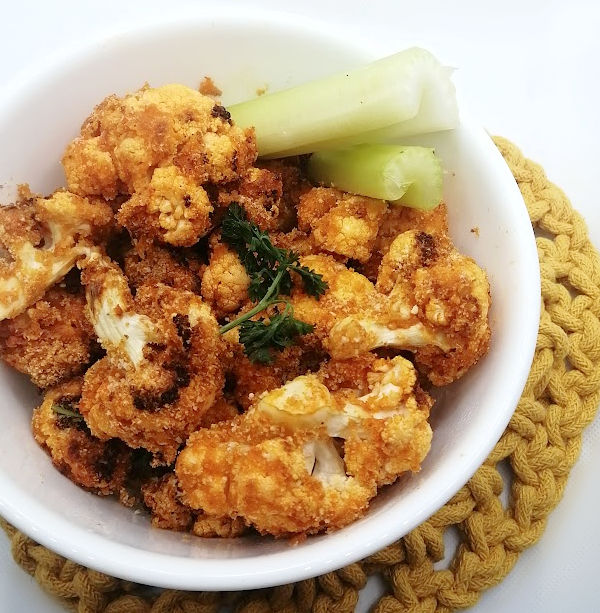 This buffalo cauliflower recipe made easily in the air fryer may not be German, but it sure is lecker! This recipe adds that extra kick of spicy flavor that everyone will love.
Ingredients:
cauliflower,
melted butter,
Franks wing sauce,
breadcrumbs,
paprika,
garlic salt,
For the full recipe, scroll up ...
Words to the Wise
"The godly are showered with blessings; the words of the wicked conceal violent intentions."
Proverbs 10:6 (NLT)