Must-Have Best Blogging Tools and Resources for Success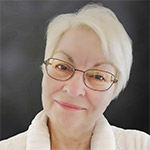 by: Gerhild Fulson  /  Cookbook Author, Blogger, German Oma!
Disclosure:  I only recommend products I use myself & all opinions expressed here are mine. This post contains affiliate links that at no additional cost to you, I may earn a small commission. Read full privacy policy here.

Research and Use the Best

Over the past twelve years, as I've built up my businesses and websites, I've gone through various tools, products, and services, continually looking for those that are the best in order to do just what I need them to do.
Part of my strategy is that whatever I use, it needs to be easy to learn and implement. Why easy? Because with so much else to do, steep learning curves aren't welcome. Creating content takes time. It needs to take time to be done properly. Therefore, having the right 'easy' tools is so important.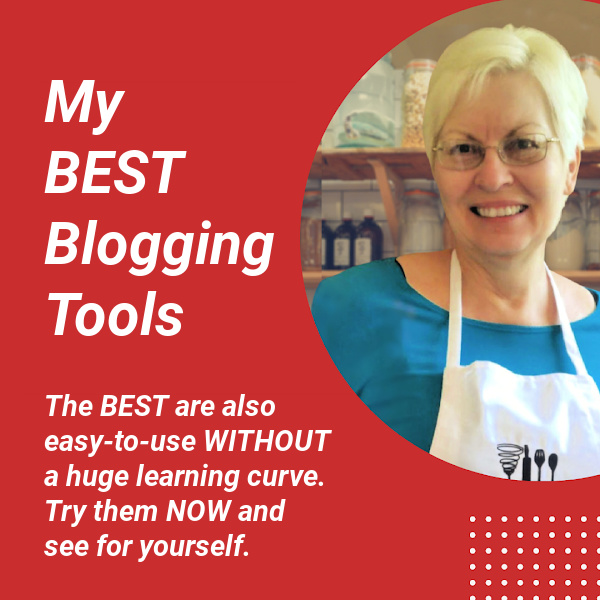 Below, I'll share with you exactly what I am using, and have been using for years. These have stood the test of time. Many have free plans so that you can try them out. Some have free forever plans (I love those). Others have plans that are priced better than others because price isn't always a good indication of quality.

Again, for me, easy of use … and quality … are of utmost importance.
Quality is hard to find. With all the 'noise' and 'chatter' about what the BEST is (just ask Google), finding that BEST takes time, effort, and money. I went through lots of time and effort to find just what was right for me. And, I went through money, as I subscribed to this one and that one.
Now, though, I've scaled it down to these that are really the BEST for me, and I hope, you'll find some here that will solve your problems as well.
Being an entrepreneur often means being alone in your research, in your decisions, and in your implementation. The tools below will make that a bit easier. I've done the research, most have free plans, so you can check out your decisions, and if you need help in implementing them, they all have fantastic support available. And, I'm always available for help as well.
I've used this platform since 2008 and built my first of many websites there. While SBI! (Solo Build It!) teaches the best structure for one's site, with a step-by-step Action Guide, the biggest reason for its business success is that it enables one to actually build a business.
Why build a site or a blog when one can actually build a business? Don't just be a site that's found on page 269 of Google. Be an online e-business that actually gets ranked and found. (Take a look at my results.)
SBI! teaches how to prepare your business before you even start building the site. Learn how to build traffic. Learn different monetization plans. The Support and Forums are invaluable resources.
Yes, there are hundreds of faster ways than SBI! to put up yet another ineffective site or blog. But, there's still no better way to build a winning e-business than with Solo Build it!
RankIQ really is the easiest SEO tool available for bloggers, whether new or experienced. Without needing to know the ins and outs of SEO (or spend hundreds of dollars), it's easy to write and update posts that have great potential to rank well in Google. 
Using personalized keyword libraries saves much time in writing new posts and is one of the easiest ways to update any old underperforming posts.

My review of RankIQ will give you examples of how this amazing program works. 
I just deleted my previous email provider from this spot and was looking for another ESP, Email Service Provider, to send newsletters and such. Well, I just found Flodesk. The pricing structure is unbelievable. For my size list, other providers were quoting $150 - $400 per month. 
Flodesk is a flat fee of $38/month. BUT wait, I have a link for you that will get you 50% off so it's only $19/month if you lock in for 1 year. I just had to share this, because even just to try it out for a year, it costs less than 2 months with other providers.
As I look at their features, I'm almost blown away. They say they'll clean the email list as they import it. I've paid for that service elsewhere. And, they do auto-resend, which is what I was looking for. 
I'll let you know how it goes, but for now, I'll be trying it out for several months before I'm back here to give the results. 
I know the pricing and features seemed like it's-too-good-to-be-true, but it's definitely worth an experiment. Check it out for yourself!
Whether a standalone ecommerce store or using code on ones' own site, Shopify provides plans that work with your needs. I use Shopify Lite, the version that adds a Buy Button to my SBI site. Easy to use. You can see it in action on my Store page.
With their 14-day free trial, it's easy to try it out and see if it's just what you require.
Once you have everything set up and running, how can you tell if it is working? The most popular way is by using Google Analytics (GA). You'll first need to set up an account with them and then insert the GA code onto your site. Then, you'll need to figure out how to actually use GA and that can be a real challenge! Do-able. But, there is a learning curve.
Easier is to install the Statcounter code. The analytics are right there, easy to see, and easy to understand.
I've been using Statcounter since the beginning and rarely have the need to check my GA account. The Statcounter free plan is really all that's needed, although there's an awesome paid version that has some amazing features.
Even if you're using GA, add Statcounter to your site. It will give you those immediate analytic results that you can work with right away!
PS: no learning curve.

If you're new into making videos, you're going to love InVideo. It's also quite a new program, but it's already making waves with what's possible to create. With a free forever plan, it's a perfect way to enter the video craze.
Why videos? Because they are scroll-stopping. Whether on your website or on social media, videos that are well done, grab simply attention than still images.
On my main website, I use MediaVine for my ad network (much better income than using Google Adsense or Ezoic). What's awesome is that MediaVine will include my videos as a place to show ads ... sort of like Facebook and Youtube do. BUT, and here's the best part, these ads REALLY BRING IN THE MONEY!
That's why having an easy way to make amazing videos is SO important. In InVideo, I can easily convert these horizontal 16:9 video on my website to a square 1:1 video (which looks great on Facebook and Instagram) to a vertical 9:6 video perfect for Pinterest.
Since it's so easy to sign up for their Free Forever plan, do take a look at all InVideo can do for you.
If you want to sell items, such as T-shirts, mugs, wall art, and jewelry, but don't want to actually make the items, stock the items, or ship the items, POD is just for you. It's the easy way to have an online store, without all the work or expense.
There are many POD companies available, but when I chose Printful, it was because their interface with my e-commerce website was the easiest and their products and printing are the best. Printful is a white label POD, meaning that your own branding goes on the product, invoice, and packaging. There is no indication to the customer that Printful was involved.
I had a WordPress site I built primarily to learn the WP platform and use WooCommerce as the store plugin. Printful integrates with WooCommerce with a one-click setup. Easy. Now, when someone buys an item in my store, the total transaction is seamless. The process goes like this:
I create the design for the mug/t-shirt/etc 
I upload the design to Printful.
I update the listing on my site, since Printful already pushed it to my site. 
Someone clicks to buy and pays via PayPal or credit cards.
The money is divided automatically to Printful (to print, process, and ship) and to me (profit).
Transaction complete.
As you can see, all I really need to do is be creative, in my designs and in keeping my store looking good. Of course, SEO and marketing are essential to make the store successful, but my energy can go into this, instead of the actual printing, storing, inventory, shipping, etc., etc. etc.
Sounds interesting? Give Printful a look and see if it's something for you to consider.
Oh, although I no longer have my WordPress store, Printful also works with Shopify. I'll soon be adding POD items on my new Shopify store.
Grow.me is a privacy-compliant platform created by MediaVine, my advertising partner, as a means to provide the best experiences for users, by helping to preserve consumer privacy while at the same time providing programmatic ads without third-party cookies.
It is MediaVine's answer to Google killing third-party cookies in 2023. The forecast is that without some kind of intervention, most bloggers will lose about 60% of their ad income. Grow.me is that intervention. 
If you are a MediaVine publisher, enable Grow.me right away! If you're not with MediaVine yet, there's a beta roll-out happening that you can apply to use Grow.me. 
*  *  *  *  *