German Cheesecake Recipe

& Homemade Quark Recipe
➤ by Oma Gerhild Fulson
FTC Disclosure: Making a purchase via a link on the page? I may earn a small commission on the transaction - at no added cost to you. Thanks!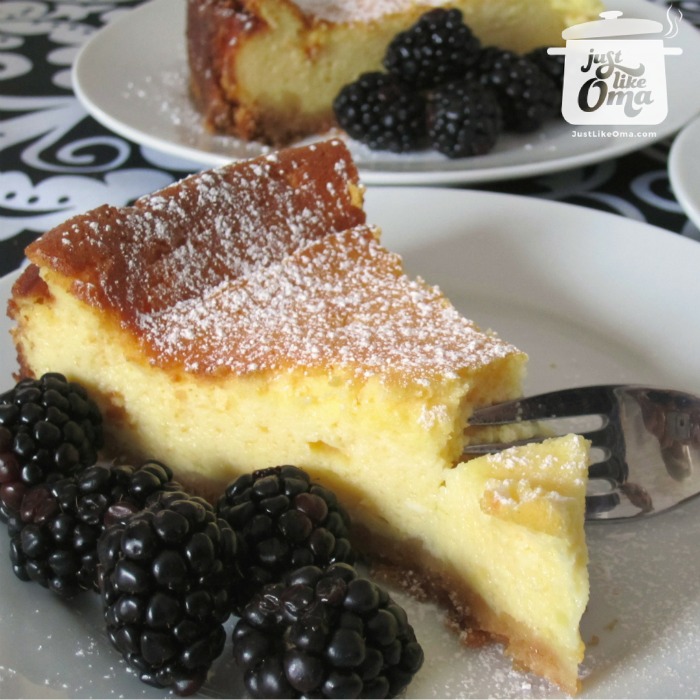 Yum
Learn how to make cheesecake, just like it's made in Germany. A traditional recipe that's really easy to make? YES! Tastes just like you've had in Germany ... with a few little changes to make it easier! This recipe uses Quark ... and if you can't buy it, then check out below and make it yourself at home. (I use my Dash Greek Yogurt maker to make Quark!) The changes?
Well, instead of making a "Knetteig" crust, I used crushed German Butterkekse (when available), 'cause it's easy and, I think, tastes great!

How to make Cheesecake, German-style
Ingredients:
CRUST
7 oz butter cookies (German Butter Cookies or Mr. Christie's Social Tea Biscuits)
⅓ cup butter, melted
FILLING
½ cup butter, room temperature
1⅛ cup granulated sugar
2 tsp vanilla sugar
3½ tbsp Bird's Custard Powder or 1 package Dr. Oetker Puddingpulver
3 eggs
2 cups quark (see below)
1 cup sour cream
1 cup whipping cream
Instructions:

CRUST
Preheat oven to 350°F. Grease a 10-inch springform pan.
Process the cookies in a food processor to the crumb stage. 
Stir in the melted butter, mixing well.
Put buttered crumbs into springform pan, pressing down firmly, making a slightly raised edge.
FILLING 
In a large mixing bowl, add the butter, sugar, vanilla sugar, custard powder or pudding powder, and eggs. Mix well. 
Stir in the quark and sour cream.
In a separate bowl, beat the whipping cream until stiff.
Fold the whipped cream into the quark mixture until well incorporated.
Pour filling onto buttered crumb crust and smooth the top.
Place the pan into the oven, placing a cookie sheet on the rack below to catch any possible overflow.
Bake 50 - 60 minutes or until the top is nicely golden brown and the cake seems set.
Turn off oven heat and prop door open just a bit (I use a wooden spoon) so that the cake can cool off slowly.
After about an hour, remove cake from the oven and place on a cookie rack to finish cooling.
The cake is best served (if you can wait) once it has been in the fridge for several hours. 

---
When I use my Dash Greek Yogurt Maker to make Quark for this cake, I need to start the day ahead to allow for the incubation period. So, with a bit of planning, the amount of work used for this cake, really isn't very much. Therefore, how to make a cheesecake really doesn't have to be difficult! There are so many different recipes, but I really like quick and simple. That's the recipe above!
Quick Tips for Making Cheesecake ...
Don't have a food processor? Put the cookies into a Ziploc bag and roll over with a rolling pin until the cookies have become crumbs.
Don't have German butter cookies? Use tea biscuits (I've used Mr. Christie Social Tea Biscuits.)

Can't get the traditional Puddingpulver? I used Bird's Custard Powder, but if that's not available, just use corn starch and add twice the vanilla sugar.
Can't buy vanilla sugar? Make your own easily here. 
That's it. Real. German. Cheesecake. Wunderbar!
How to make Quark
Check out my page on making your own Quark here, or follow these quick steps below.
Use a Yogurt Maker ...
Easy way to make Quark ... use a Greek yogurt maker and buttermilk. 12 hours 'incubation' and 6 hours draining in fridge (I did 10 hours accidentally ... and a bit thicker than normal) ... can do in oven ... but the yogurt maker leaves the oven available for other uses. (Quantity: 4 cups buttermilk = 1.75 cups quark) 

Use the Oven ...
Don't have a yogurt maker? Don't fret! You can still make Quark. Pour the buttermilk into large casserole with lid. Let sit in oven overnight (at least 8 hours) at the lowest temperature possible ... no more than 150°F.
Line a large sieve or colander with a clean cloth. Pour the "cultured" buttermilk into it and let it sit to drain in the fridge for 6 hours or so.
This cake was brought to my attention by my dear Facebook friend, Anna Hanssen, who shared the recipe for Der beste Kaesekuchen der Welt. She gave me some of her adaptations and then I added my own changes. 
Thanks, Anna!
---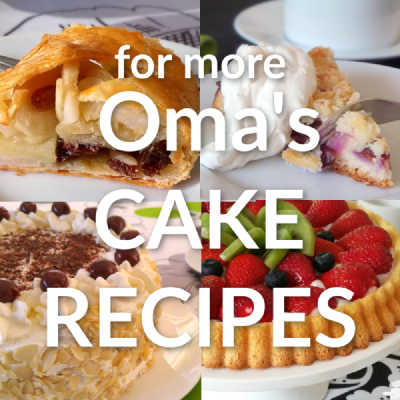 *  *  *  *  *
Thinking of starting your own Handmade Business?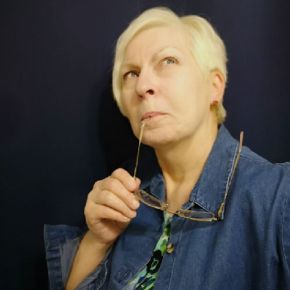 This Oma KNOWS you CAN do it.
How do I know?
Well, if I can do it, anyone can.
I've even figured out how I can help you.
I've teamed up with my own business coach, Renae Christine (yes, do google her!), to bring you this free masterclass. After you watch it, ask me any questions and I'll gladly answer them.
Don't hesitate. I'm not sure how long Renae will keep this free masterclass available.
PS:  Yes, Renae really is as amazing as all the reviews say.
PPS: Yes, the course is for handmade items, but I've used it successfully for my cookbooks. I know others are using her methods for services, direct sales, and even a local ice cream bar & grill that's constantly selling out. You've nothing to lose by taking a look ... and a whole bunch to gain.
*  *  *  *  *
Oma's Cookbooks (downloadable & print)
*  *  *  *  *
Want nutritional information for a recipe?
Copy and paste the ingredient list and the number of servings into Calorie Count. 
It will give you an approximate calculation.

Need help doing conversions
between cups and grams or any such thing?
Use this site to give you all the different conversions for the different types of ingredients. 
---
PIN this ... while preparing your springform pan and ingredients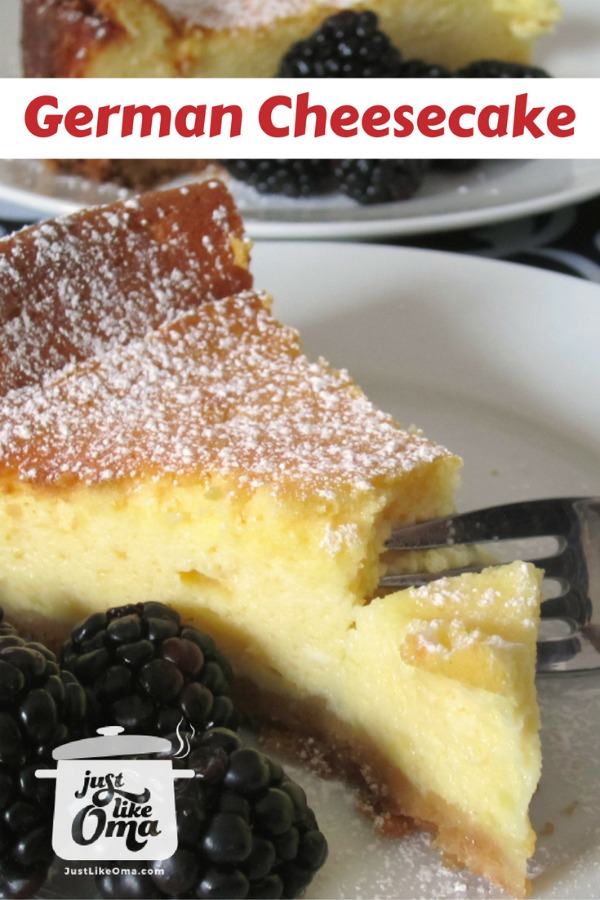 ---
Words to the Wise
"Acquitting the guilty and condemning the innocent -- both are detestable to the Lord."
Proverbs 17:15 (NLT)
---
❤️ How to Make Cheesecake, German-style, just like Oma


By
Oma Gerhild Fulson
How to make cheesecake, just like your Oma and this includes a recipe for making quark ... at home! Tastes just like you've had in Germany.

Ingredients:
sour cream,
eggs,
whipping cream,
butter,
For the full recipe, scroll up ...