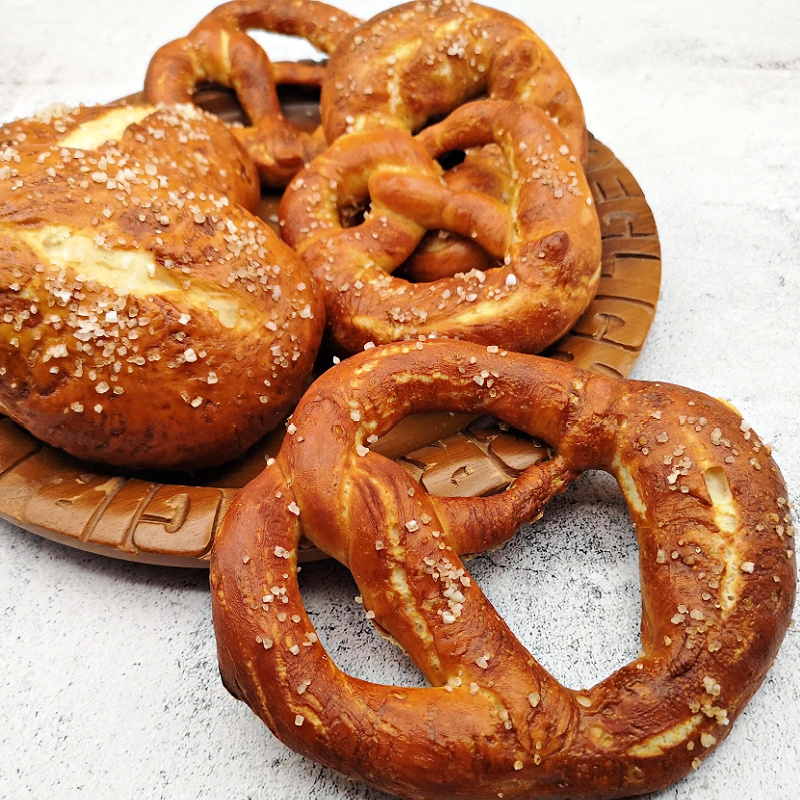 German Pretzel Recipe (without lye) – Oma's Soft Bavarian Laugenbrezel
This method of how to make pretzels, aka Brezel, is among the easiest I've found. They are crispy on the outside, yet soft on the inside.
Originally I used simmering baking soda solution and the pretzels were good. Now, I use a BAKED baking soda bath instead and the pretzels are so much better! You can also divide into the dough into 10 and make Laugenbrötchen, pretzel rolls.

Servings:

Makes 12 pretzels or 10 rolls
Ingredients:
6 tablespoons (108 grams) baking soda
½ cup (120 milliliter) lukewarm water
1 teaspoon (4 grams) granulated sugar
1 tablespoon (10 grams) active dry yeast
¾ cup (180 milliliter) lukewarm milk
2 tablespoons (28 grams) soft butter
3½ cups (455 grams) all-purpose flour, divided
1 teaspoon (6 grams) salt
3 cups (720 milliliters) hot water
coarse sea salt to sprinkle
Instructions:
Preheat oven to 250°F (120°C). Line a baking sheet with foil and spread baking soda in a thin, even layer. Bake for one hour. Meanwhile make the pretzel dough. Once the soda has baked, remove and set aside to cool.
Prepare two baking sheets by lining them with parchment paper and set aside.
Add the lukewarm water and sugar into a large mixing bowl of a stand mixer with a dough hook attachment. Mix in the yeast and let stand 10 minutes until bubbly. Add the milk and stir.
Blend in the butter, 3 cups of flour, and salt into the yeast mixture. Let the dough hook knead the dough for 5 to 10 minutes, adding more flour as needed until the dough is smooth, elastic and not sticky.
Cover the bowl with plastic wrap or put the bowl in a plastic bag and let the dough rise for 45 to 60 minutes in a draft-free warm place until doubled in size.
Preheat oven to 425°F (218°C).
To make Pretzels: On the work surface, divide the dough into 12 equal pieces. Create the classic pretzel shape by rolling each piece of dough into an 18-inch long rope, keeping the center thicker than the ends. Form into a U shape. Cross the ends of the rope over each other twice about 3-inches from the end. Fold the ends down and press to the curved part at the 4-and 8-o'clock positions.
To make Rolls: On the work surface, divide the dough into 10 equal pieces. Form each piece into a smooth ball by placing it into one hand. With the other fingers, pull up the outside edges and pinch into the middle several times, dusting fingers with flour if needed.
Place pretzels/rolls onto the parchment-lined baking sheets. Cover with a towel and let rise 15 minutes in a warm spot. Remove towel and rise another 15 minutes, letting the surface dry to form a slight skin.
Prepare the soda bath. Using a large bowl (non-reactive material or glass bowl), gradually whisk in the cooled baked baking soda into the 3 cups of water (hot) until dissolved.
Dip pretzels/rolls using your fingers or a slotted spoon, one at a time, into the soda bath for about 3 seconds for pretzels and 3 seconds each side for rolls. Remove, give a gently shake to remove excess moisture, and put back on the parchment-lined baking sheets.
Slit the thick center of the pretzels with a sharp knife or razor blade. For the rolls, slit a cross on the top. Sprinkle with sea salt.
Bake in preheated oven for about 15 minutes until nicely browned. Remove to a wire rack to cool. These homemade German pretzels and pretzel rolls are best enjoyed while still warm.
Notes/Hints
Replace 1 cup of all-purpose flour with 1 cup of whole wheat flour or bread flour.
Pretzel salt or kosher salt can also be used for sprinkling.
Pretzels are wonderful brushed with melted butter right after they are baked.
If you have sensitive skin, use gloves when dipping pretzels.
For a deeper color, you can brush with an egg wash (1 egg yolk beaten with 1 tablespoon water) before sprinkling with salt and baking.
If you want a chewier crust, dip into the baked baking soda solution for a few seconds longer.
*  *  *  *  *

Unless otherwise noted recipe, images and content © Just like Oma | www.quick-german-recipes.com

09.07.2021 revision update