15 Flavored Butter Recipes

➤ by Oma Gerhild Fulson
FTC Disclosure: Making a purchase via a link on the page? I may earn a small commission on the transaction - at no added cost to you. Thanks!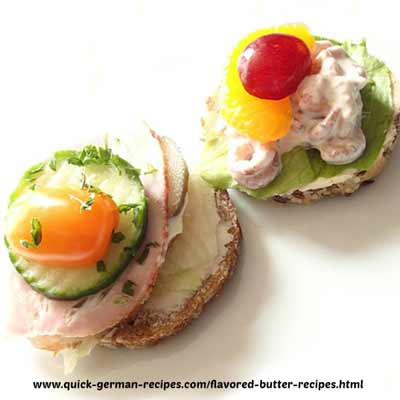 Yum
These flavored butter recipes, aka Pikante Butter, are great sandwich spreads, go great with veggies and meats, and are bursts of flavor for almost anything! It's best to use these butters within 5 days, so make enough, but not too much at one time. Each of the following recipes is for ½ cup (¼ lb) of softened butter. Use unsalted butter (unless otherwise noted).
Serve your sandwiches either plain or fancy. These bites are so pretty to look at and delicious to eat!

15 Flavored Butter Recipes

To ½ cup softened butter, add the following ingredients, either finely chopped, grated, or puréed, and mix well.
Cheese Butter: ½ cup grated cheese
Anchovy Butter: 2 teaspoons anchovy paste
Horseradish Butter: 1 Tbsp horseradish, pinch salt
Nut Butter: 1 Tbsp ground nuts, season with lemon juice, salt, pepper
Ham Butter: 3 oz finely chopped cooked ham
Mustard Butter: 1 Tbsp mustard, 1 hard-boiled egg yolk
Tomato Butter: 2 Tbsp tomato paste, small onion, pepper
Paprika Butter: 1 Tbsp sweet paprika powder
Curry Butter: 1 Tbsp curry powder, salt
Lemon Butter: juice of half lemon, grated lemon zest
Shrimp Butter: ¼ lb cooked puréed shrimps, salt, pepper
Garlic Butter: 1 small clove garlic, salt, 1 Tbsp chopped chives, pepper
Parsley Butter: Use about 1 Tbsp finely chopped fresh parsley, 1 Tbsp lemon juice, salt, pepper
Herb Butter: Use about 1 tsp dried herbs. Use any or combination of parsley, chives, marjoram, basil, thyme.
Eierbutter (Egg Butter): 2 hard-boiled eggs. Separate yolks from whites. Cream butter and yolks together. Finely chop egg whites and add to butter mixture. Season with salt, pepper, and paprika. 

---
It is best if the finished flavored butter rests for several hours to let the flavors mingle. Store the butters in the fridge, but remove about 15 minutes before serving. The finished butters can also be frozen for up to one month.
Have any butter left over? Use it as a flavor enhancer to a lean meat or fish dinner. Add it to cooked vegetables. Use your imagination!
Check out my Sandwich Recipes to see ways to use these flavored butters. Use either the herbed butter or the savory butter recipes to make any sandwich better.
---
Some German Salads
*  *  *  *  *
Thinking of starting your own Handmade Business?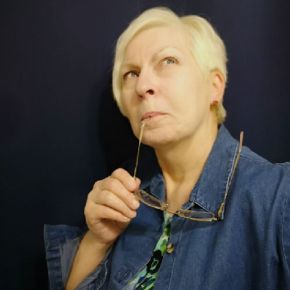 This Oma KNOWS you CAN do it.
How do I know?
Well, if I can do it, anyone can.
I've even figured out how I can help you.
I've teamed up with my own business coach, Renae Christine (yes, do google her!), to bring you this free masterclass. After you watch it, ask me any questions and I'll gladly answer them.
Don't hesitate. I'm not sure how long Renae will keep this free masterclass available.
PS:  Yes, Renae really is as amazing as all the reviews say.
PPS: Yes, the course is for handmade items, but I've used it successfully for my cookbooks. I know others are using her methods for services, direct sales, and even a local ice cream bar & grill that's constantly selling out. You've nothing to lose by taking a look ... and a whole bunch to gain.
*  *  *  *  *
Oma's Cookbooks (downloadable & print)
*  *  *  *  *
Want nutritional information for a recipe?
Copy and paste the ingredient list and the number of servings into Calorie Count. 
It will give you an approximate calculation.

Need help doing conversions
between cups and grams or any such thing?
Use this site to give you all the different conversions for the different types of ingredients. 
---
---
Words to the Wise
"Honor is no more associated with fools than snow with summer or rain with harvest."
Proverbs 26:1 (NLT)