Best Sandwich Recipes ❤️

➤ by Oma Gerhild Fulson
FTC Disclosure: Making a purchase via a link on the page? I may earn a small commission on the transaction - at no added cost to you. Thanks!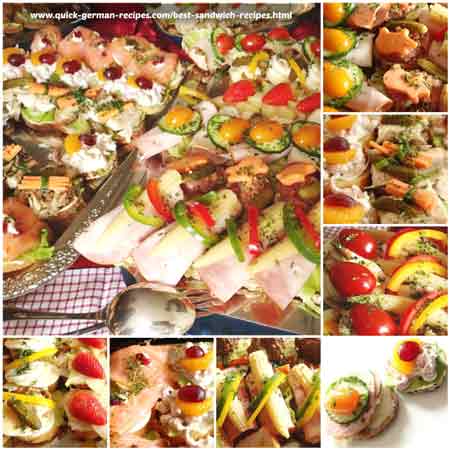 Our best sandwich recipes, aka Belegte Brote, including party sandwich recipes, are quick and easy to make. Serve them for supper, take them to work, or make them as a quick snack after school. They're even great picnic food ideas.


---
Best Sandwich Recipes ❤️

white bread, cheese-butter, ham, mango-chutney
white bread, butter, smoked salmon, dill pickle slices
whole grain bread, salami, fried egg (sunny-side up), sliced olives
toasted white bread, horseradish-butter, smoked salmon, sliced egg, caviar
toasted white bread, butter, poached apple slices, ham, cheese
white bread, butter, cooked asparagus, ham, mandarin sections (canned)
white bread, butter, fried ham, chicken
toasted white bread, fried mushrooms, fried chicken liver, parsley
whole grain bread, tartar, sardines, dill pickle slices, onion slices
white bread, lettuce, poached egg, curry-mayonnaise, dill pickle slices
whole grain bread, egg salad, lettuce
whole grain bread, tuna salad, lettuce
whole grain bread, schmaltz (schmalz), sprinkled with salt
---
For your Best Sandwich Recipes ...
For the best sandwiches, there's nothing quite like homemade fresh bread! 
However, if you don't want to bake, then try to use some German bread. A hearty rye bread or some pumpernickel is delicious. Whole grain breads are also common in Germany. Perhaps your baker has some Artisan Breads available or make your own! 

Use any one or a combination of the savory or flavored butters as the spread. Then add your favourite meat, cheese, or one of the combinations listed above. Use the photo, above, for examples of how to decorate.
Often served with a dill pickle on the side, why not make a large plate of different types of these open-faced sandwiches. Decorate with some raw vegetables and serve with a cup of tea. Very German.

If you want something different, you can make your own German sourdough bread first. Try my No Knead Whole Grain Sourdough Bread. It's what I raised my family on. Healthy and easy.
---
Origins of the Sandwich ...
When John Montagu (1718 - 17920), Lord of Sandwich, created the first sandwich, he did so in order to have a quick bite to eat between card games. At least that's the traditional story of how the sandwich started. True or not, a sandwich really is an easy way to have a meal.
With so many possibilities, the variations are endless. Every type of bread or roll can be used. Every type of filling can be created. Mix and match. Endless!
The traditional sandwich, an English invention, is usually eaten without knife and fork. But for the Germans, this is a bit different. Mostly eaten open-faced with a knife and fork, it's a popular evening meal that is so traditional.
In Germany, sandwiches, "belegte Brote" or "covered breads", are also often served for afternoon tea as an addition to the cake platters. Usually rolls are used for this. They provide sugarless alternatives for guests and help limit the amount of sweets eaten.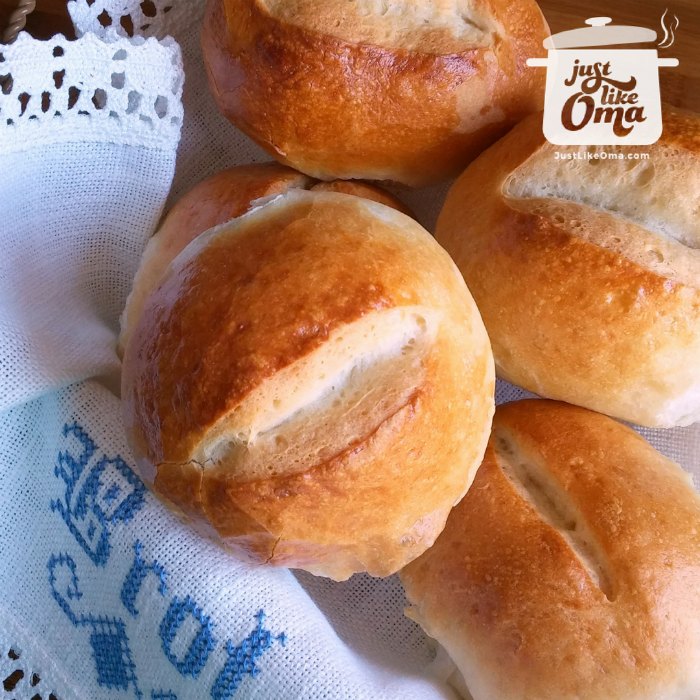 Leave a comment about this recipe or ask a question?
Pop right over to my private Facebook group, the Kaffeeklatschers. You'll find thousands of German foodies, all eager to help and to talk about all things German, especially these yummy foods. 
I pop in all the time as well, to chat and to answer questions. 
Meet with us around Oma's table, pull up a chair, grab a coffee and a piece of Apfelstrudel, and enjoy the visit.
*  *  *  *  *
Thinking of starting your own Handmade Business?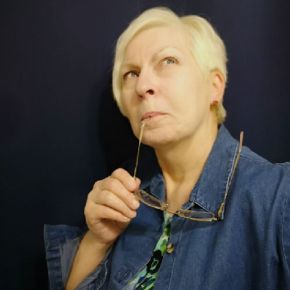 This Oma KNOWS you CAN do it.
How do I know?
Well, if I can do it, anyone can.
I've even figured out how I can help you.
I've teamed up with my own business coach, Renae Christine (yes, do google her!), to bring you this free masterclass. After you watch it, ask me any questions and I'll gladly answer them.
Don't hesitate. I'm not sure how long Renae will keep this free masterclass available.
PS:  Yes, Renae really is as amazing as all the reviews say.
PPS: Yes, the course is for handmade items, but I've used it successfully for my cookbooks. I know others are using her methods for services, direct sales, and even a local ice cream bar & grill that's constantly selling out. You've nothing to lose by taking a look ... and a whole bunch to gain.
*  *  *  *  *
Oma's Cookbooks (downloadable & print)
*  *  *  *  *
Want nutritional information for a recipe?
Copy and paste the ingredient list and the number of servings into Calorie Count. 
It will give you an approximate calculation.

Need help doing conversions
between cups and grams or any such thing?
Use this site to give you all the different conversions for the different types of ingredients. 
---
---
Try this slow cooker roast beef and you'll be amazed at how much this tastes like rouladen WITHOUT the work.

Learn how to cook pork hocks, anytime you want something traditionally German and wonderfully delicious! A hearty meal for any time of the year!
---
Make every day a day filled with FAITH!
"Faith is the confidence that what we hope for will actually happen; it gives us assurance about things we cannot see."
Hebrews 11:1 (NLT)