German Bread Recipes
➤ by Oma Gerhild Fulson
These German bread recipes, aka Brot, are some of my favorite ways to re-create that German bakery-fresh aroma and taste in my kitchen. Also included are some tips on how to bake bread -- the easy way! 
One of the best things about visiting Germany (and I suppose living in Germany) is being able to go to the local bakery. The wonderful thing is that there are usually several bakeries in every little town. How wunderbar to go and buy fresh rolls (buns) in the morning.
The earlier one heads to the baker in the morning, the better, because there's so much choice then. AND the choice seems over-whelming at times.
From the regular crusty white rolls of different shapes to the healthy whole grain ones with seeds within and on top and on the bottom. Then, there's everything between as well. There's rye, spelt, wheat, oat, plus others I've never heard of, as well as combinations.
When it's time for Christmas, baking is at the forefront of preparations. Get Oma's collection of her favorites in Christmas Baking eCookbook.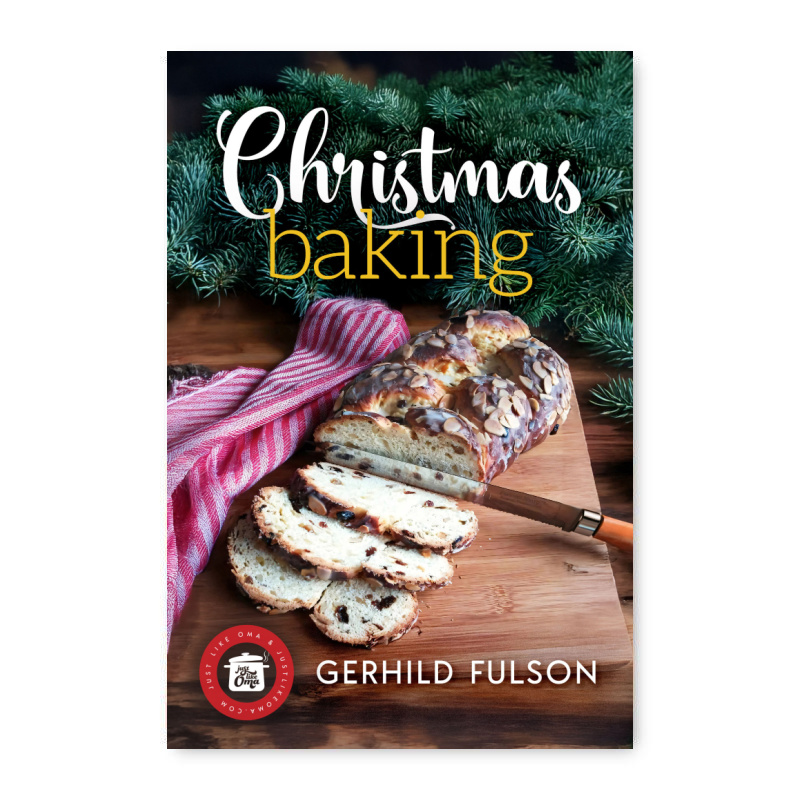 Take a peek at all Oma's eCookbooks. They make sharing your German heritage a delicious adventure!

One of the hardest things to do at home is to try to bake what we had in Germany. It should be so simple, but it's not. "How do I make German bread at home?" is one of the most frequently asked questions I get.
The main reason for not being able to actually replicate a German recipe for bread outside of Germany is that the flour is different. And, the yeast is different, especially if one is using a sourdough starter. 
To tell you the truth, I'm still looking for that special recipe that will easily mimic those great whole-grain rolls, but I'm coming real close. That artisan bread is a great substitute for a white Brötchen.
Below, though, are some really good German bread recipes, as well as rolls and buns, that will bring that bakery aroma and taste to your kitchen.
The Sourdough Whole Grain No-Knead Bread is the one my children grew up with. It's one of my original recipes I developed because I wanted simple, quick, healthy, and German-tasting.
Quick? Well, it depends what you call quick. Because it uses yeast, there is rising time involved. Because it uses sourdough, there is some waiting time involved.
Actual work time is kept at a minimum though -- there's no kneading. It's literally just: dump everything in the bowl and mix. Keep adding good stuff until it's too hard to mix further. Done. Into the pans. Let rise again. Bake. Enjoy. That's it!
Use a Bread Machine to make it quickly ...
Another quick way of making bread is to use a bread machine. Here, too, I've been experimenting with breads that mimic those delicious German loaves.
I've finally perfected the recipe for rye bread in the machine. Delicious!
Other times, I just use the bread machine to make the dough and have the first rise in it, since it's a nice warm environment. Then I take the dough out and finish it by hand. Easy peasy. 
German Bread Recipes and more ...
---
German Flours vs American Flours
Your recipe calls for German flours and you don't live in Germany? What can you do? Check out this post and you can still enjoy a Kaffeeklatsch, just like Oma!
Leave a comment about this recipe or ask a question?
Pop right over to my private Facebook group, the Kaffeeklatschers. You'll find thousands of German foodies, all eager to help and to talk about all things German, especially these yummy foods. 
I pop in all the time as well, to chat and to answer questions. 
Meet with us around Oma's table, pull up a chair, grab a coffee and a piece of Apfelstrudel, and enjoy the visit.
These roasted Brussels spouts with balsamic vinegar and maple syrup are so quick and easy to prepare, yet so delicious! This may just be your new favorite go-to recipe for roasted FROZEN Brussels spro…

Love German cabbage rolls? You'll absolutely love Oma's unstuffed cabbage roll casserole. Same great taste, but a LOT less work. No rice or tomatoes here. Just real German goodness.

THE German Krapfen or jelly donut recipe you'll need if you plan to make Berliner Pfannkuchen ~ that traditional treat for New Year's and throughout the year!
*  *  *  *  *
PIN this ...

Make every day a SATISFYING day!
"People do not live by bread alone, but by every word that comes from the mouth of God."
Matthew 4:4 (NLT)