German Bread Recipes ❤️
➤ by Oma Gerhild Fulson
FTC Disclosure: Making a purchase via a link on the page? I may earn a small commission on the transaction - at no added cost to you. Thanks!
These German bread recipes, aka Brot, are some of my favorite ways to re-create that German bakery-fresh aroma and taste in my kitchen. Also included are some tips on how to bake bread -- the easy way! 
---
German Bread Recipes and more ...
---
One of the best things about visiting Germany (and I suppose living in Germany) is being able to go to the local bakery. The wonderful thing is that there are usually several bakeries in every little town. How wunderbar to go and buy fresh rolls (buns) in the morning.
The earlier one heads to the baker in the morning, the better, because there's so much choice then. AND the choice seems over-whelming at times.
From the regular crusty white rolls of different shapes to the healthy whole grain ones with seeds within and on top and on the bottom.
Then, there's everything between as well. There's rye, spelt, wheat, oat, plus others I've never heard of, as well as combinations.
---
One of the hardest things to do at home is to try to bake what we had in Germany. It should be so simple, but it's not. "How do I make German bread at home." is one of the most frequently asked questions I get.
To tell you the truth, I'm still looking for that special recipe that will easily replicate those great whole-grain rolls, but I'm coming real close. That artisan bread is a great substitute for a white Brötchen.
Above, though, are some really good German bread recipes, as well as rolls and buns, that will bring that bakery aroma and taste to your kitchen.
The Sourdough Whole Grain No-Knead Bread is the one my children grew up with. It's one of my original recipes I developed because I wanted simple, quick, healthy, and German-tasting.
Quick? Well, it depends what you call quick. Because it uses yeast, there is rising time involved. Because it uses sourdough, there is some waiting time involved.
Actual work time is kept at a minimum though -- there's no kneading. It's literally just: dump everything in the bowl and mix. Keep adding good stuff until it's too hard to mix further. Done. Into the pans. Let rise again. Bake. Enjoy. That's it!
Use a Bread Machine to make it quickly ...
Another quick way of making bread is to use a bread machine. Here, too, I've been experimenting with breads that mimic those delicious German loaves.
I've finally perfected the recipe for rye bread in the machine. Delicious!
---
Using an easy bread machine method keeps the time in the kitchen to a bare minimum, while at the same time filling the house with such a fragrance!

I've had my Black and Decker All-In-One Breadmaker for years. 
I use it for making breads, of course, but mostly for making dough. It's the easiest way I've found to make yeast doughs for all sorts of baking.
Brötchen and Kuchen. Staples of German baking!
When it's time to replace my current bread machine, I'll be buying another Black and Decker like the one shown here. 
Along with the preprogrammed settings, it's larger, meaning I can make more dough (= more Brötchen!) and larger loaves.
---
German Flours vs American Flours
Your recipe calls for German flours and you don't live in Germany? What can you do? Check out this post and you can still enjoy a Kaffeeklatsch, just like Oma!
*  *  *  *  *
Thinking of starting your own Handmade Business?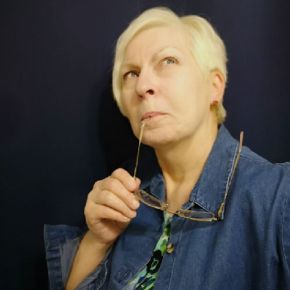 This Oma KNOWS you CAN do it.
How do I know?
Well, if I can do it, anyone can.
I've even figured out how I can help you.
I've teamed up with my own business coach, Renae Christine (yes, do google her!), to bring you this free masterclass. After you watch it, ask me any questions and I'll gladly answer them.
Don't hesitate. I'm not sure how long Renae will keep this free masterclass available.
PS:  Yes, Renae really is as amazing as all the reviews say.
PPS: Yes, the course is for handmade items, but I've used it successfully for my cookbooks. I know others are using her methods for services, direct sales, and even a local ice cream bar & grill that's constantly selling out. You've nothing to lose by taking a look ... and a whole bunch to gain.
*  *  *  *  *
Oma's Cookbooks (downloadable & print)
*  *  *  *  *
Want nutritional information for a recipe?
Copy and paste the ingredient list and the number of servings into Calorie Count. 
It will give you an approximate calculation.

Need help doing conversions
between cups and grams or any such thing?
Use this site to give you all the different conversions for the different types of ingredients. 
---
Pin the following post so you can quickly find what type of flour to use when you're pulling out your flour sifter, baking pans, and the rest of your ingredients
---
Make every day a SATISFYING day!
"People do not live by bread alone, but by every word that comes from the mouth of God."
Matthew 4:4 (NLT)