Oma's Sweet Roll Recipe ❤️

➤ by Oma Gerhild Fulson
FTC Disclosure: Making a purchase via a link on the page? I may earn a small commission on the transaction - at no added cost to you. Thanks!
Here's my easy German Sweet Roll recipe, raisin buns, aka Rosinenbrötchen,  that's an easy one to include among your holiday baking recipes. Using a traditional method of making this yeast rolls recipe, you can also use the dough to make a fruit loaf. Why not double the recipe and make a loaf and some rolls? Freeze some for later use.
The texture of these sweet rolls is more similar to a buttery biscuit than a light airy yeast bun. You'll find the dough a bit 'greasy' to work with, but it ends up being delicious!
Oma's Sweet Roll Recipe ❤️

Ingredients:
1 tsp sugar
½ cup warm milk (110° F.)
1½ packages active dry yeast (1 Tbsp)
¾ cup butter, melted, cooled slightly
¼ cup sugar
1 tsp vanilla sugar (or ½ tsp vanilla)
2½ cups flour, all-purpose
½ tsp salt
½ tsp cardamom (optional)
½ cup chopped almonds
⅓ cup chopped candied lemon peel
grated zest and juice of ½ lemon
1⅓ cups raisins
1 egg yolk
sugar to sprinkle on rolls
Instructions:
Stir 1 tsp sugar into warm milk. Sprinkle with yeast. Let stand until frothy, about 5 minutes.
In a small bowl, mix butter, sugar, and vanilla sugar (or vanilla).

In a large bowl, mix flour, salt, and cardamom.

Add yeast and butter mixture, stirring to make dough.
Knead in almonds, candied peel, lemon zest and juice, and raisins.
On floured surface, knead dough until smooth and elastic.
Cover and let rise in a warm place about 40 minutes.
Lightly knead risen dough.
Divide dough into 10 - 12 pieces. Roll each piece into a ball. 
Place onto a greased baking sheet and flatten lightly. Cover and let stand in warm place, about 15 minutes.
Preheat oven to 375° F.

Brush rolls with beaten egg yolk mixed with a bit of water and sprinkle with sugar.
Bake for 20 - 30 minutes or until golden brown.
Cool on rack.
Hints:
To make a loaf, after first rising, lightly knead risen dough. Place either on a greased baking sheet or in a greased loaf pan. Cover and let stand in a warm place about 30 minutes. Bake in a preheated 375° F. oven for about 45 - 50 minutes until golden brown. Bottom of loaf should sound hollow when tapped. Cool on rack.

Use your Bread Machine to make the Dough ...
---
Using an easy bread machine method keeps the time in the kitchen to a bare minimum, while at the same time filling the house with such a fragrance!

I've had my Black and Decker All-In-One Breadmaker for years. 
I use it for making breads, of course, but mostly for making dough. It's the easiest way I've found to make yeast doughs for all sorts of baking.
Brötchen and Kuchen. Staples of German baking!
When it's time to replace my current bread machine, I'll be buying another Black and Decker like the one shown here. 
Along with the preprogrammed settings, it's larger, meaning I can make more dough (= more Brötchen!) and larger loaves.
---
If you're a bread machine fan, you can just add the ingredients, minus the nuts, raisins, and lemon peel. Set the machine to 'dough' and add these remaining ingredients at the first 'signal'. Once the dough is done, remove and form it. 
Although a bit time consuming, this is definitely worth making. It's traditional German Easter food - it's even fun for the kids to make the rolls from kneading the dough to forming the rolls.

---
Some more Bread Recipes ...
*  *  *  *  *
Want nutritional information for a recipe?
Copy and paste the ingredient list and the number of servings into Calorie Count. 
It will give you an approximate calculation.

*  *  *  *  *
Need help doing conversions between cups and grams or any such thing?
Use this site to give you all the different conversions for the different types of ingredients. 
*  *  *  *  *
---
PIN this ...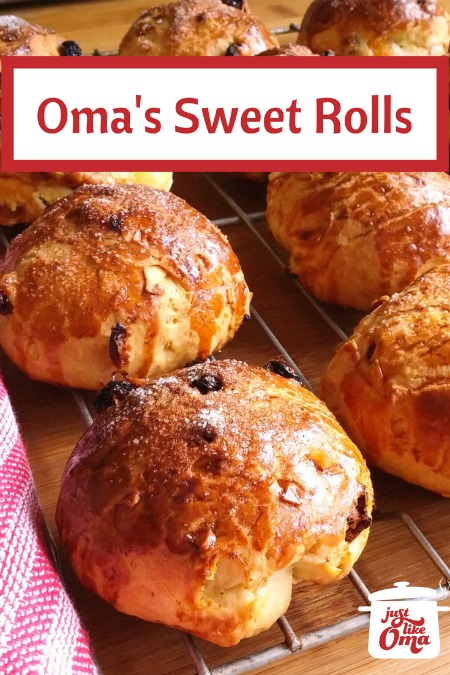 ---
Words to the Wise
"When arguing with your neighbor, don't betray another person's secret."
Proverbs 25:9 (NLT)
---