Oma's Vegan Chocolate Cake
(& Mini-muffins)❤️
➤ by Oma Gerhild Fulson
FTC Disclosure: As an Amazon Associate, I earn from qualifying purchases.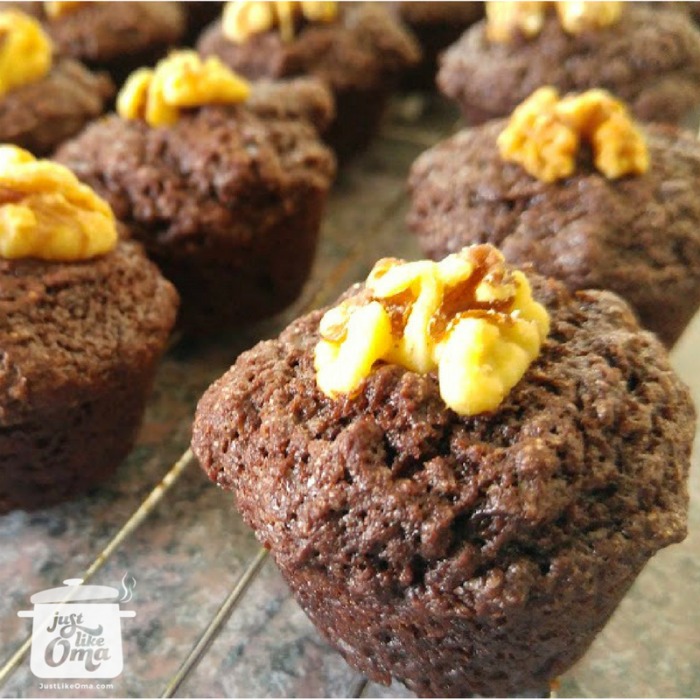 I used my vegan chocolate cake recipe below, that's reminiscent for my German marble cake (the chocolate part), and turned them into chocolate brownie mini-muffins. So good!

Make this vegan chocolate cake recipe for your next gathering of friends, whether vegan or not. The thing is, if you're looking for quick and easy vegan recipes, this has got to be at the top. Just measure and stir. Bake. Easy! My non-vegan hubby thinks this chocolate cake is among my BEST! Wow! Above, I've made them as mini-muffins. Or, below, a bundt cake. 
Taste and texture is just like my traditional German chocolate marble cake - just the fabulously rich chocolate part!
Make them into "Brownie" Mini-Muffins
Above, the photo shows these as mini-muffins, topped with walnut halves. For these, I took the cake dough, below, and used mini-cupcake or mini-muffin tins, making about 3 dozen.
They baked for 15 minutes, but check with a wooden toothpick to make sure they are done. 
It's interesting that when they are in these little shapes, they taste like brownies! Next time, I plan to include chopped nuts into the dough. Just thinking about that makes me want to go bake right now ... :)
Play with the vegan chocolate cake recipe ...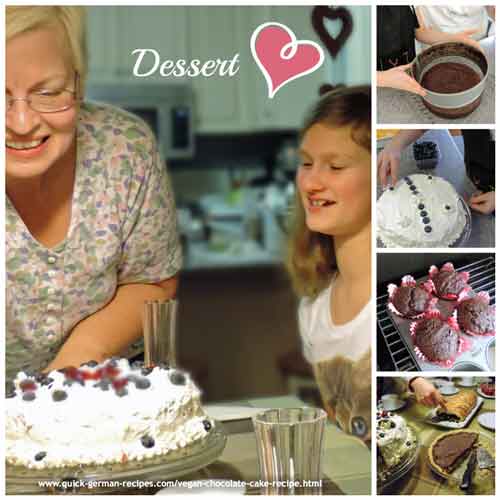 Above is my granddaughter, Lydia (12 years old here) making her own birthday cake with this recipe. First, though, she took some batter to make cupcakes (only baked for about 20 minutes) for the vegans among us, and the rest she turned into a Black Forest Cake (using whipped cream and cherry pie filling) topped with blueberries. 
Make your own ice cream ...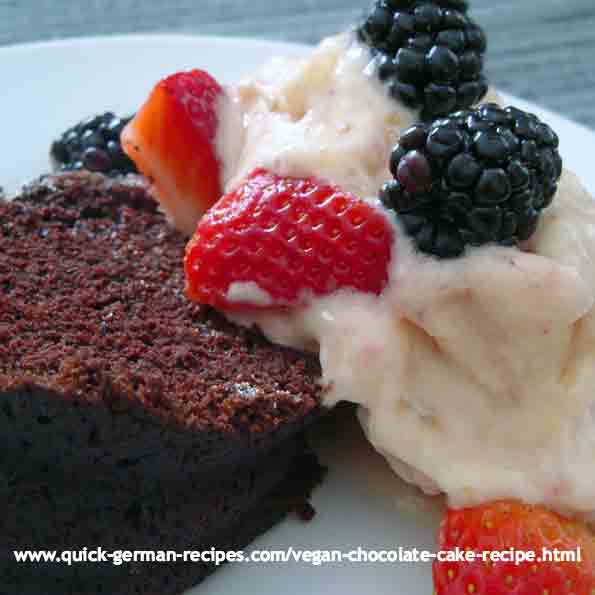 Last time I served this cake, I used a homemade ice cream to go along side. I just blended frozen bananas, pineapple and strawberries. Voila! Soft ice cream. So good! That's the photo of it above. Served with some fresh fruits, it looked and tasted awesome.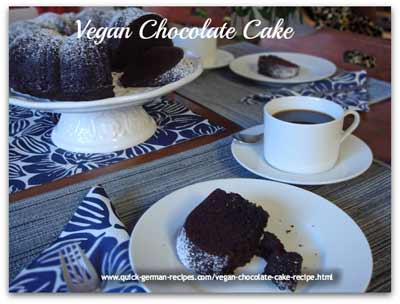 I was really amazed how easy and quick this cake was to make. Among vegan dessert recipes, it really is a winner. I used this Simple Vegan Chocolate Cake as my starting point and then did some tweaking. 
I found the texture and flavour to be very similar to the chocolate part of my marble cake. I think I'd like to try this for my Black Forest Cake. I know that's non-vegan, but this cake is so quick and easy to make, it may just replace some of my German cake recipes for the layers for tortes.
I'll keep you posted what happens to these experiments :)
How to 'Dust your Pan" ...
The easiest way is to put the cocoa into a small sieve and tap it over the sprayed pan. Using cocoa instead of flour which is traditionally used to 'flour' the pans will keep the outside of the finished cake nice and brown with no floury appearance.

Use flour for white/yellow cakes. Use cocoa for dark/chocolate cakes.
Oma's Vegan Chocolate Cake Recipe ❤️
Ingredients:
3½ cups all-purpose flour
¾ cup cocoa powder
2 cups granulated sugar
½ tsp baking powder
1 tsp baking soda
¾ tsp salt
1½ cups warm, extra-strong coffee
¾ cup 'light tasting' olive oil or other vegetable oil
1½ tsp almond extract
1 tsp powdered sugar for sprinkling on top of finished cake
Instructions:
Preheat oven to 350°F
Prepare your Bundt pan by spraying with a vegetable spray and then dust with about 1 Tbsp cocoa powder.
Into a large bowl, sift together all the dry ingredients.
Into a small bowl, stir together the wet ingredients.
Pour the wet ingredients into the dry ingredients, mixing until a smooth, yet thick batter is formed.
Spoon batter into prepared Bundt pan and smooth the top.
Bake for 40 - 50 minutes or until a wooden toothpick inserted into the centre comes out clean.
Let cool in the pan for about 10 minutes before inverting onto a wire rack. Let cool completely.
Put 1 tsp of powdered sugar into a small sieve and dust over the top of the cake. 
Serves 8 - 10
Hints:
Make sure to check with a wooden toothpick to see if the cake if done. If there is any moist cake stuck to the toothpick, leave the cake in for about another 5 minutes. Use a new wooden toothpick to check again. It should come out clean. If not, add another 5 minutes. 

Leave a comment about this recipe or ask a question?
Pop right over to my private Facebook group, the Kaffeeklatschers. You'll find thousands of German foodies, all eager to help and to talk about all things German, especially these yummy foods. 
I pop in all the time as well, to chat and to answer questions. 
Meet with us around Oma's table, pull up a chair, grab a coffee and a piece of Apfelstrudel, and enjoy the visit.
*  *  *  *  *
Want nutritional information for a recipe?
Copy and paste the ingredient list and the number of servings into Calorie Count. 
It will give you an approximate calculation.

Need help doing conversions
between cups and grams or any such thing?
Use this site to give you all the different conversions for the different types of ingredients. 
---
PIN this ...

---
These German gingerbread cookies, or Lebkuchen, are such a traditional cookie to have for Christmas. They're very easy to make, there's no reason to buy them.

Oma's German schnitzel recipe (Jägerschnitzel) is great if you need something delicious that's quick to make as well. So traditionally German and so WUNDERBAR!
---
Words to the Wise
"As surely as a north wind brings rain, so a gossiping tongue causes anger!"
Proverbs 25:23 (NLT)
---
Oma's Vegan Chocolate Cake Recipe ❤️


By
Oma Gerhild Fulson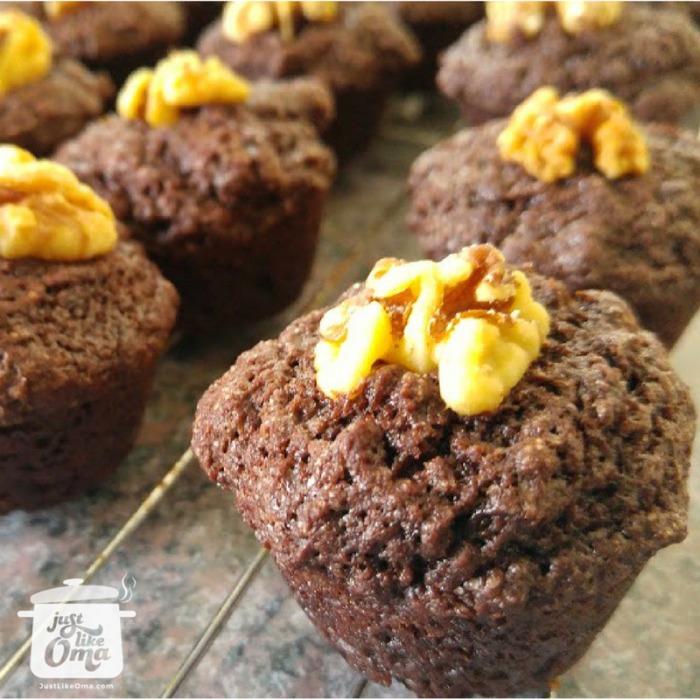 Make this vegan chocolate cake recipe ( or turn into min-muffins like I did) for your next gathering of friends, whether vegan or not. Taste and texture is just like my traditional German chocolate marble cake!

Yield:
36 mini-cupcakes

Ingredients:
3½ cups flour,
¾ cup cocoa,
2 cups sugar,
¾ cup oil,
1½ cups coffee,
For the full recipe, scroll up ...