Sylvie's Creamy Vegan Cauliflower Soup Recipe – vegane Blumenkohlsuppe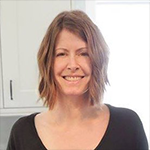 by: Sylvie Fulson  /  Copy Editor, Copywriter, Plant-Based Cook, Wife, Mom
As an Amazon Associate, I earn from qualifying purchases.
If you're a lover of creamy soups, then you'll love this creamy vegan cauliflower soup, aka vegane Blumenkohlsuppe. It's my version of Oma Gerhild's traditional German cauliflower soup recipe.
This creamy, rich, and luscious soup is made with wholesome ingredients and has a subtle cheesy flavor. It tastes so good and feels so satisfying. And it is packed with nutritional goodness, thanks to the cauliflower, onion, garlic, celery, yellow pepper, and cashews! This is definitely one of my favorite healthy soup recipes.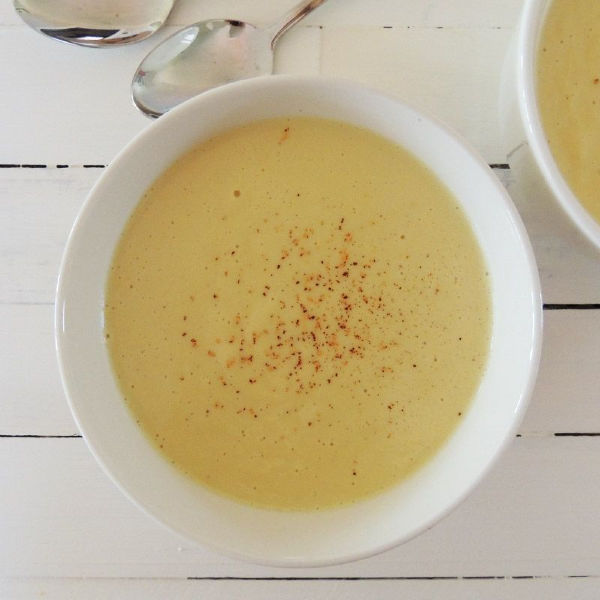 How do you thicken up cauliflower soup?

Raw cashews! Cashews are truly amazing. They contain quite a bit of starch, more than any other tree nut, and they will thicken soups just like flour and potatoes do.
You could always use other thickening agents like cornstarch or flour, but nutritionally speaking, they have little to offer. Why not get the added benefits of a whole food with the vitamins, minerals, and fibre found in cashews instead? Makes sense to me!

And even though a potato is also a whole food high in starch and great for thickening soups, the fat content in cashews makes for a creamier, richer soup. Not to mention, they're also a great source of protein.

While butter and heavy cream are traditional ingredients in creamy German soup recipes, cashews make a great heart-healthy alternative.
What do cashews taste like?

If you're not familiar with raw cashews, they have a lovely mild, buttery flavor. Which is another reason why they are so perfect for thickening soups and sauces.
Because they have such a mild flavor, they can be used, virtually undetected, in any kind of dish. And the buttery flavor adds creamy richness to any recipe.
Whenever I make any of my creamy vegan soup recipes for family and friends, I'm often asked how I get my soup so creamy and delicious without using cream. They're always surprised to hear that the creaminess comes from cashews.
How to make a German cauliflower soup recipe vegan?

I got the idea for this soup recipe one day while I was thinking of ideas for a vegan version of a German cauliflower soup. I knew it had to have a nice creamy consistency. I also wanted it to be as nutritious as possible by adding extra veggies without affecting the taste too much.
I was brainstorming ideas when I remembered a simple, yet thick and delicious, "cheese" sauce I've made in the past as a topping for homemade pizza.
This sauce consists of a handful of simple ingredients: cashews, a yellow pepper, water, and a pinch of salt. I don't know what it is about yellow peppers, but both my husband and I find that when mixed with cashews, it creates a wonderful cheesy-like flavor.

I thought, I bet this cheese sauce would add so much flavor to cauliflower soup! I decided to try it out and it turned out to be such a good idea. It tastes amazing! Even with all the added ingredients, the cauliflower flavor really shines through.
Oma says:
I love how Sylvie's taken my German creamy cauliflower soup recipe, made some changes, added her own touch and made it vegan
By garnishing with grated nutmeg, Sylvie's adding that extra hint of Germany to her soup that so pleases our German tastebuds
How to make creamy vegan cauliflower soup?

Simply follow these easy steps:
Start by roughly chopping an onion, two stalks of celery, and one or two garlic cloves. (I had red onions on hand, but a yellow onion would be just as wunderbar.) You can also chop the yellow pepper now and set aside for later.
Cover the bottom of a medium-size soup pot or dutch oven with water. Add chopped onion, celery, and garlic. Cook until softened.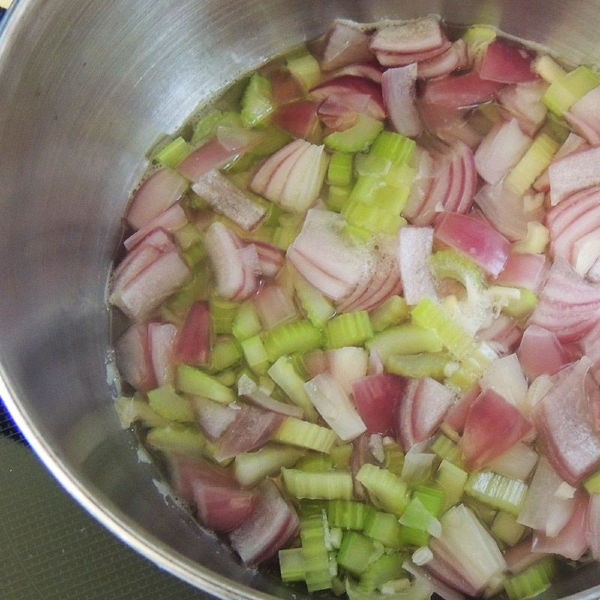 Add a bag of frozen cauliflower florets, water, and salt. Cook until the cauliflower is tender.
While the cauliflower is cooking, make the cheese sauce by adding water, cashews, chopped yellow pepper, salt, and ground mustard to a blender. (Be sure to pre-soak cashews if you don't have a high-speed blender.)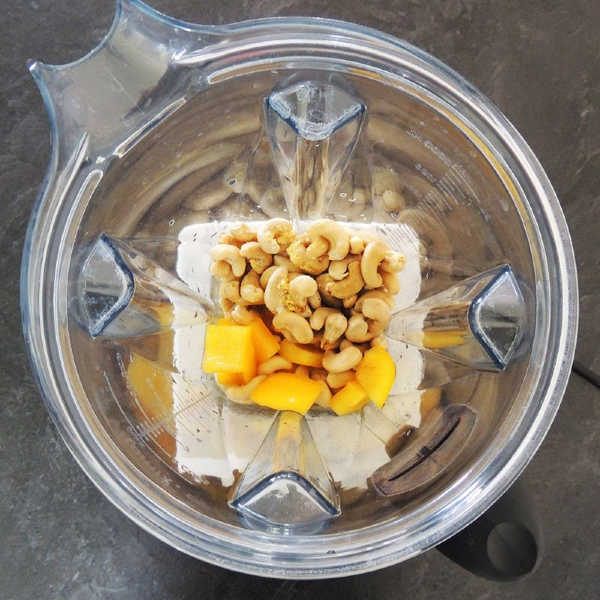 Blend until completely smooth. Pour cheese sauce into a bowl and set aside.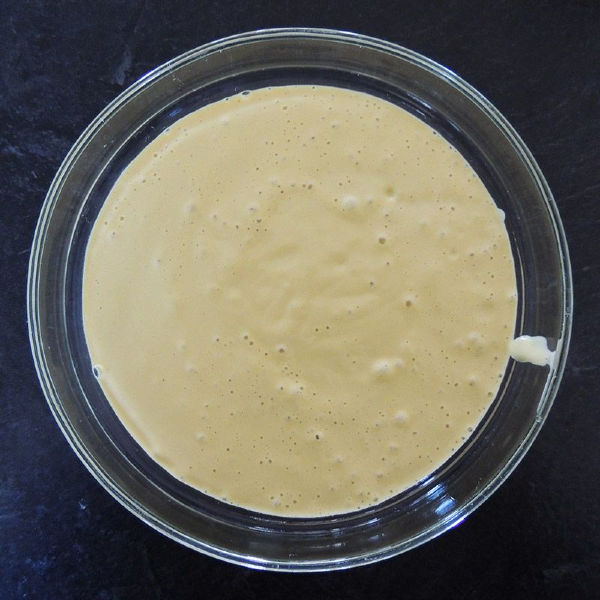 Once the cauliflower is cooked, pour contents of the pot into the blender and blend until smooth. (If you prefer a chunky soup instead, then process/pulse just a little bit until you've reached your desired level of chunkiness. Or use a hand blender.)
Pour the pureed soup back into the pot.
Whisk in the cheese sauce. Adjust seasonings, if necessary.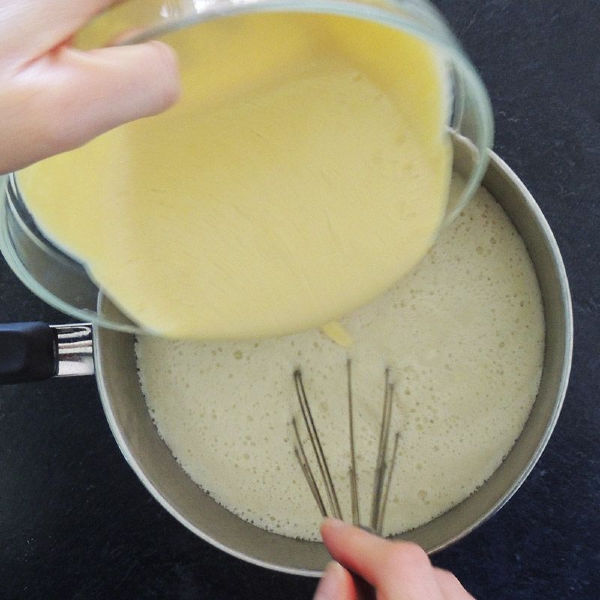 Sprinkle with some freshly grated nutmeg to serve. Enjoy!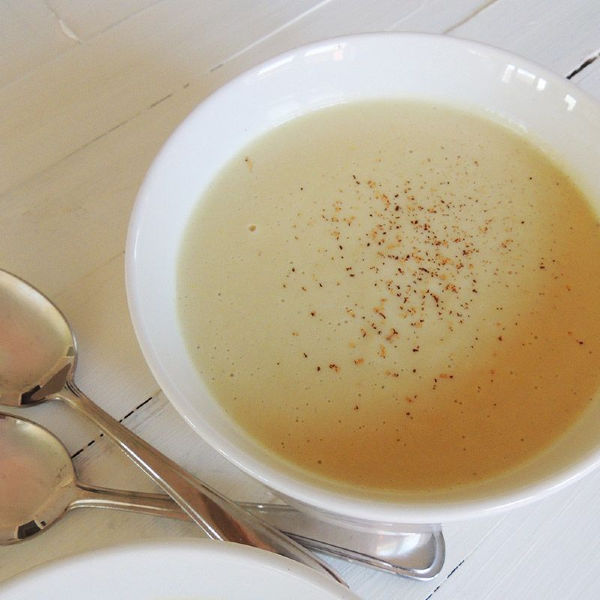 Ready to make this vegan cauliflower soup?
Is the recipe below locked? Here's why. 
As an Amazon Associate, I earn from qualifying purchases.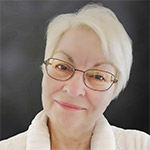 For more German-inspired items that make life easier and yummier, especially in the kitchen and for entertaining, follow my Amazon Storefront.
➙ For groceries,
Try Amazon Fresh
.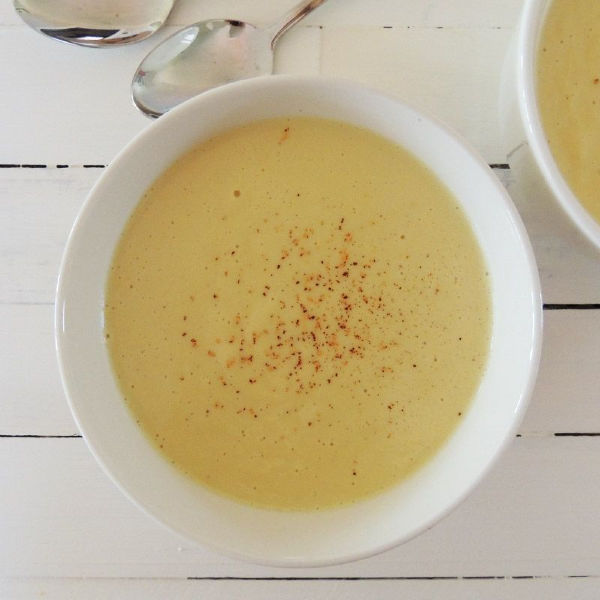 Sylvie's Creamy Vegan Cauliflower Soup Recipe – vegane Blumenkohlsuppe

This delicious soup is creamy, rich, and luscious with a subtle cheesy flavor. Made with whole foods and healthy veggies, it packs a nutritional punch. Plus it tastes so good and feels so satisfying. Perfect for soup season!
Prep Time


10 minutes


Cook Time


20 minutes


Total Time

30 minutes

Servings:

Makes 4 - 6 servings

Ingredients:
1 onion
2 stalks celery
1-2 cloves garlic
1 medium yellow pepper
18 ounce (500 gram) bag frozen cauliflower florets
4 cups water or vegetable stock
3 teaspoons salt, divided
black pepper, to taste
1 cup water
1.5 cups unsalted raw cashews
scant 1/8 teaspoon ground mustard
freshly grated nutmeg
Instructions:
Roughly chop all veggies, except cauliflower (unless you are using fresh cauliflower).
Add onion, celery, and garlic to a medium-size pot with enough water to cover the bottom. Cook over medium-high heat until onions are softened and translucent. Add a splash of water, when necessary, to keep veggies from sticking to the bottom.
Add cauliflower, 4 cups of water, 2 teaspoons salt, and a pinch of pepper, or to taste. Bring to a boil, reduce to medium heat, and simmer for 10 to 15 minutes until cauliflower is tender.
While the cauliflower is simmering, add 1 cup of water, the chopped yellow pepper, cashews, 1 teaspoons salt, and ground mustard to a blender to make the cheese sauce. (If you have a regular blender, please see note below.) Blend until completely smooth. Transfer to a bowl if you don't have an immersion blender, and set aside.
When the cauliflower is done cooking, either use an immersion blender to purée the soup, or add contents of the pot to your blender and blend until smooth. Return to pot.
Add the cheese sauce to the cauliflower soup and whisk until thoroughly combined. Adjust seasonings to taste.
Garnish with freshly grated nutmeg to serve.
Notes/Hints:

If you do not have a high powered blender, be sure to soak the cashews in water ahead of time for 5 to 8 hours. Or, you can boil them in a pot for 10 to 15 minutes. Simply drain and rinse the softened cashews and add them to the recipe.

You can use a bit of olive oil to sauté your veggies instead of cooking them in water.
If you use vegetable broth instead of water, you might want to start with less salt than the recipe calls for.
Use one head of cauliflower instead of frozen florets.
Add a few tablespoons of nutritional yeast and a little bit of lemon juice to make it "cheesier."
Blend in some red pepper flakes to add a little heat.
Add some fresh herbs, such as fresh thyme or fresh parsley.
Try roasting the cauliflower and veggies on a baking sheet, then proceed with recipe for a roasted vegan cauliflower soup.
*  *  *  *  *

Unless otherwise noted recipe, images and content © Just like Oma | www.quick-german-recipes.com

11.03.2021 revision update
Need that "all's good with the world" feeling? Comfort food will do that. Get your copy of Oma's German favorites in her Comfort Foods e-Cookbook.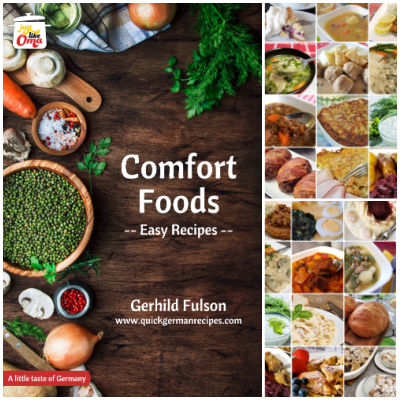 Take a peek at all Oma's eCookbooks. They make sharing your German heritage a delicious adventure!
Leave a comment about this recipe or ask a question?

Pop right over to my private Facebook group, the Kaffeeklatschers. You'll find thousands of German foodies, all eager to help and to talk about all things German, especially these yummy foods. 
Meet with us around Oma's table, pull up a chair, grab a coffee and a piece of Apfelstrudel, and enjoy the visit.

Make the perfect German Spaetzle with Oma's easy recipe! This traditional German egg noodle pairs perfectly with caramelized onions for a delicious meal.

Discover the ultimate German schnitzel recipe with Oma's quick, easy, and delicious pork version - perfect for any occasion! Taste the authentic flavors of Germany today.

This easy German Apple Strudel recipe is one of those German desserts that brings the traditional strudel taste to your table without all the work. Wunderbar!!
*  *  *  *  *
PIN to SAVE this recipe to your Pinterest board!
And let's be friends on Pinterest!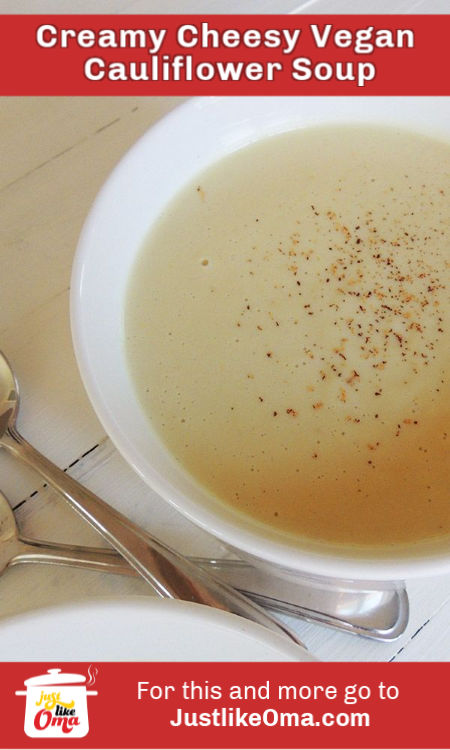 ---
Sylvie's Creamy Vegan Cauliflower Soup


By
Sylvie Fulson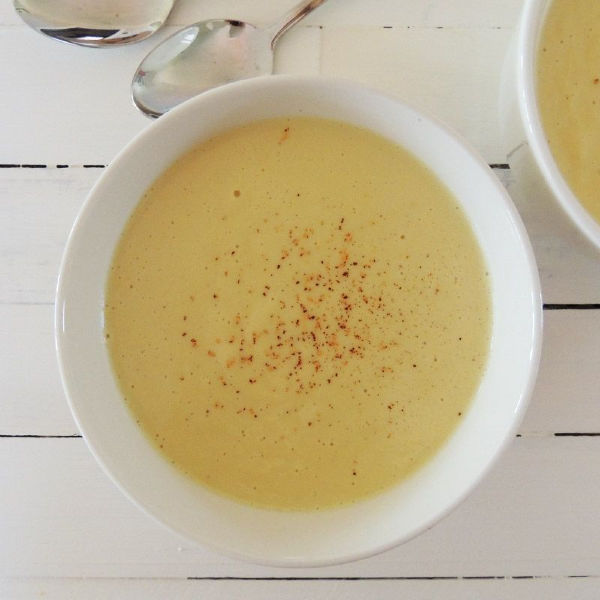 If you're a lover of creamy soups, you'll love this creamy vegan cauliflower soup. Creamy, rich, and luscious, made with wholesome ingredients and a subtle cheesy flavor.

Ingredients:
onions,
celery,
cauliflower,
garlic,
cashews,
yellow pepper,
seasonings,
ground mustard,
For the full recipe, scroll up ...
"For the Kingdom of God is not a matter of what we eat or drink, but of living a life of goodness and peace and joy in the Holy Spirit."
Romans 14:17 (NLT)