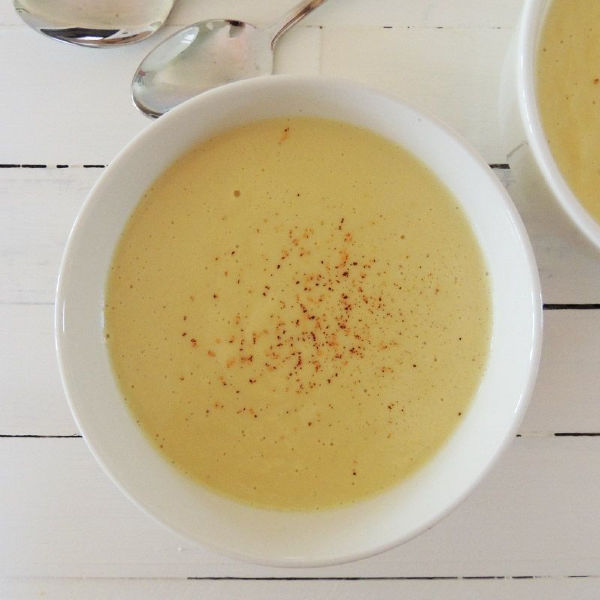 Sylvie's Creamy Vegan Cauliflower Soup

This soup is creamy, rich, and luscious with a subtle cheesy flavor. It tastes so good and feels so satisfying. And it is packed with nutritional goodness, thanks not only to the cauliflower, but also thanks to the onion, garlic, celery, yellow pepper, and cashews!

Prep Time


10 minutes


Cook Time


20 minutes


Total Time

30 minutes

Servings:

Makes 4 - 6 servings

Ingredients:
1 onion
2 stalks celery
1-2 cloves garlic
1 medium yellow pepper
18 oz (500 g) bag frozen cauliflower
4 cups water
3 tsp salt, divided
pepper, to taste
1 cup water
1.5 cups unsalted raw cashews
scant 1/8 tsp ground mustard
freshly grated nutmeg
Instructions:
Roughly chop all veggies, except cauliflower (unless you are using fresh cauliflower).
Add onion, celery, and garlic to a medium-size pot with enough water to cover the bottom. Cook over medium-high heat until onions are softened and translucent. Add a splash of water, when necessary, to keep veggies from sticking to the bottom.
Add cauliflower, 4 cups of water, 2 tsp salt, and a pinch of pepper, or to taste. Bring to a boil, reduce heat, and simmer for 10-15 minutes until cauliflower is tender.
While the cauliflower is simmering, add 1 cup of water, the chopped yellow pepper, cashews, 1 tsp salt, and ground mustard to a blender to make the cheese sauce. Blend until completely smooth. Transfer to a bowl if you don't have an immersion blender, and set aside.
When the cauliflower is done cooking, either use an immersion blender to purée the soup, or add contents of the pot to your blender and blend until smooth. Return to pot.
Add the cheese sauce to the cauliflower soup and whisk until thoroughly combined. Adjust seasonings to taste.
Garnish with freshly grated nutmeg to serve.
Notes/Hints:

Water or oil: You can use olive oil to sauté your veggies instead of cooking them in water.
Water of vegetable broth: You can use vegetable broth instead of water, but you might want to start with less salt than the recipe calls for and adjust at the end, if necessary.
Cashews - to soak or not to soak: If you do not have a high-powered blender, be sure to soak the cashews in water ahead of time for 5 to 8 hours. Alternately, you can boil them in a pot for 10-15 minutes. Simply drain and rinse the softened cashews and add them to the recipe.

*  *  *  *  *

Unless otherwise noted recipe, images and content © Just like Oma | www.quick-german-recipes.com