Oma's Vegan Lentil Soup ❤️
➤ by Oma Gerhild Fulson
Looking for a vegan lentil soup that's easy to make? Here's one that you'll make within 30 minutes. Check the A bit of this & a bit of that section for ways of changing this to match your lifestyle.
I didn't even know about it being vegan when I used to make this years ago. I just made it 'cause I loved it!
Being extremely high in protein, lentils are great additions to your everyday meals. The red ones are great to cook with because they cook up so quickly.
The soup below is just one of the delicious ways to serve up this legume.

What makes these soups so wunderbar? They bring back such wonderful memories of my Mutti's kitchen. So, of course, I had to write my own soup e-cookbook to share with my grandchildren. I know you'll LOVE it, too!
There are 84 full-color pages filled with step-by-step instructions and hints. Take a quick peek ...
Sharing these soup recipes from my Mutti and Oma to my own young grandchildren ... that's such a delicious way to pass on our German heritage :)
A bit of this and a bit of that ...
Add 1 clove of garlic, crushed, along with the vegetables.
If you'd like this a bit thicker, stir in some instant mashed potato flakes until it's the consistency that you like.
Spoon in a bit of cream or swirl it in when serving.
Garnish with chives or parsley.
Blending the vegetables along with the cooked lentils thicken this well seasoned vegetable stock. Among vegan soup recipes, this one is really easy.
The quantities can be adjusted as needed, with more or less of each vegetable added.
Did you know that lentils come in various colors, from yellow, red, brown, green, and black? I find that the red ones cook up so quickly and taste very mild.
Most think this is a yellow pea soup when they first try it. 
Like your meat? Don't want a vegetarian lentil soup recipe? Then add some smoked wieners or cubed ham to this soup. 
You can also use either chicken or beef broth instead of the vegetable broth.
OR, you can go and try my Red Lentil Soup that I make the way my Mutti used to make it. It's got smoked meat, kielbasa, sausage, or ham. You choose! 
Oma's Vegan Lentil Soup (using red lentils) ❤️
Ingredients:
2 tbsp oil
1 medium onion, chopped
2 stalks celery, chopped
1 leek, finely chopped (optional)
2 large carrots, chopped
2 - 4 potatoes, chopped
2 cups red lentils (dried)
10 cups vegetable stock
2 bay leaves
salt, pepper as needed
Instructions:

Heat the oil in a large soup pot. Add onions, celery and leeks. Cook over high heat for about 5 minutes, stirring occasionally. 
Add remaining ingredients. 
Bring to boil, reduce heat, cover and simmer for about 20 minutes or until vegetables are tender.
Remove bay leaves.
If you wish, use an immersion blender to mash up the veggies.
Season with salt and pepper.
Makes 8 servings

Want nutritional information? Copy and paste the above ingredient list and the number of servings into Calorie Count for an approximate calculation.
Need help doing conversions between cups and grams, etc.? Use this site to give you all the different conversions for the different types of ingredients.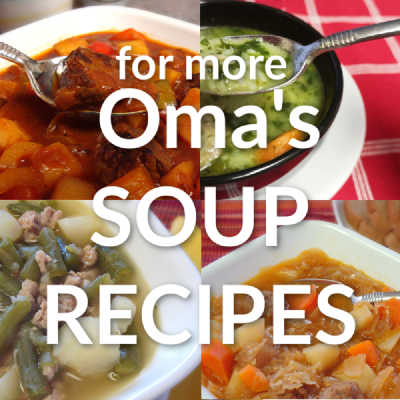 Leave a comment about this recipe or ask a question?
Pop right over to my private Facebook group, the Kaffeeklatschers. You'll find thousands of German foodies, all eager to help and to talk about all things German, especially these yummy foods. 
I pop in all the time as well, to chat and to answer questions. 
Meet with us around Oma's table, pull up a chair, grab a coffee and a piece of Apfelstrudel, and enjoy the visit.
*  *  *  *  *
Want nutritional information for a recipe?
Copy and paste the ingredient list and the number of servings into Calorie Count. 
It will give you an approximate calculation.

Need help doing conversions
between cups and grams or any such thing?
Use this site to give you all the different conversions for the different types of ingredients. 
---
PIN this ...
---
Looking for a German blueberry cake that's so easy to make and so delicious? Look no further. It's here!

This easy recipe for sauerkraut is a staple in our German menu. Delicious with almost anything! This sauerkraut recipe can also be made VEGAN!
---
Words to the Wise
"A prudent person foresees danger and takes precautions. The simpleton goes blindly on and suffers the consequences."
Proverbs 22:3 (NLT)