Oma's Easy Banana Bread Recipe (Vegan)❤️
➤ by Oma Gerhild Fulson
FTC Disclosure: Making a purchase via a link on the page? I may earn a small commission on the transaction - at no added cost to you. Thanks!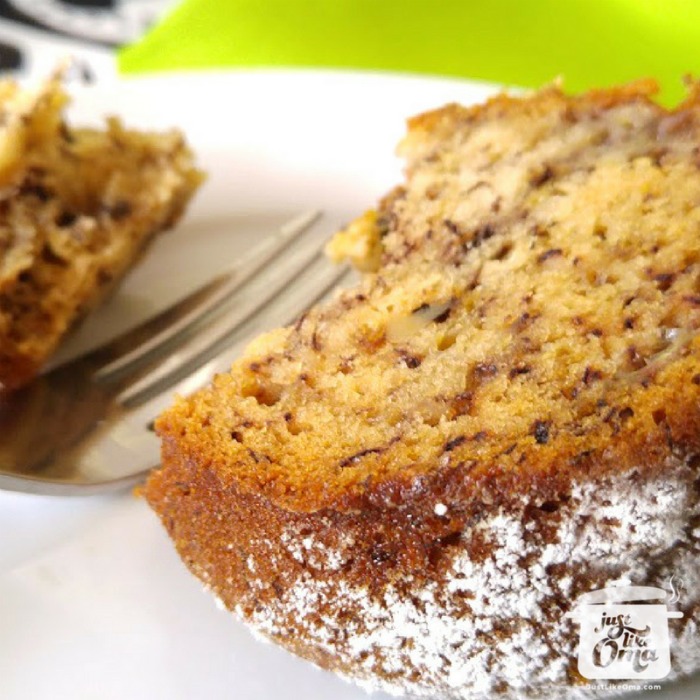 Oma's easy banana bread recipe is so utterly simple to make! Since it's vegan, everything is just stirred together and it tastes wunderbar! No folding, or creaming, or whipping. Just use a wooden spoon and mix. Bake. Enjoy!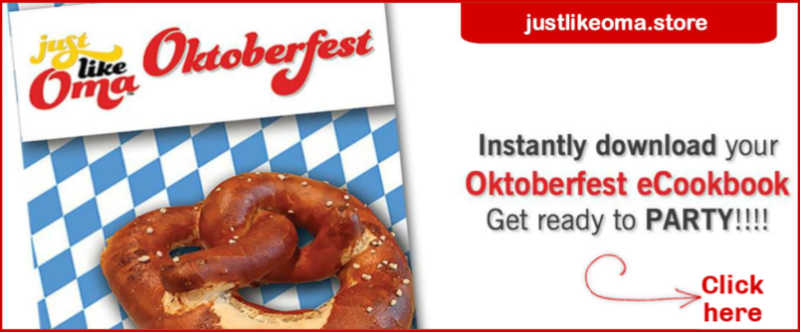 ---
A cake made in a regular cake form is just a cake. But make it in a bundt form and WOW!
A bundt cake often doesn't even need icing to look amazing. Sometimes just a sprinkle of powdered sugar over the top is all that's needed. 
Fill the center with some fresh berries. Dessert is done! 
This one from Wilton is non-stick which makes removing the cake a breeze. Cakes bake evenly and release perfectly.
Even the simplest of cake batters turn into a centrepiece when displayed on your Kaffeeklatsch table when baked in a bundt pan. Try it. You'll like it!
---
I've needed to include vegan recipes in my recipe box. With one of my grandkids eating this lifestyle, I need to be able to make foods that everyone can enjoy when the family gets together. That was the basis for creating this recipe. I needed something easy and quick. I needed something vegan and delicious. I needed something to use the over-ripe bananas I had. I NEEDED an EASY banana bread recipe!
I made this banana bread as the birthday cake for my grandson. Everyone enjoyed it. It was so wonderfully moist and nutty!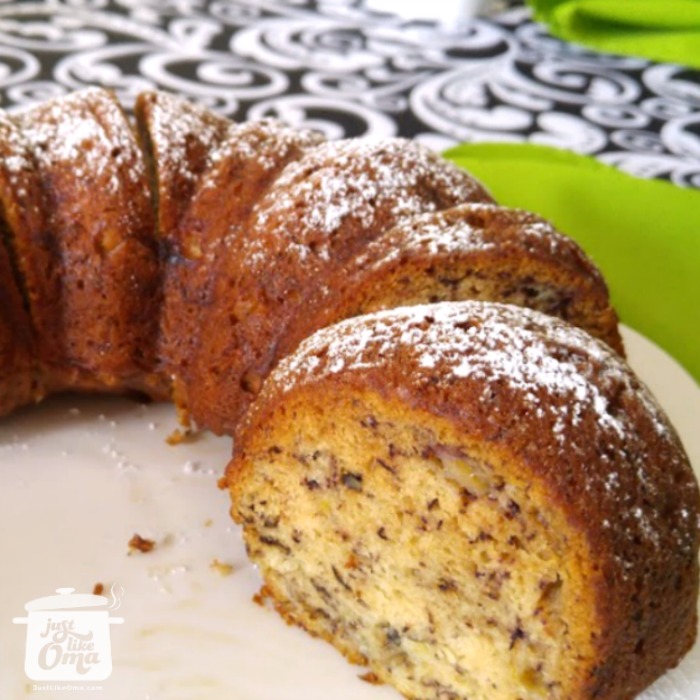 I was really amazed how easy and quick this banana cake was to make. Even though I normally make banana bread in a loaf pan, using a bundt form made this one look special. All it needed was a sprinkle of powdered sugar over the top. 
I had run out of strawberries, but adding them to the center 'bundt' hole would have looked amazing! Next time!
I've been trying out various vegan recipes after my first attempt at this Simple Vegan Chocolate Cake turned out to be a winner. It's texture and flavor are similar to the chocolate portion of my German marble cake. In fact, I used that same recipe and turned them into mini-muffins that tasted almost like brownies!
Above, I used that vegan chocolate cake recipe and turned them into mini-muffins. Only took 15 minutes to bake. Almost tasted like brownies. YUM!

Ready to make the banana bread?
Oma's Easy Banana Bread Recipe❤️
Ingredients:
2 cups all-purpose flour
1½ tsp baking powder
½ tsp salt

1 tsp baking soda
4 ripe bananas
¼ cup light tasting olive oil or  other vegetable oil

1 cups granulated sugar

¼ cup extra-strong coffee (or water)

2 tsp rum or 1 tsp vanilla extract
½ cup broken walnut pieces (optional)

1 tsp powdered sugar for sprinkling on top of finished cake
Instructions:
Preheat oven to 350°F
Prepare your Bundt pan by spraying with a vegetable spray
Into a small bowl, sift together the first four dry ingredients.
Into a large bowl, mash the bananas. Stir in the oil, sugar, coffee and vanilla extract until well mixed. Add the dry ingredients and stir until combined. Stir in the walnuts.
Spoon batter into prepared Bundt pan and smooth the top.

Bake for 45 - 50 minutes or until a wooden toothpick inserted into the centre comes out clean.
Let cool in the pan for about 10 minutes before inverting onto a wire rack. Let cool completely.
Put 1 tsp of powdered sugar into a small sieve and dust over the top of the cake. 
Serves 8 - 10
Hints:
Make sure to check with a wooden toothpick to see if the cake if done. If there is any moist cake stuck to the toothpick, leave the cake in for about another 5 minutes. Use a new wooden toothpick to check again. It should come out clean. If not, add another 5 minutes. 

Leave a comment about this recipe or ask a question?
Pop right over to my private Facebook group, the Kaffeeklatschers. You'll find thousands of German foodies, all eager to help and to talk about all things German, especially these yummy foods. 
I pop in all the time as well, to chat and to answer questions. 
Meet with us around Oma's table, pull up a chair, grab a coffee and a piece of Apfelstrudel, and enjoy the visit.
*  *  *  *  *
Want nutritional information for a recipe?
Copy and paste the ingredient list and the number of servings into Calorie Count. 
It will give you an approximate calculation.

Need help doing conversions
between cups and grams or any such thing?
Use this site to give you all the different conversions for the different types of ingredients. 
---
PIN this ...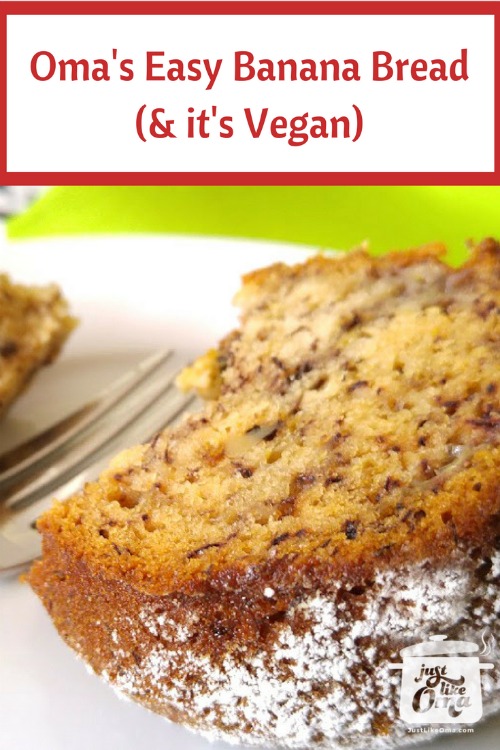 ---
Schwenkbraten recipe that has been a delish hit an alle familien & freunde... Total Approx. Time: Prep: 15 min. + Marinating 8 hrs min. + Grill: 15 min.

My Oma made this cake every Christmas. She iced it with a white frosting that ran down the sides. She decorated it with little silver balls (candy). It
---
Words to the Wise
"As surely as a north wind brings rain, so a gossiping tongue causes anger!"
Proverbs 25:23 (NLT)
---
Oma's Easy Banana Bread Recipe (vegan)


By
Oma Gerhild Fulson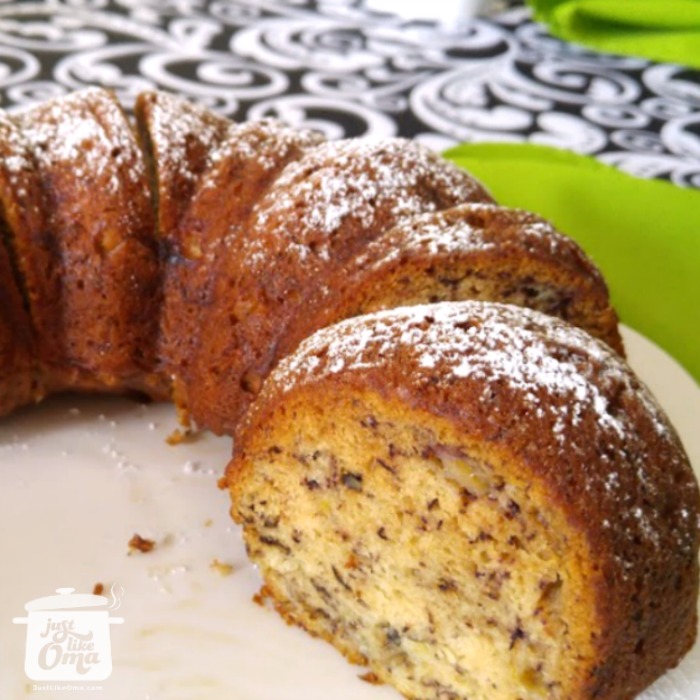 Oma's easy banana bread recipe is so utterly simple to make! Since it's vegan, everything is just stirred together and it tastes wunderbar!


Prep Time: 10 minutes

Cook time: 50 minutes

Yield:
8 - 10 servings

Ingredients:
2 cups flour,
4 bananas,
1 cup sugar,
1/4 cup oil,
For the full recipe, scroll up ...