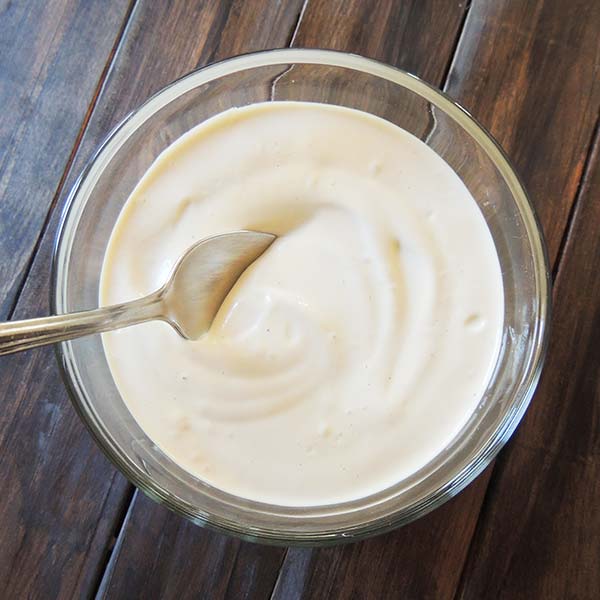 How to Make Cashew Cream

How to make cashew cream is really quite simple. At its most basic, it is a combination of cashews, water, and salt. Lemon juice is optional, but we love it so we always add it in. Cashew cream is one of the many delicious dairy-free recipes made with cashews. 

Prep Time


5 minutes


Cook Time


none


Total Time

5 minutes

Servings:

Makes 1.5 cups
Ingredients:
½ cup + 2 tbsp water 
1 cup cashews
2½ tbsp lemon juice
¼ tsp salt
Instructions:
Add all ingredients to a blender or food processor. Blend or process until completely smooth.
Adjust ingredients, to taste, if necessary.
Notes/Hints:

If you do not have a high-powered blender, be sure to soak the cashews in water ahead of time for 5 to 8 hours. Alternately, you can boil them in a pot for 10 to 15 minutes. Simply drain and rinse the softened cashews and add them to the recipe. 
Add a little less or a little more water to get your cashew cream to the desired consistency.
It will thicken in the refrigerator. If you find it too thick, simply add a little bit of water and stir.
Save time by juicing a bunch of lemons ahead of time and freezing the juice in ice cube trays. Each cube is approximately 1 tbsp.
Cashews are expensive, but one cup of cashews will give you one week's worth of cashew cream.
*  *  *  *  *

Unless otherwise noted recipe, images and content © Just like Oma | www.quick-german-recipes.com