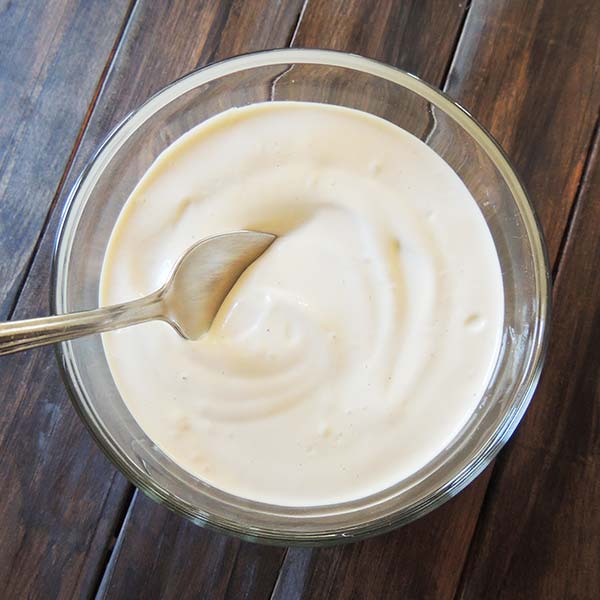 How to Make Vegan Cashew Cream Sauce – vegane Cashew-Sahnesauce

Cashew cream sauce is popular among vegan recipes and is really quite easy to make. This creamy sauce is a combination of simple healthy ingredients: cashews, water, and salt. Lemon juice is optional, but we love its tangy flavor so we always add it in. 
Prep Time


5 minutes


Cook Time


none


Total Time

5 minutes

Servings:

Makes 1.5 cups
Ingredients:
½ cup + 2 tablespoons water 
1 cup raw cashews
2½ tablespoons lemon juice
¼ teaspoon salt
Instructions:
Add all ingredients to a blender or food processor. Blend or process until completely smooth, scraping down the sides of the blender or processor.
Adjust ingredients, to taste, if necessary.
Notes/Hints:

If you do not have a powerful blender, be sure to soak cashews in water ahead of time for 5 to 8 hours. Alternately, you can boil them in a pot for 10 to 15 minutes. Simply drain and rinse the softened cashews and add them to the recipe. 
Add a little less or a little more water to get your cashew cream to the desired consistency.
Store in an airtight container for up to one week.
It will thicken in the refrigerator. If you find it too thick, simply add a little bit of water and stir.
Save time by juicing a bunch of lemons ahead of time and freezing the juice in ice cube trays. Each cube is approximately 1 tablespoon.
Cashews are expensive, but one cup of cashews will give you one week's worth of cashew cream.
*  *  *  *  *

Unless otherwise noted recipe, images and content © Just like Oma | www.quick-german-recipes.com

10.20.2021 revision update