Helgrid's Eggs with Mustard Sauce

➤ by Gerhild Fulson
Eggs with mustard sauce recipe, aka Eier in Senfsosse!  WUNDERBAR! It's one of those easy and quick lunch recipes that's very common in Germany, especially in Berlin and Bremen.
Perhaps you've never thought of using eggs for your protein in place of meat? In fact, that's what I used to think. That is, until my sister, Helgrid, invited me for lunch and this German food was on the menu!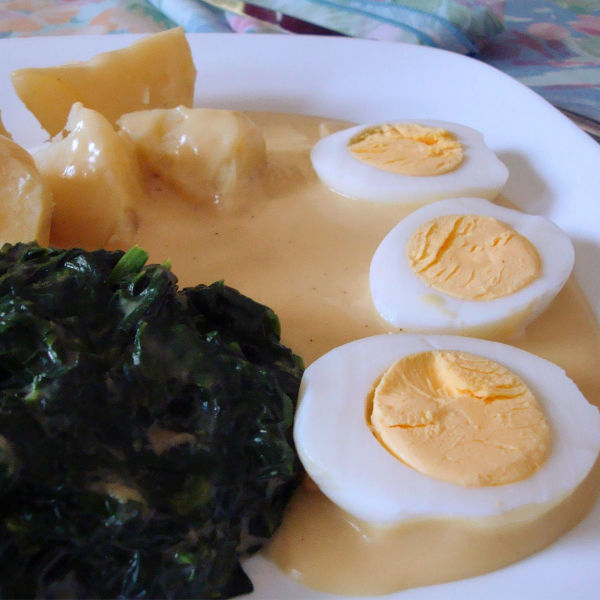 What's so great about it is that it's so easy. And, it can be easily made in under 30 minutes. It's a really nice change from the usual meat, potatoes, and vegetables. 
Above, I've served the eggs with mustard sauce with creamed spinach and boiled potatoes as quick sides. Lecker Schmecker!
This is just one of several recipes using eggs that have a different sauce than usual. Want to try another one that's really different?
Serve the hard-boiled eggs with green sauce that's a regional specialty of Hessen, Germany, so you'll find the recipe on that page. (Somehow whenever I here of it, I think of Dr. Seuss's "Green Eggs and Ham.") It's a regional specialty of Hessen, Germany. 
Serve this with rice or boiled potatoes. A salad on the side. Lunch or supper's done! Need help in hard boiling eggs? Check out the link: How to hard boil eggs.
Eggs?
Eggs are a perfect food ... satisfying ... delicious ... versatile. Low in calories, they are a great protein alternative for meat, and also boast iron, vitamins, minerals, and carotenoids. 
Need that "all's good with the world" feeling? Comfort food will do that. Get your copy of Oma's German favorites in her Comfort Foods e-Cookbook.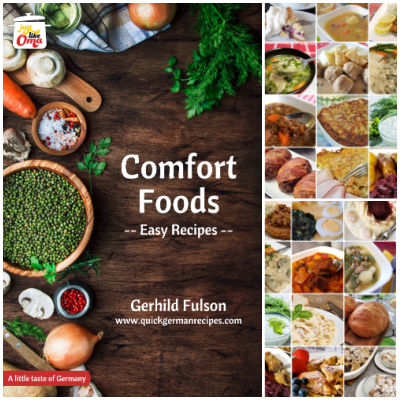 Take a peek at all Oma's eCookbooks. They make sharing your German heritage a delicious adventure!
Oma says,
Need help in hard boiling eggs? Try using the oven. Check out how to do that here.
---
Want a non-dairy or vegan mustard sauce?
My daughter-in-law, Sylvie, has been creating vegan recipes that mimic my German ones, with whole-food plant-based ones. Particularly since she and her family love mustard and sauces, the challenge for 'veganizing' this mustard sauce recipe was well accepted. And she succeeded in creating not only one method but three for German mustard sauce ... that will have your taste buds jumping for joy.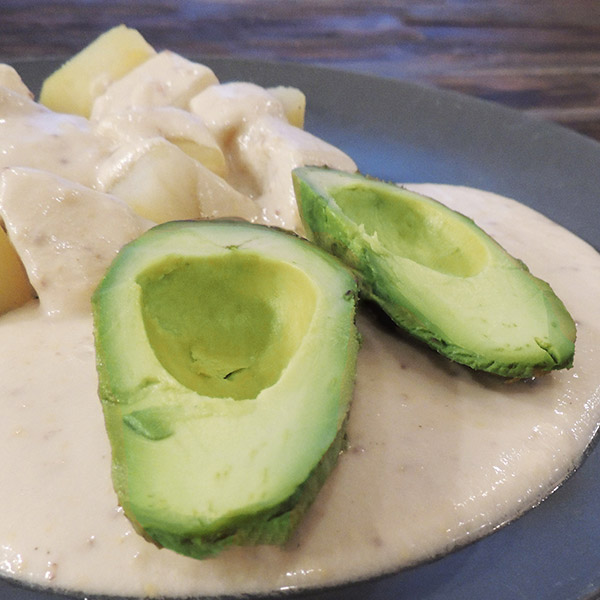 Here she shows the mustard sauce with boiled potatoes and avocado, but if you're just wanting to go non-dairy, then you can serve it with boiled eggs. But, I must say, avocados are a great alternative to the traditional eggs.
---
Ready to make these eggs with mustard sauce?
Is the recipe below locked? Here's why. Unlock to see ALL the exclusive recipes on this site. Click here for help.
➤ As an Amazon Associate, I earn from qualifying purchases.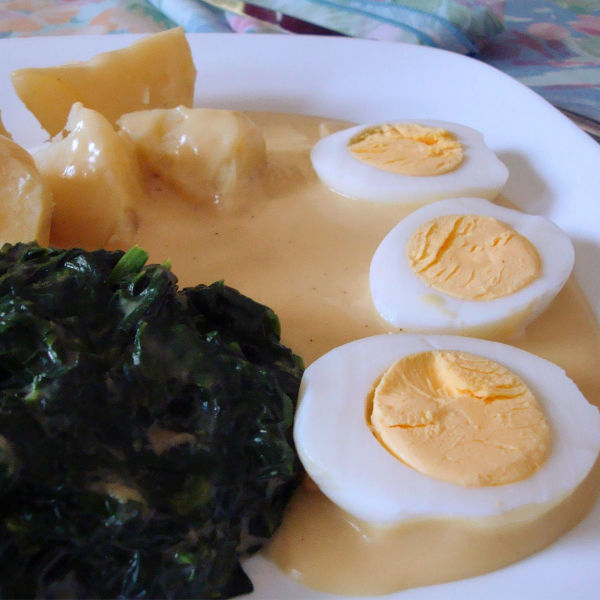 Helgrid's Eggs with Mustard Sauce

Eggs with mustard sauce recipe, aka Eier in Senfsosse!  WUNDERBAR! It's one of those easy and quick lunch recipes that's very common in Germany, especially in Berlin and Bremen.

Prep Time


5 minutes


Cook Time


5 minutes


Total Time

10 minutes

Servings:

Makes 4 servings
Ingredients:
8 hard boiled eggs, peeled 
4 tablespoons butter
4 tablespoons flour, all-purpose
1½ cup vegetable broth (use bouillon cube)
1½ cup milk or cream
salt, pepper
3 tablespoons mustard
approx. 1 teaspoon lemon juice
chopped parsley to garnish
Instructions:
In a saucepan over medium heat, melt the butter and add flour, stirring constantly. Slowly add broth and milk and stir until thickened. If the sauce is too thick, add a bit more milk.
Add mustard. Season with salt and pepper. Add lemon juice to taste.
Serve the sauce over halved eggs and sprinkled with parsley.
Notes/Hints:

*  *  *  *  *

Unless otherwise noted recipe, images and content © Just like Oma | www.quick-german-recipes.com

Leave a comment about this recipe or ask a question?

Pop right over to my private Facebook group, the Kaffeeklatschers. You'll find thousands of German foodies, all eager to help and to talk about all things German, especially these yummy foods. 
Meet with us around Oma's table, pull up a chair, grab a coffee and a piece of Apfelstrudel, and enjoy the visit.

Discover the history behind the German Apple Pancake recipe, aka Apfelpfannkuchen. Quick, very easy, and wunderbar! Get Oma's delicious recipe here.

I loved to wander thru Trier in the winter evenings when all was quiet. Usually, on Friday nights around Christmas, there would be a small band playing
*  *  *  *  *
PIN to SAVE this recipe to your Pinterest board!
And let's be friends on Pinterest!
---
Eggs with Mustard Sauce made Just like Oma


By
Oma Gerhild Fulson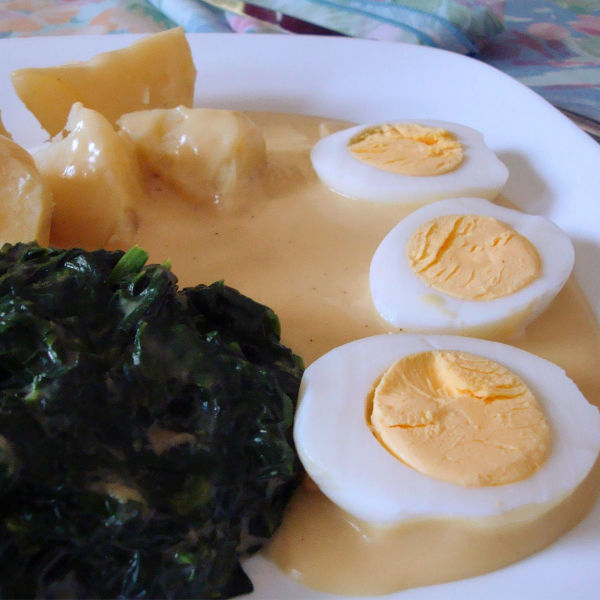 This quick eggs with mustard sauce recipe is one of those quick recipes for supper that's common in Bremen and Berlin. Served with spinach and boiled potatoes on the side, wunderbar!

Ingredients:
eggs,
butter,
all-purpose flour,
vegetable broth,
milk,
seasonings,
mustard,
lemon juice,
parsley,
For the full recipe, scroll up ...
Words to the Wise
"Foolishness brings joy to those with no sense; a sensible person stays on the right path."
Proverbs 15:21 (NLT)