Oma's Creamed Spinach Recipe ❤️

➤ by Oma Gerhild Fulson
FTC Disclosure: Making a purchase via a link on the page? I may earn a small commission on the transaction - at no added cost to you. Thanks!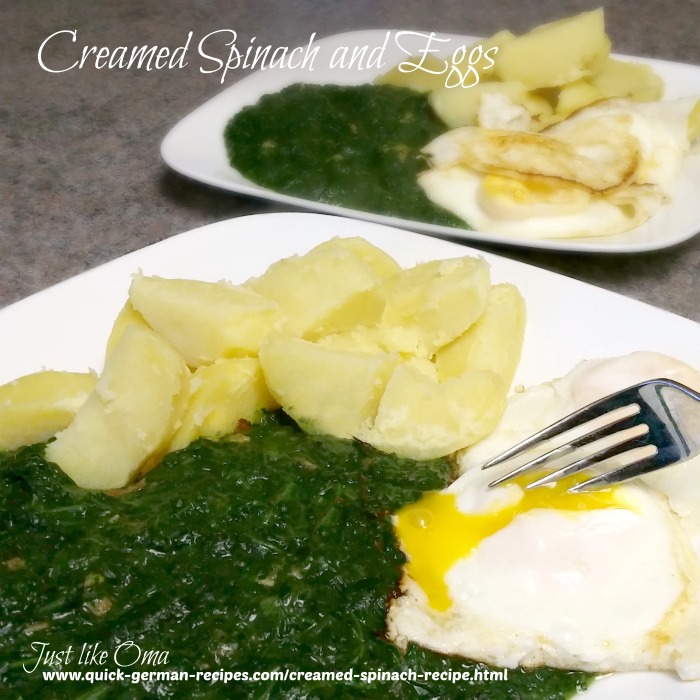 My creamed spinach recipe, aka Spinat,  is one I'm sure your family will love. Among easy spinach recipes, this one's really delicious and nutritious. Why not make it often? German menus often feature creamed chopped spinach. Usually seasoned with nutmeg, the spinach cooking water and milk are used to make the cream sauce. Want a richer sauce? Then use just cream or a mixture of cream and milk. Sure, this increases the calorie count.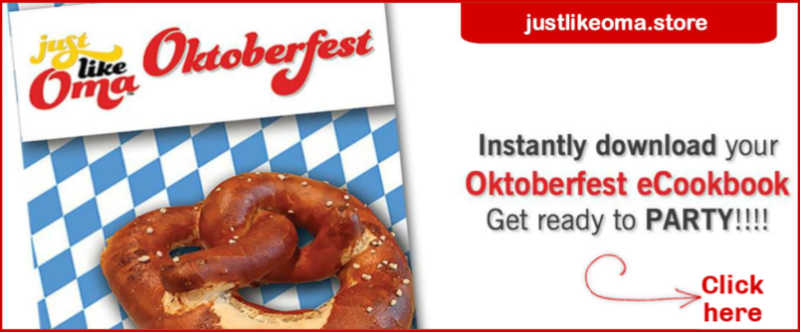 But, surely, that's offset by all the vitamins, minerals, and fiber! Creamed Spinach ... a German treat! I'm sharing two recipes. The second one is what I do when I'm in a REAL HURRY!

Try the variations given in the hints below the recipes. You're sure to find one way of how to cook spinach that pleases your taste buds!

One very common way to serve this dish is to combine it on a plate with boiled potatoes, hard boiled eggs and mustard sauce. A really quick and easy dinner.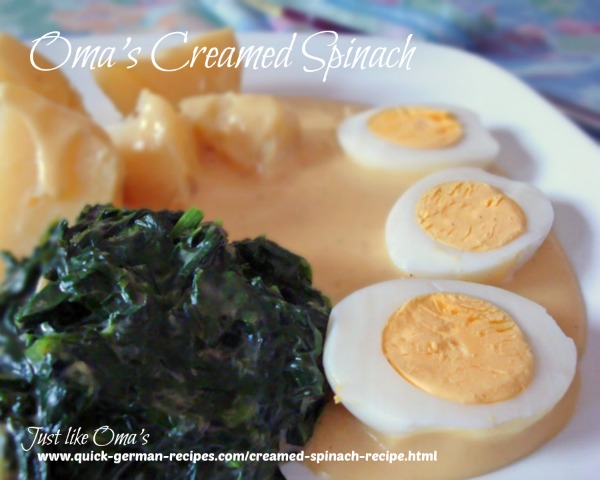 Why Spinach?
Why not?
Think of Popeye! He knew what was good for him! After all, spinach is a good source of niacin and zinc and a very good source of dietary fiber. It also has protein, Vitamin A, Vitamin C, Vitamin E, Vitamin K, Thiamin, Riboflavin, Vitamin B6, Folate, Calcium, Iron, Magnesium, Phosphorus, Potassium, Copper and Manganese ... to name a few! 
Yes, Popeye knew a thing or two about eating healthy!
1. German Creamed Spinach Recipe ❤️

Ingredients:
3 lbs fresh spinach
½ cup water
½ tsp salt
2 tbsp butter
2 tbsp flour
½ cup milk
½ clove garlic, chopped
salt, pepper, nutmeg
Instructions:
Bring water and ½ tsp salt to boil. Add washed spinach and cook about 5 minutes.
Drain well, keeping liquid.
Finely chop spinach.
Heat butter in sauce pan, stir in flour. Saute over low heat for about 2 - 3 minutes, stirring continually.
Add ½ cup reserved hot cooking liquid and ½ cup milk. Stir with whisk over low heat until smooth.
Add garlic and simmer sauce about 5 minutes.
Add chopped spinach and season with salt, pepper, and nutmeg and heat thoroughly.
Hints:
Use ½ cup cream instead of ½ cup reserved cooking liquid for sauce.
Use only 1 cup cream (half and half) for sauce.
Use 1 tbsp chopped onion instead of garlic, or omit.
Use 2 - 3 packages of well-drained frozen chopped spinach instead of fresh.
Add some diced fried bacon (bacon bits) or diced smoked sausage.
2. Oma's Quick Creamed Spinach Recipe
Ingredients:
3 packages (300 oz each) frozen chopped spinach
3 tbsp cornstarch
2 - 3 tbsp butter
salt, pepper, and nutmeg
Instructions:
Place frozen spinach into a saucepan and add just enough water to cover bottom of pan about ½ inch. 
Bring to boil and lower heat to simmer. Slowly stir as spinach starts to thaw. Once thawed (it will only take a few minutes), let it simmer for several minutes. 
Dissolve cornstarch in a bit of water. Slowly add just enough to spinach so that it thickens as much as you'd like. Stir in butter until it melts.
Season with salt, pepper, and nutmeg.
Serves 4
Hints:
Add some bacon bits as the spinach simmers.
Serve with boiled potatoes (put these on to cook just before you start the spinach). Fry eggs just as you're finished making the spinach. 

Leave a comment about this recipe or ask a question?
Pop right over to my private Facebook group, the Kaffeeklatschers. You'll find thousands of German foodies, all eager to help and to talk about all things German, especially these yummy foods. 
I pop in all the time as well, to chat and to answer questions. 
Meet with us around Oma's table, pull up a chair, grab a coffee and a piece of Apfelstrudel, and enjoy the visit.
*  *  *  *  *
Want nutritional information for a recipe?
Copy and paste the ingredient list and the number of servings into Calorie Count. 
It will give you an approximate calculation.

Need help doing conversions
between cups and grams or any such thing?
Use this site to give you all the different conversions for the different types of ingredients. 
---
---
Schwenkbraten recipe that has been a delish hit an alle familien & freunde... Total Approx. Time: Prep: 15 min. + Marinating 8 hrs min. + Grill: 15 min.

My Oma made this cake every Christmas. She iced it with a white frosting that ran down the sides. She decorated it with little silver balls (candy). It
---
Words to the Wise
"A lazy person's way is blocked with briers, but the path of the upright is an open highway."
Proverbs 15:19 (NLT)
---
❤️ German Creamed Spinach Recipe made Just like Oma


By
Oma Gerhild Fulson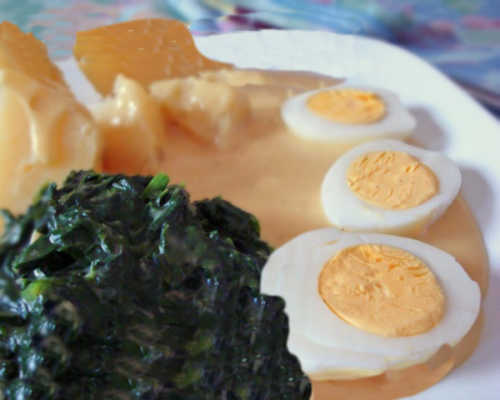 This easy German creamed spinach recipe is one your family will love. Delicious and nutritious, why not make it often?

Ingredients:
spinach,
cornstarch,
butter,
salt,
For the full recipe, scroll up ...