How to make Spinach Dip ❤️
➤ by Oma Gerhild Fulson
FTC Disclosure: As an Amazon Associate, I earn from qualifying purchases.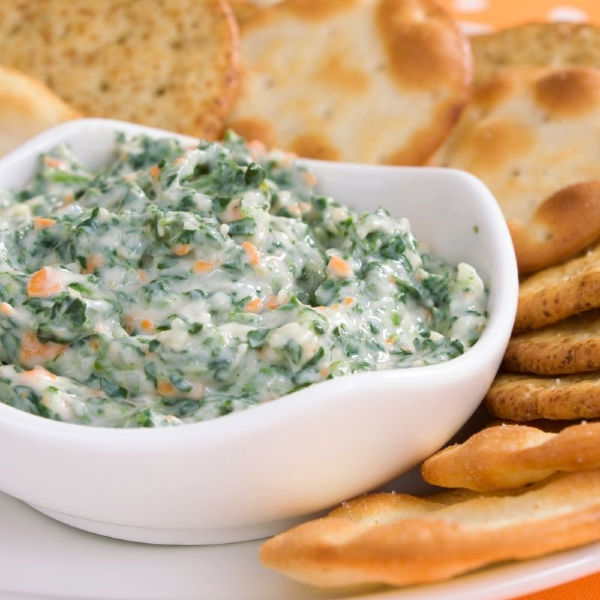 Learn how to make Spinach Dip, aka Spinatcreme-Dip, and create this favorite party treat for your next gathering. 
It's simple and delicious, a sure hit for your family movie night as well. It's one of those easy spinach recipes that will surprise you by how good it tastes. 
Adding crisply fried bacon bits, diced orange or yellow peppers and chopped green onions changes the flavor, oh, so nicely!
A great way to serve this in a hollowed out loaf of pumpernickel bread. 
This is not in the traditional German pumpernickel bread! German pumpernickel is a very dense loaf that is purchased in a plastic-sealed square little package. The type of pumpernickel bread for this recipe is that type you buy as a large round "soft and fluffy" (the only way I can describe this) kind of loaf.
How German is this dip? I'm not really sure. I've only had it here in Canada. However, the original recipe is on the Knorr soup package. The original Knorr company is located in Heilbronn, Germany, and was founded in 1838 by Carl Heinrich Knorr. So, I could say, that this recipe has its origins in Germany! I've just never eaten it over there. Above is a variation on the Knorr spinach dip recipe that is so popular. 
It's fun served in a hollowed-out loaf of pumpernickel bread with the hollowed-out bread pieces cut into cubes to use for dipping. Or, use a french loaf.
Trying to make this a bit healthier? Use a good quality natural yogurt (Greek yogurt would be ideal). The lower the fat content, the better.
To make it easier to serve, just put it into a pretty bowl and serve it with cubes of pumpernickel bread or crackers. Either way, a great take-along treat for a party as well
---
How to make Spinach Dip
Ingredients:
2 cups sour cream
1 cup mayonnaise
3 green onions, chopped
4 slices bacon, crisply fried and chopped
1 package vegetable soup mix
1 10-ounce package frozen spinach, thawed, drained, and chopped
1 round pumpernickel bread, (not the German type)
Instructions:
Mix all ingredients (not the bread!) together and let stand in fridge for about 2 hours for flavor to develop.
Serve the dip in hollowed-out bread with bread cubes for dipping.
Hints:
You can also serve in bowl with bread cubes, vegetables, or crackers for dipping, as shown above.
Instead of the Knorr vegetable soup mix, you can use an envelope of your favorite salad dressing, such as ranch. Another option is to use a package of onion soup mix.


Leave a comment about this recipe or ask a question?
Pop right over to my private Facebook group, the Kaffeeklatschers. You'll find thousands of German foodies, all eager to help and to talk about all things German, especially these yummy foods. 
I pop in all the time as well, to chat and to answer questions. 
Meet with us around Oma's table, pull up a chair, grab a coffee and a piece of Apfelstrudel, and enjoy the visit.
*  *  *  *  *
Want nutritional information for a recipe?
Copy and paste the ingredient list and the number of servings into Calorie Count. 
It will give you an approximate calculation.

Need help doing conversions
between cups and grams or any such thing?
Use this site to give you all the different conversions for the different types of ingredients. 
---
---
These German gingerbread cookies, or Lebkuchen, are such a traditional cookie to have for Christmas. They're very easy to make, there's no reason to buy them.

Oma's German schnitzel recipe (Jägerschnitzel) is great if you need something delicious that's quick to make as well. So traditionally German and so WUNDERBAR!
---
Words to the Wise
"Like a fluttering sparrow or a darting swallow, an undeserved curse will not land on its intended victim."
Proverbs 26:2 (NLT)