What to Eat With Hummus: 25+ Delicious Ideas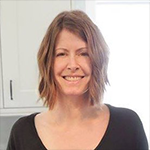 by: Sylvie Fulson  /  Copy Editor, Copywriter, Plant-Based Cook, Wife, Mom
It may seem odd to have a page dedicated to hummus and what to eat with it on a German recipe site, but with hummus gaining in popularity worldwide, including Germany, why not make it a part of your diet?
Especially since it's so delicious and has wonderful health benefits.
In my humble opinion, traditional hummus goes with just about everything, including German food. While the main ingredients in hummus are chickpeas, lemon juice, garlic, and tahini (a paste made from sesame seeds), and are not the least bit German, hummus is a delicious way to add zing to your German meals.
You can find store-bought hummus at any grocery store, but if you've got a food processor, homemade hummus is so easy to make and tastes so much better! Below, you'll find many options on what to serve this delicious dip with.
If you're unfamiliar with hummus and how wonderful it is, check out my easy hummus recipe page for all the info.
Pita bread, pita chips, bread, crackers, and pretzels

Popular options for either dipping or spreading hummus are of course pita bread, pita chips, tortilla chips, and rice crackers. Spreading hummus on bread or dipping pretzels into this creamy dip are also great options.
When I make hummus, I like to make it nice and thick and use it as a spread on toast topped with either sliced cucumber or sliced avocado. So good!

Oma Gerhild has amazing and easy homemade bread recipes that are perfect for eating with hummus, including an easy recipe for authentic-tasting German pretzels.

Sourdough No-Knead Bread: This sourdough bread is made with whole grains and requires no kneading whatsoever. With added ingredients like flax seeds, flax meal, oats, sunflower seeds, psyllium, and bran, this nutrient-packed bread is delicious spread with plain hummus or even red pepper hummus. This combination is both so delicious and so healthy. Plus, it just happens to be vegan!
Oma's Easy Artisan Bread: This unbelievably easy artisan bread recipe is so simple that ANYONE can make it and tastes like the fresh Brötchen you'd get at the bakery in Germany. With its wonderful crispy, thick crust and chewy crumb, it's perfect with a thick spread of garlicky hummus. And it's also vegan. Wunderbar!
Oma's Soft Bavarian Pretzels: Oma's method of how to make homemade pretzels, aka Brezeln, is so easy. Crispy on the outside, yet with a soft center. It's a beginner-easy recipe that will have you hooked on homemade pretzels. AND they're so delicious dipped in hummus!
Fresh veggies and fresh fruit 

Dipping fresh veggies into hummus is a great way to increase your vegetable intake. It's a deliciously refreshing snack that you can indulge in anytime without guilt.
If you love savory and sweet combos, try dipping fresh fruit in plain hummus. Apple slices, pear slices, strawberries, grapes, and dates taste so good combined with this yummy creamy dip.

Having a party? You can create a beautiful hummus platter using either traditional hummus and/or red pepper hummus surrounded by an array of beautifully colored fruit (as mentioned above) and veggies such as red peppers, carrot sticks, cherry tomatoes, celery sticks, broccoli florets, cucumbers, mushrooms, and cauliflower florets.

Such a platter would make a great addition to any table spread with German party fare.
Sandwiches and wraps

Hummus makes a wonderful sandwich spread. It's delicious on its own between two slices of bread, but it's even better topped with lettuce, tomato, and (if you're a meat eater) slices of crispy bacon or meatloaf.  
Another great way to use hummus in sandwiches is to use it as a substitute for mayo. This is an easy way to reduce fat without sacrificing flavor. For instance, you can switch out the mayo in Oma's Best Tuna Salad Recipe for a delicious twist on tuna salad.

It's also perfect in wraps. Spread the hummus on a tortilla wrap, add some perfectly cooked rice, and top with delicious homemade sauerkraut. Roll it up and you've got yourself one heck of a delicious nutrient-packed lunch. For an added boost, serve it with slices of red, yellow, and orange bell peppers. Perfect!

Salads

Hummus also makes a great salad dressing and is a great option when looking for low-fat dressings. It is wunderbar on fresh salads full of your favorite greens, veggies, and fruit.

Since we already know how wonderful tomatoes and cucumber slices are dipped in hummus, the two following traditional German salad recipes would be amazing drizzled with a hummus salad dressing or with a dollop or two of hummus on the side:
Or, if you prefer the cucumber salad that is popular in northern Germany but want to cut down on dairy, try replacing the sour cream and sugar with creamy hummus salad dressing, and adding extra lemon juice to taste, in Oma's Northern German Cucumber Salad Recipe

My hummus salad dressing would also be phenomenal with the following salad recipes:
| | | |
| --- | --- | --- |
| Lettuce Salad with Grapes | German Fennel Salad | Asparagus Salad Recipe |
Oma's Lettuce Salad with Grapes: Replace the vinegar, oil, salt, pepper, and sugar with the hummus dressing for a lower fat option. If desired, make it vegan by omitting the cheese.

Mutti's Fennel Salad Recipe: Replace vinaigrette ingredients with hummus dressing. Whether you use the vinaigrette or the dressing, this is one of those deliciously accidental vegan German recipes!
Oma's German Asparagus Salad Recipe: Replace the oil and vinegar with the hummus dressing for a low-fat option. Omit the hard-boiled eggs to make it vegan.
And finally, try using hummus in a potato salad. 
You can use it instead of mayo in Oma's Creamy German Potato Salad, or serve Oma's warm Southern German Potato Salad with a nice dollop of hummus on top or on the side. Lecker!

Soup

Adding hummus to soups is a good way to add extra flavor. I think hummus added to the following soups would taste amazing. All of these soups abound with flavor, but if you're looking for that extra zing, incorporating hummus would do just that! Start with a small amount and adjust to taste.
Bake with hummus

One of my favorite ways to eat hummus is to slather it on pizza instead of pizza sauce. You can use tortillas or pita bread as a pizza crust or you can make your own pizza dough as thick or thin as you like.
Hummus on pizza is delicious on its own topped with just red pepper flakes or fresh herbs. Or give it a Mediterranean flare with sliced tomatoes, artichoke hearts, sliced Kalamata olives, red onion, and fresh parsley. Is your mouth watering yet? Mine is!

Or for something with more of a German flare, use hummus instead of the crème fraîche or Greek yogurt on Oma's Tarte Flambée. Also known as Flammkuchen, it is often considered a German version of pizza or flatbread and can be made with many variations. 

To make it vegan, omit the bacon and use a plant-based bacon instead.
Meat

If you just can't get enough of that hummus taste, you can even coat your favorite meat or fish in it, roll it in bread crumbs, and bake.
You can try this with Oma's German Schnitzel Recipe. Or cook your Schnitzel the traditional way and serve it on a bun with Jägerschnitzelsosse and a dollop of hummus or a drizzle of hummus salad dressing. 

So many options!

So there you have it. One of the best things about hummus is that there are so many options on what to eat with it. I didn't even get around to mentioning how perfect it is drizzled on roasted veggies, including potatoes.
So next time you're looking to add a little more oomph to your meal or something that packs a nutritional punch, think HUMMUS!

Grab your copy of Oma's favorite salads in her Summer Salads e-Cookbook.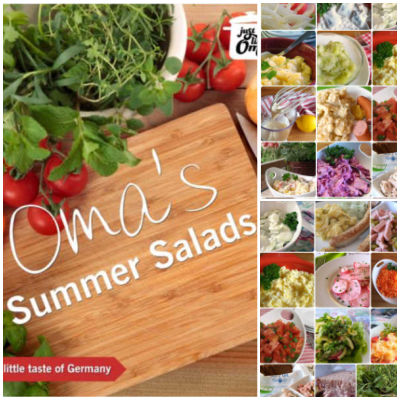 Take a peek at all Oma's eCookbooks. They make sharing your German heritage a delicious adventure!
Leave a comment about this recipe or ask a question?

Pop right over to my private Facebook group, the Kaffeeklatschers. You'll find thousands of German foodies, all eager to help and to talk about all things German, especially these yummy foods. 
Meet with us around Oma's table, pull up a chair, grab a coffee and a piece of Apfelstrudel, and enjoy the visit.

This easy German Apple Strudel recipe is one of those German desserts that brings the traditional strudel taste to your table without all the work. Wunderbar!!

Make the perfect German Spaetzle with Oma's easy recipe! This traditional German egg noodle pairs perfectly with caramelized onions for a delicious meal.

Choose from Oma's cookbooks that are immediately downloadable & start cooking easy classic German foods tonight. Or get her newest paperback cookbook. LECKER!
*  *  *  *  *
Words to the Wise
"Direct your children onto the right path, and when they are older, they will not leave it."
Proverbs 22:6 (NLT)