What to Serve With Your Favorite German Recipes

➤ by Lydia Fulson
Knowing what to serve with your favorite German meals can be quite the task. Not anymore! Here, you can learn what to serve with some of your all-time favorite German meals, such as the famous rouladen!
Scroll below to find some great traditional sides to make the perfect pairing to your German dish. 
Whether that be schnitzel, rouladen, or pork of any kind, there are sides here for everything and everyone! Maybe you'll recognize some of these yummy German sides from growing up with your Mutti.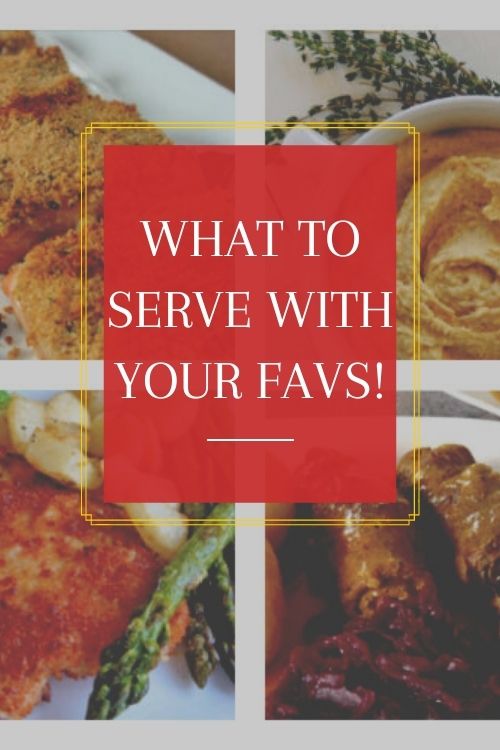 If you're from Northern Germany, like Oma, you may be looking for something like German cucumber salad made with cream to serve alongside your main. 
You'll also find many different kinds of potatoes, seeing as Germany thrives on all sorts of fun and delicious potato recipes. Here's a sneak peek at some potato recipes you will see among these pages!
Fächerkartoffeln

- Hasselback Potatoes

Kartoffelklöße

- Potato dumplings

 (Of course!)
Luftfritteuse Süßkartoffeln - Air Fried sweet potatoes
Kartoffelsalat - Potato Salad
When it comes to the vegetable dishes, you'll find a wide variety too. Oma always has more than one veggie served with dinner whenever we have family get-togethers. Variety is always welcome at Oma's dinner table. But the one veggie that is an absolute must for us, is her red cabbage recipe! 
---
What to Consider When Choosing a Side
This may seem like a no-brainer when you're prepping big meal plans for a special occasion or just for a simple weeknight dinner.
The main dish is always thought of ahead of time, and the sides tend to be thought of last ... But there are definitely things to be considered when choosing the right sides for you!
Sides should feel like a thought-out part of the meal as well! So to help you out, consider these steps in finding which side fits with what you'll be serving.
1. The Ease of Preparation 

Think: Do I want to spend hours making something that takes hours of steps and preparation?
Keep into account, thawing, peeling, washing, chopping, etc. It all adds up, and can be exhausting if you have already spent so long making your main dish.
You want something to take a load off!
2. Cooking Time
If you already have the main dish in the oven and have extra time before it will be ready, take that time to get a side ready that fits within the time you have left.
For example, if your pork hocks are done in 20 minutes, choose a side like jarred red cabbage that can be warmed up in a pot on the stove in 15 minutes.
Or, have something made ahead of time that can/needs to sit in the fridge for a while, such as a bean salad! (One of my favorites!)
3. Contrast of Textures/ Color
This is something that not everyone will worry about when choosing a side.
But for me, it is important. For example, if I am serving rouladen, then I won't pair it with all brown sides. I like to strive for a bold pop of color on my plate.
When Oma makes rouladen, she'll often serve it with mashed potatoes and gravy with red cabbage. They play off each other greatly, and the cabbage gives that pop of color!

When it's time for dinner, get traditional with Oma's favorite combinations. Get her collection in Oma's German Dinners, which include salads, soups, entrees, and desserts!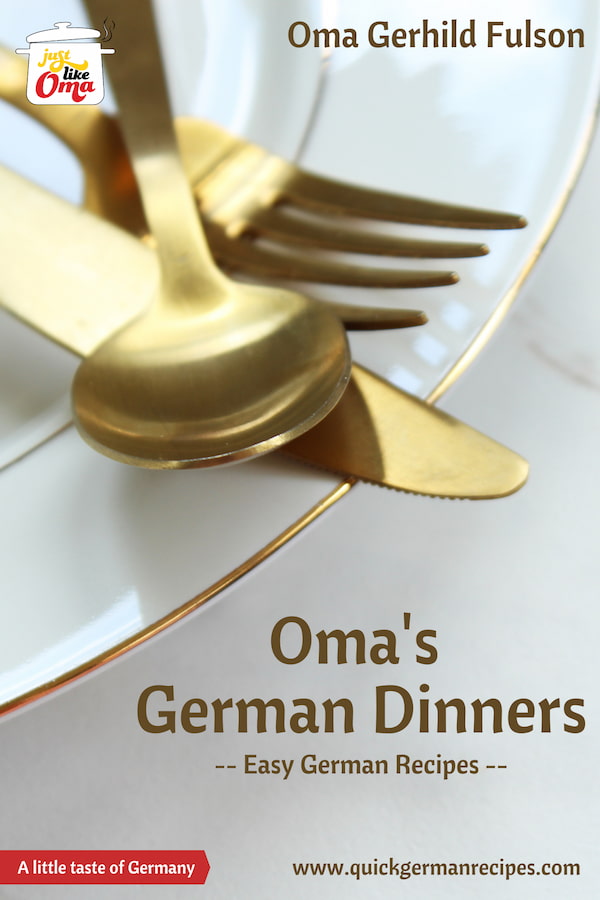 Take a peek at all Oma's eCookbooks. They make sharing your German heritage a delicious adventure!

These recipes have been paired with the best of the best. To me, they are all worth trying. But since it would be a bit of a stretch to try them all at once.. make one or two, then next time, try something different from the list. :)

There are so many wunderbar options for you to choose from! We hope you find something you like and maybe we'll even bring back some of your favorite memories of cooking in the kitchen with your Mutti. 
Check out these 'What to serve with' pages:
Leave a comment about this recipe or ask a question?

Pop right over to my private Facebook group, the Kaffeeklatschers. You'll find thousands of German foodies, all eager to help and to talk about all things German, especially these yummy foods. 
Meet with us around Oma's table, pull up a chair, grab a coffee and a piece of Apfelstrudel, and enjoy the visit.

Choose from Oma's cookbooks that are immediately downloadable & start cooking easy classic German foods tonight. Or get her newest paperback cookbook. LECKER!

Kaiserschmarrn are among those homemade pancake recipes that will remind you of Oma's kitchen. A traditional Austrian & German light and fluffy shredded pancake.

Discover the ultimate German schnitzel recipe with Oma's quick, easy, and delicious pork version - perfect for any occasion! Taste the authentic flavors of Germany today.
*  *  *  *  *
PIN to SAVE this recipe to your Pinterest board!
Make every day a THANKFUL day!
"And this same God who takes care of me will supply all your needs from His glorious riches, which have been given to us in Christ Jesus."
Philippians 4:19