German Kale and Sausage Soup – Oma's Grünkohl und Wurstsuppe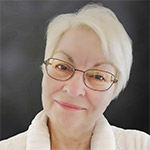 by: Gerhild Fulson  /  Cookbook Author, Blogger, German Oma!

This post may contain affiliate links, which means I'll receive a commission if you purchase through my links, at no extra cost to you. Please read full disclosure for more information.
This German kale and sausage soup, Grünkohl und Wurstsuppe, is perfect for when you're wanting down-home goodness. It's the kind Oma made for any meat-and-potato lover!
That means my hubby loves it! Not only is he a meat-and-potato lover (like most Germans), but he absolutely LOVES kale. It's German food that tastes wunderbar!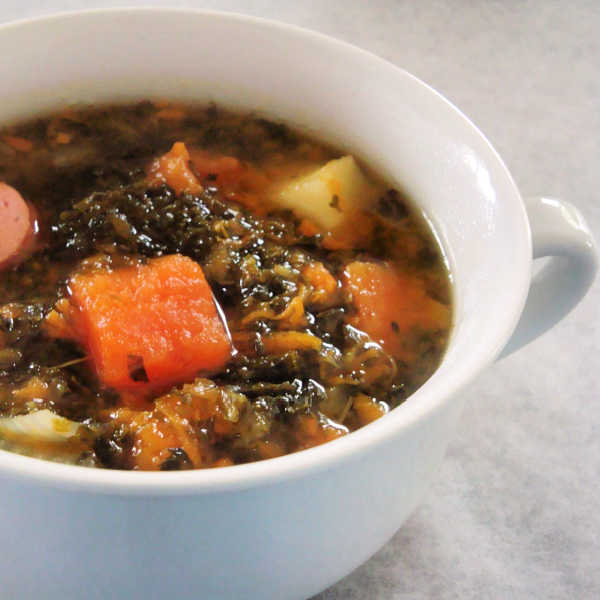 Why to Love Kale?
I'm so glad that hubby loves kale. Because, not only do I love it as well, but it's often called the "king of super healthy foods" and is on that "superfood list". 
With its delicious earthiness and its superfood goodness, and more importantly, knowing how to cook this, kale makes this such a satisfying soup.
Eating something that tastes so good, knowing that it's actually very good for one's health, just makes perfect sense. That means, kale is one of those 'makes perfect sense' kind of foods.
Fresh, frozen, jarred, or canned Kale?
For this soup, you can use any type of kale.
If you are using fresh kale, you may want to blanch it very briefly first. Blanching removes some of the bitterness that some people don't like. However, blanching isn't required, so you can just omit it, if you wish.
In order to blanch the kale, hold the bottom of the stalk with one hand and strip the leaves off with the other.
The plunge the leaves into boiling water. Leave them in there for about 30 seconds and remove with a slotted spoon. Drain well. Coarsely chop the leave and use in the soup.
When you add the blanched kale to the soup, you'll need to cook the soup about 20 minutes until the kale is tender.
If you are using frozen kale, you can thaw it first. However, you can also just add the frozen kale to the soup. It will thaw as it is cooking in the soup. 
If you are using jarred or canned kale, I would drain it first before using. That's just my personal opinion ... not actually based on fact. But, it's what I do. As well, since this is usually already quite cooked, it doesn't need to cook long in the soup.
Make this soup your own by adding whatever is in your crisper. Cauliflower, broccoli and parsnips would be great as well. Even some wilted lettuce works.
If you're wanting your soup a bit creamier, use a potato masher and mash the soup slightly. 
Grab your copy of Oma's favorite soups collection in Quick Fix German Soups e-Cookbook. You'll LOVE it!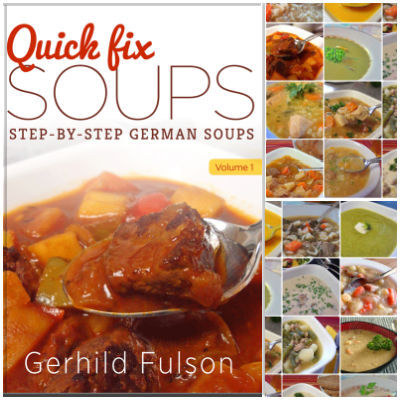 Take a peek at all Oma's eCookbooks. They make sharing your German heritage a delicious adventure!
How much Kale to use for this recipe:
Making soup is not like baking a cake. For a cake the ingredient quantities need to be exact. For a soup, however, exact quantities don't usually matter. 
In the case of kale, that's good. Although using frozen kale, usually in one pound bags, or jarred/canned kale, often around 24 fluid ounces, are pretty standard sizes, for a bunch of kale, it's a different thing.
Not only are bunches different sizes, but once one removes the stalks and depending upon the variety of kale, differences can be quite substantial.
For this soup, I make it easy. Either use about one pound frozen, one can/jar, or one bunch (usually about one pound). OR, use more or less, depending on how 'kale-y" you want the soup. 
---
Hummus?
Yep. Hummus. Sylvie, my daughter-in-law, shares that hummus is delicious in this to add extra zing.  Her easy hummus recipe is so quick to make and it's becoming wildly popular in Germany. Try it. I think you'll like it too!
---
Ready to make this Kale and Sausage Soup?

Is the recipe below locked? Here's why.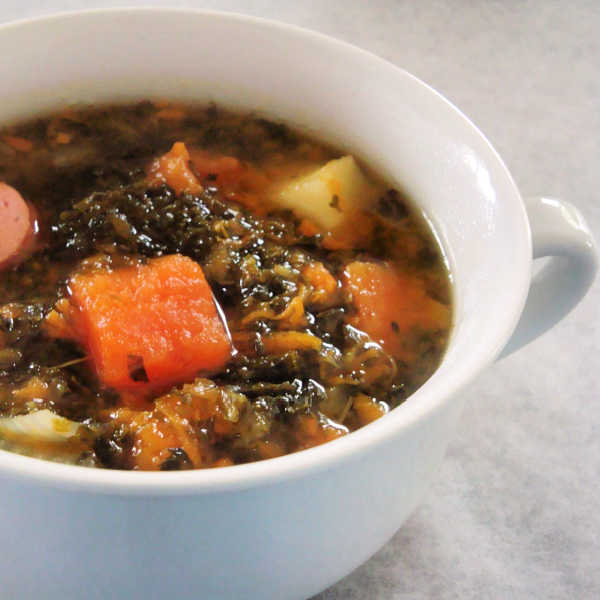 German Kale and Sausage Soup – Oma's Grünkohl und Wurstsuppe

This German kale and sausage soup, Grünkohl und Wurstsuppe, is perfect for when you're wanting down-home goodness. It's the kind Oma made for any meat-and-potato lover!

Prep Time


10 minutes


Cook Time


25 minutes


Total Time

35 minutes

Servings:

Makes 4 servings
Ingredients:
about 1 pound blanched, fresh, or frozen kale
2 tablespoons olive oil
1 onion, diced
1 clove garlic, crushed
1½ pounds potatoes, peeled, cut into ½-inch cubes
2 carrots, sliced or cubed
3 ribs celery, chopped
1 pound smoked sausage, sliced
6 cups chicken or vegetable broth

salt and pepper to taste

Instructions:
Prepare kale. If using fresh, strip the leaves from the stalk. Either blanch the kale (if you're wanting to remove some of the bitterness). After blanching and draining, chop the kale leaves. If keeping fresh, chop the kale leaves. If using frozen chopped kale, you can use it frozen, but try and break it apart into smaller pieces.
In a large soup pot, heat the oil and add the onion. Cook until translucent, about 3 minutes. Add garlic and cook a further minute.
Add potatoes, carrots, celery, sausage, kale, and broth.
Bring to a boil, cover, and simmer until the veggies are tender, about 20 minutes.
Season with salt and pepper.
Notes/Hints:

Add a pinch of cayenne if you like things spicy.
Use a potato masher to mash the soup slightly if you like the texture of the soup to be thicker rather than broth-y.
Add a bit of lemon juice at the end to give a brighter flavor.
Add other veggies sitting in your crisper, such as cauliflower, broccoli and parsnips. Sweet potatoes would be good as well.
If you are using jarred or canned kale, simply drain it and add the kale towards the end of the cooking time.
*  *  *  *  *

Unless otherwise noted recipe, images and content © Just like Oma | www.quick-german-recipes.com

Leave a comment about this recipe or ask a question?

Pop right over to my private Facebook group, the Kaffeeklatschers. You'll find thousands of German foodies, all eager to help and to talk about all things German, especially these yummy foods. 
Meet with us around Oma's table, pull up a chair, grab a coffee and a piece of Apfelstrudel, and enjoy the visit.

Cooking just like Oma, making those German meals, is actually quite easy. Let me, Oma Gerhild, help you with my step-by-step methods to re-create those yummy meals you remember from your Oma.

If you're looking for tasty, traditional, and easy German cake recipes (in English) to try, then you've come to the right place! Check out these lecker treats!

Discover the ultimate German schnitzel recipe with Oma's quick and easy method - perfect for any occasion! Taste the authentic flavors of Germany today.
*  *  *  *  *
PIN to SAVE this recipe to your Pinterest board!
And let's be friends on Pinterest!
---
Oma's Kale and Sausage Soup ~ Grünkohl und Wurstsuppe
By
Oma Gerhild Fulson
This German kale and sausage soup, Grünkohl und Wurstsuppe, is perfect for when you're wanting down-home goodness. It's the kind Oma made for any meat-and-potato lover!
Ingredients:
kale,
olive oil,
onion,
garlic,
potatoes,
carrots,
celery,
smoked sausage,
chicken broth,
seasonings,
For the full recipe, scroll up ...
Words to the Wise
"Listen to the words of the wise; apply your heart to my instruction. For it is good to keep these sayings in your heart and always ready on your lips.."
Proverbs 22:17 (NLT)