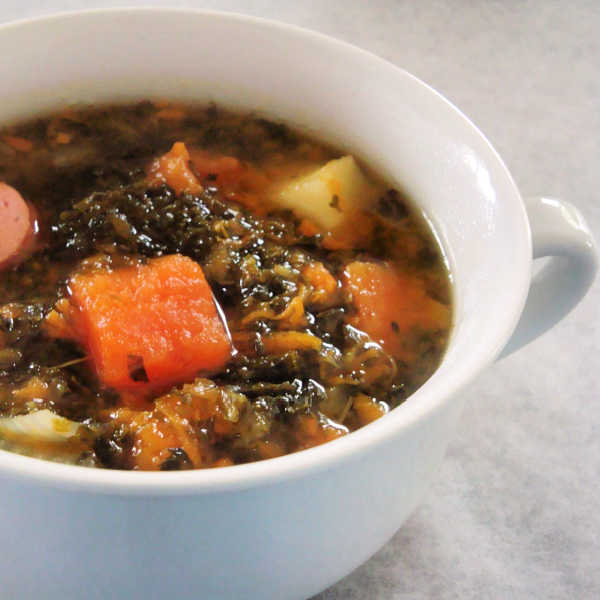 German Kale and Sausage Soup – Oma's Grünkohl und Wurstsuppe

This German kale and sausage soup, Grünkohl und Wurstsuppe, is perfect for when you're wanting down-home goodness. It's the kind Oma made for any meat-and-potato lover!

Prep Time


10 minutes


Cook Time


25 minutes


Total Time

35 minutes

Servings:

Makes 4 servings
Ingredients:
about 1 pound blanched, fresh, or frozen kale
2 tablespoons olive oil
1 onion, diced
1 clove garlic, crushed
1½ pounds potatoes, peeled, cut into ½-inch cubes
2 carrots, sliced or cubed
3 ribs celery, chopped
1 pound smoked sausage, sliced
6 cups chicken or vegetable broth

salt and pepper to taste

Instructions:
Prepare kale. If using fresh, strip the leaves from the stalk. Either blanch the kale (if you're wanting to remove some of the bitterness). After blanching and draining, chop the kale leaves. If keeping fresh, chop the kale leaves. If using frozen chopped kale, you can use it frozen, but try and break it apart into smaller pieces.
In a large soup pot, heat the oil and add the onion. Cook until translucent, about 3 minutes. Add garlic and cook a further minute.
Add potatoes, carrots, celery, sausage, kale, and broth.
Bring to a boil, cover, and simmer until the veggies are tender, about 20 minutes.
Season with salt and pepper.
Notes/Hints:

Add a pinch of cayenne if you like things spicy.
Use a potato masher to mash the soup slightly if you like the texture of the soup to be thicker rather than broth-y.
Add a bit of lemon juice at the end to give a brighter flavor.
Add other veggies sitting in your crisper, such as cauliflower, broccoli and parsnips. Sweet potatoes would be good as well.
If you are using jarred or canned kale, simply drain it and add the kale towards the end of the cooking time.
*  *  *  *  *

Unless otherwise noted recipe, images and content © Just like Oma | www.quick-german-recipes.com