Oma's Leek Soup Recipe 
➤ by Gerhild Fulson
This leek soup recipe, aka Lauchsuppe, with cream cheese is made in under 30 minutes. Creamy rich with mushrooms added for that extra touch, this is a fantastic starter course for a dinner party.
Elegant. Easy. Quick. 
For the full list of ingredients & detailed instructions, see the recipe card at the end of this post. But before you scroll, there's important & interesting stuff to know right below.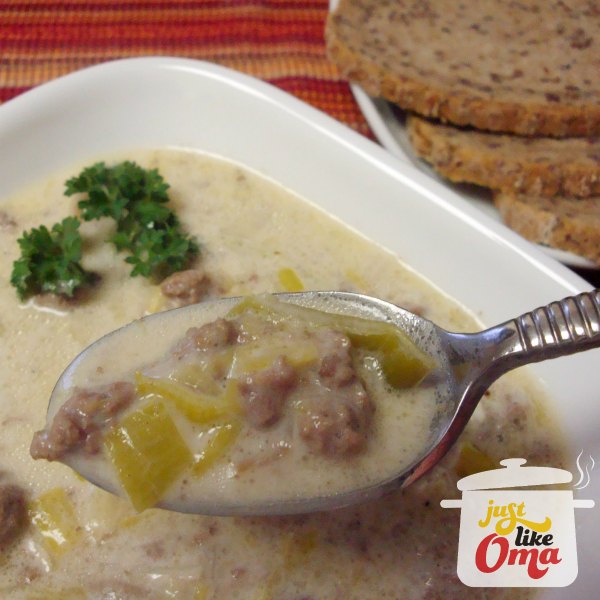 Check out the A bit of this & a bit of that section below for a different and simple way to clean leeks.
This is a very important step whenever you're cooking leeks, because the last thing you want is sand in your soup!

Leeks belong to the same family as onions and garlic, but taste quite mild when cooked.

A bit of this and a bit of that ...
This way of cleaning leeks is easy and makes such pretty rings. The normal way of cleaning them for most leek recipes is to trim off the dark green leaves about an inch or so above the white part of the leeks.
Then, cut towards the root down the length of the leeks, but stopping just sort of the root end. Turn leek a quarter turn and cut again down towards the root. Now spread out the leeks under running water and wash the dirt thoroughly from the leeks.
Use a good quality beef broth for this. Bouillon cubes and water work well. Just make sure you read the package for the right quantities.
If you wish, you could use fresh mushrooms. Fry sliced mushrooms in some butter and add them. You'll need to use about 4 cups of broth in this case.
Whenever you brown ground beef, stir to break up the larger chunks of meat.
Grab your copy of Oma's favorite soups collection in Quick Fix German Soups e-Cookbook. You'll LOVE it!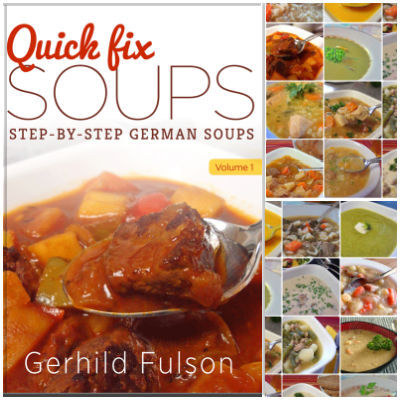 Take a peek at all Oma's eCookbooks. They make sharing your German heritage a delicious adventure!
---
Hummus?
Yep. Hummus. Sylvie, my daughter-in-law, shares that hummus is delicious in this to add extra zing.  Her easy hummus recipe is so quick to make and it's becoming wildly popular in Germany. Try it. I think you'll like it too!
---
Oma says:
I like to use plain cream cheese for this. If you have an herb one, that would be nice as well.
Cubing the cream cheese just allows the cheese to melt faster. You don't need to be careful to cut the cubes neatly :-)

---
Ready to make this Leek Soup?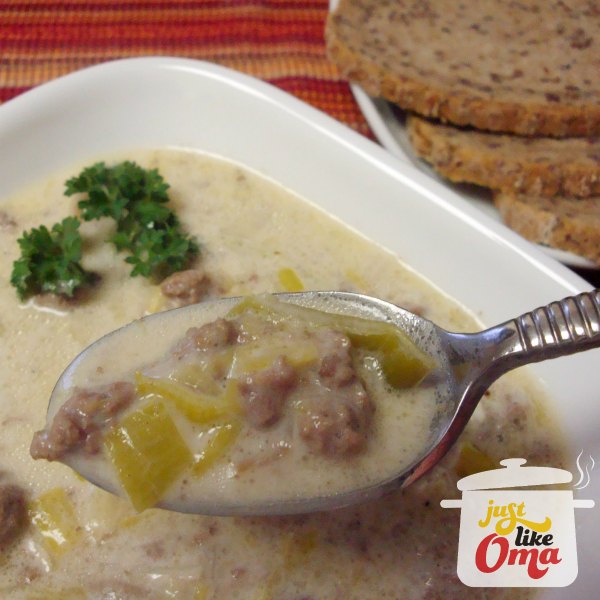 Oma's Leek Soup Recipe

This leek soup recipe, Lauchsuppe, with cream cheese is made in under 30 minutes. Creamy rich with mushrooms added for that extra touch, this is a fantastic starter course for a dinner party. Elegant. Easy. Quick. 
Prep Time


10 minutes


Cook Time


20 minutes


Total Time

30 minutes

Servings:

Makes 4 servings
Ingredients:
1½ pounds leeks
1 pound lean ground beef
2 tablespoons olive oil
3½ cups beef broth
1 can mushrooms (undrained)
3-ounce package cream cheese, cubed
salt, pepper
Instructions:
Cut away the dark green leaves an inch or so above the white part of the leeks. Cut leeks into ¼ - ½-inch slices (rings). Put these into a large bowl of water. Separate leek slices with fingers and swish around to remove dirt and sand. Scoop out leeks and drain in a sieve.
In a large saucepan, brown ground beef in olive oil.
Add leeks, frying for several minutes. Add beef broth and mushrooms.
Simmer, covered for 15 minutes.
Remove from heat. Add cream cheese, stirring to melt.
Season with salt and freshly ground pepper and serve.
*  *  *  *  *

Unless otherwise noted recipe, images and content © Just like Oma | www.quick-german-recipes.com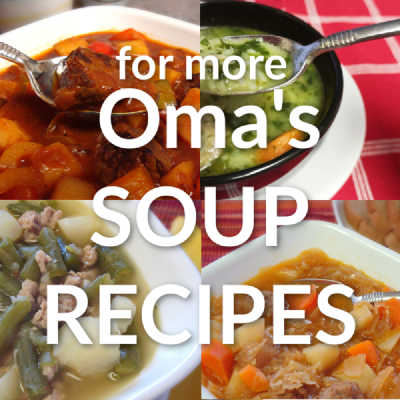 Leave a comment about this recipe or ask a question?

Pop right over to my private Facebook group, the Kaffeeklatschers. You'll find thousands of German foodies, all eager to help and to talk about all things German, especially these yummy foods. 
Meet with us around Oma's table, pull up a chair, grab a coffee and a piece of Apfelstrudel, and enjoy the visit.

Oma's German schnitzel recipe (Schweineschnitzel) is great if you need something delicious that's quick to make as well. So traditionally German and so WUNDERBAR!

Need ideas for what to serve with burgers? Everyone loves a lecker hamburger done on the summer BBQ. But what to serve alongside? Check out these great options!

Oma's baked pork chops with sauerkraut is an easy German dinner that's quick to make. Adding both browned onion rings and apples are scrumptious additions to this traditional meal.
*  *  *  *  *
PIN to SAVE this recipe to your Pinterest board!
And let's be friends on Pinterest!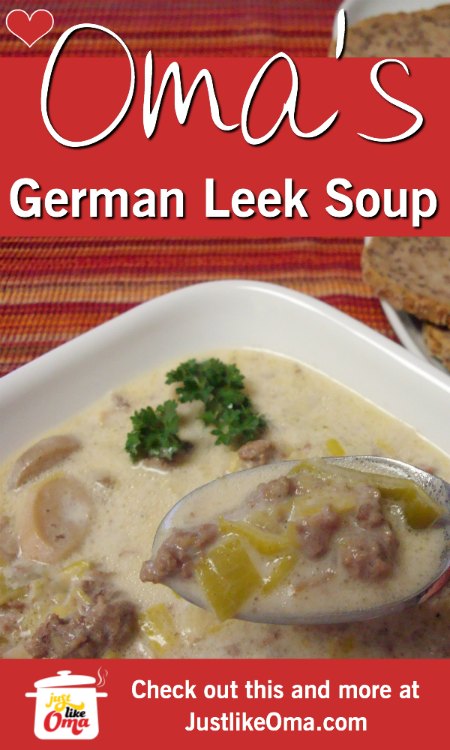 ---
Leek Soup Recipe made Just like Oma


By
Oma Gerhild Fulson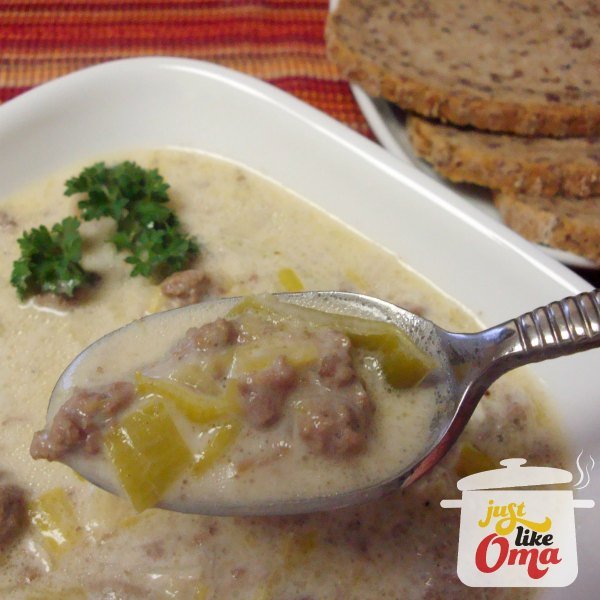 This leek soup recipe has added cream cheese for that added extra touch for an extra elegant soup. A fantastic starter course for a dinner party.

Ingredients:
leeks,
ground beef,
oil,
beef broth,
mushrooms,
cream cheese,
seasonings,
For the full recipe, scroll up ...
Words to the Wise
 "Good news from far away is like cold water to the thirsty."
Proverbs 25:25 (NLT)