Mutti's Chilled Cucumber Soup Recipe ❤️
➤ by Oma Gerhild Fulson
FTC Disclosure: As an Amazon Associate, I earn from qualifying purchases.
My Mutti's chilled cucumber soup recipe, aka Kalte Gurkensuppe, is so quick to throw together ... everything into the blender ... and ... a few moments later, it's ready to serve.
Really! 
Use thin-skinned English cucumbers for extra healthy and extra quick. If you use regular cucumbers, peel them first. Their skins can be a bit tough, unless you have a fantastic blender that will smooch everything to bits!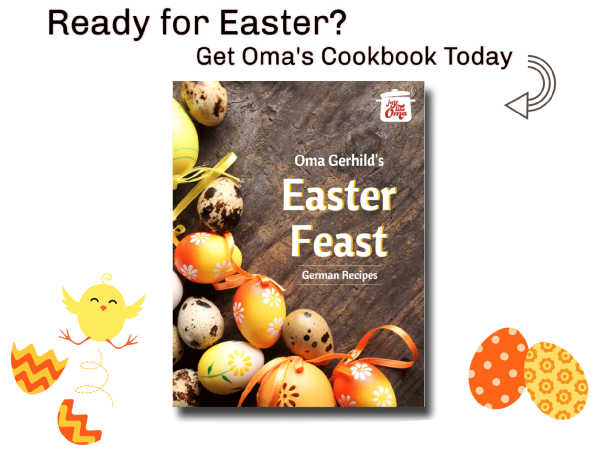 This soup is refreshing, especially on a really hot day ... so do serve it cold. Make sure the cucumbers are cold when you start. That way, it's icy cold which makes this so refreshing.
Among summer soup recipes, my Mutti's German cucumber soup is really very traditional. 
What makes these soups so wunderbar? They bring back such wonderful memories of my Mutti's kitchen. So, of course, I had to write my own soup e-cookbook to share with my grandchildren. I know you'll LOVE it, too!
There are 84 full-color pages filled with step-by-step instructions and hints. Take a quick peek ...
Sharing these soup recipes from my Mutti and Oma to my own young grandchildren ... that's such a delicious way to pass on our German heritage :)
A bit of this and a bit of that ...
> Instead of the Greek yogurt, you can use sour cream, or Crème Fraîche. The fat level? You choose. You can use full fat if you're looking for a low carb soup, which the above is. Or, reduce the fat level (and caloric value) by decreasing the fat content of the yogurt or sour cream.
> Like garlic? Add 1 - 2 cloves, minced.
> Use either fresh dill, finely chopped, or dried dill. Adjust the amount according to your taste.
---
Oma says,
This soup is great if you're looking for summer soup recipes that are also great German vegetarian menu ideas. 
When I eat this soup, I can almost see myself sitting by the water, in the shade of a palm tree, enjoying the coolness of the ocean breezes.
Hmmmmm .... or .... I see myself sitting on the patio with my Mutti, enjoying some quiet times :)
---
Did you know ...
> Cucumbers are so healthy for you. Low in calories and high in nutrients, such as Vitamin K, phosphorus, magnesium, potassium, and calcium. 
> Leaving the skin on, as in the above recipe, you will increase your fibre intake as well.
> All in all, a very healthy vegetable to include in your diet. AND, delicious as well!
---
Mutti's Chilled Cucumber Soup Recipe ❤️
Ingredients:
2 English cucumbers (about 2 pounds)
2 tbsp olive oil (preferably light)
2 cups Greek yogurt
4 tsp lemon juice
1 tsp sugar
salt, freshly ground pepper, dill
Instructions:
Cut off about ¼ of one of the cucumbers and set it aside to use for garnishing. 
Coarse chop the remaining cucumbers and put into blender. Add olive oil, yogurt, lemon juice, and sugar. Blend on high until smooth. You may need to add a bit of water to get the proper consistency.
Season with salt, freshly ground pepper, and dill.
Slice reserved cucumber and use as a garnish.
Makes 4 servings

Want nutritional information? Copy and paste the above ingredient list and the number of servings into Calorie Count for an approximate calculation.
Need help doing conversions between cups and grams, etc.? Use this site to give you all the different conversions for the different types of ingredients.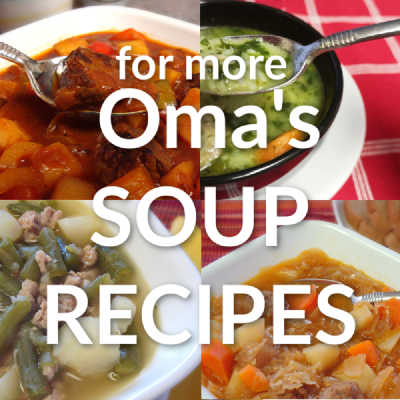 Leave a comment about this recipe or ask a question?
Pop right over to my private Facebook group, the Kaffeeklatschers. You'll find thousands of German foodies, all eager to help and to talk about all things German, especially these yummy foods. 
I pop in all the time as well, to chat and to answer questions. 
Meet with us around Oma's table, pull up a chair, grab a coffee and a piece of Apfelstrudel, and enjoy the visit.
*  *  *  *  *
Want nutritional information for a recipe?
Copy and paste the ingredient list and the number of servings into Calorie Count. 
It will give you an approximate calculation.

Need help doing conversions
between cups and grams or any such thing?
Use this site to give you all the different conversions for the different types of ingredients. 
---
PIN this ...
---
Cheese Spätzle is a traditional German noodle dish. A sort of Germanized version of 'Mac & Cheese', only better!

This Butterkuchen, also called Sugar Cake (Zuckerkuchen), a traditional German cake served for afternoon coffee. Loved by all, easy to make, delicious to eat!
---
Words to the Wise
"Don't do as the wicked do, and don't follow the path of evildoers. Don't even think about it; don't go that way. Turn away and keep moving."
Proverbs 4:14-15 (NLT)