Easy Chilled Cucumber Soup Recipe – Oma's Kalte Gurkensuppe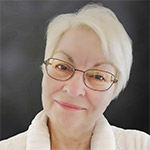 by: Gerhild Fulson  /  Cookbook Author, Blogger, German Oma!

This post may contain affiliate links, which means I'll receive a commission if you purchase through my links, at no extra cost to you. Please read full disclosure for more information.
Oma's easy chilled cucumber soup recipe, aka kalte Gurkensuppe, is so quick to throw together, literally ... throw everything into a blender ... a few moments later, it's ready to serve. 

Really! 
Use thin-skinned English cucumbers for extra healthy and extra quick. If you use regular cucumbers, peel them first. Their skins can be a bit tough, unless you have a fantastic blender that will smooch everything to bits! 
Among summer soup recipes, this chilled cucumber soup that I learned from my Mutti, is really very traditional. I recall Mutti making this with the abundance of cucumbers from our garden.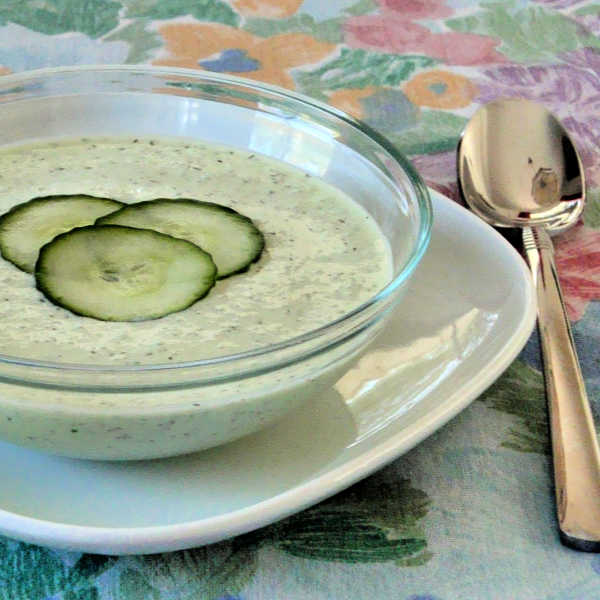 These weren't English cucumbers, since I don't recall even seeing those at the markets back in the day, but they were the typical type. Thick and thick skinned.
These needed to always be peeled first. But my, but wonders Mutti could make with them!
This soup is refreshing, especially on a really hot day ... so do serve it cold. Make sure the cucumbers are cold when you start. That way, it's icy cold which makes this so refreshing.
What can you add to cucumber soup?
Instead of the Greek yogurt, you can use sour cream or Crème Fraîche. The fat level? You choose. You can use full fat if you're looking for a low carb soup, which the below is. Or, reduce the fat level (and caloric value) by decreasing the fat content of the yogurt or sour cream.
Like garlic? Add 1 - 2 cloves, minced.
Use either fresh dill weed, finely chopped, or dried dill. Adjust the amount according to your taste.
Grab your copy of Oma's favorite soups collection in Quick Fix German Soups e-Cookbook. You'll LOVE it!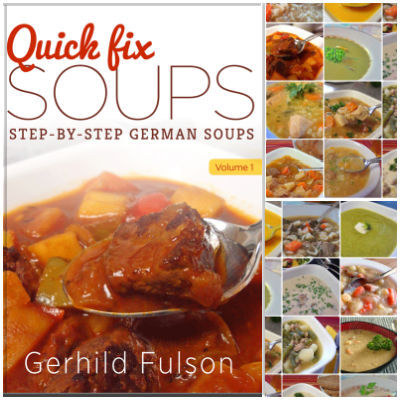 Take a peek at all Oma's eCookbooks. They make sharing your German heritage a delicious adventure!
What to do with extra cucumbers?
If you have extra cucumbers lying around or your garden is in full production providing you with an over-abundance of veggies, you are totally blessed.
One of the most sought after recipes is for the German cucumber salad. In the northern parts of Germany (where I'm from), this salad is made with either sour cream or yogurt. For me, it's the quintessential German salad. 
Whenever I make it, I never make enough. I try. I make lots. I make more than normal. And still, it disappears. The dressing is so creamy. So so good.
However, if you're like most from southern Germany, you wouldn't think of adding sour cream to any salad. Instead, your cucumber salad has a vinaigrette-type of dressing that is really refreshing in the hot summer. 
Because there's no dairy in this one, it's a great one to use if you're vegan or have vegan guests coming over. It's also perfect for summer picnics, since refrigeration is not a must.
Of course, cucumbers aren't just for salads. 
Below is a fantastic quick and easy recipe for Oma's cucumber soup. A favorite in the hot summer days ... and sometimes even finding its way to a winter brunch!
---
Oma says,
This cucumber soup is great if you're looking for summer soup recipes that are also great German vegetarian menu ideas. 
When I eat this soup, I can almost see myself sitting by the water, in the shade of a palm tree, enjoying the coolness of the ocean breezes.
Hmmmmm .... or .... I see myself sitting on the patio with my Mutti, enjoying some quiet times :)
Are cucumbers healthy?
Cucumbers are so healthy for you. Low in calories and high in nutrients, such as Vitamin K, phosphorus, magnesium, potassium, and calcium. 
Leaving the skin on, as in the recipe below, you will increase your fibre intake as well.
All in all, a very healthy vegetable to include in your diet. AND, delicious as well!
---
Ready for this easy cucumber soup?
Is the recipe below locked? Here's why.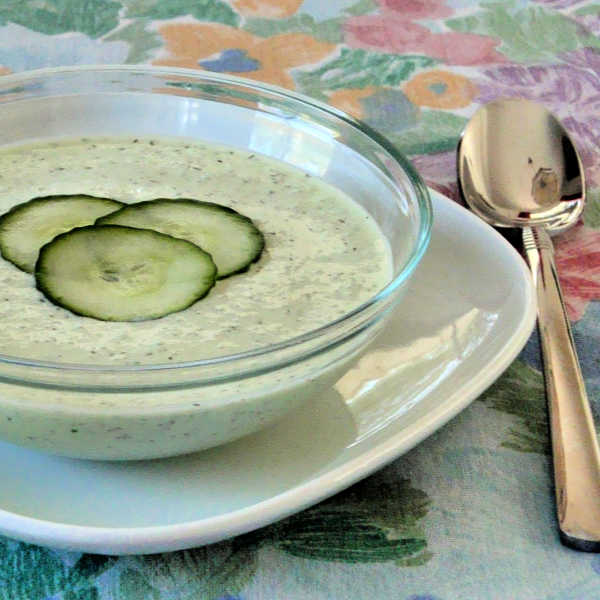 Easy Chilled Cucumber Soup Recipe – Oma's Kalte Gurkensuppe

Oma's chilled cucumber soup recipe, aka Kalte Gurkensuppe, is so quick to throw together ... everything into the blender ... and ... a few moments later, it's ready to serve. Really! 
Prep Time


10 minutes


Cook Time


none


Total Time

10 minutes

Servings:

Makes 4 servings
Ingredients:
2 English cucumbers (about 2 pounds), see hints below
2 tablespoons olive oil (preferably light)
2 cups Greek yogurt
4 teaspoons lemon juice
1 teaspoons sugar
salt, freshly ground pepper, dill weed
Instructions:
Cut off about ¼ of one of the cucumbers and set it aside to use for garnishing. 
Coarse chop the remaining cucumbers and put into blender. Add olive oil, yogurt, lemon juice, and sugar. Blend on high until smooth. You may need to add a bit of water to get the proper consistency.
Season with salt, freshly ground pepper, and dill.
Slice reserved cucumber and use as a garnish.
Serve immediately or chill first.
Hints/Tips
If you cucumbers are young, then leave the skins on, if you wish
If the skins are thick, then peel the cucumbers first.
For a rich tasting soup, use a full-fat Greek yogurt.
For a 'diet' soup, use a low-fat or no-fat Greek yogurt.
*  *  *  *  *

Unless otherwise noted recipe, images and content © Just like Oma | www.quick-german-recipes.com

08.09.2021 revision update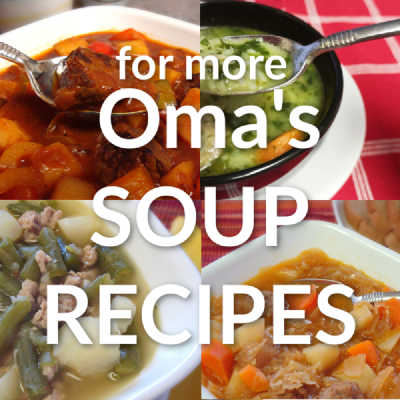 Leave a comment about this recipe or ask a question?

Pop right over to my private Facebook group, the Kaffeeklatschers. You'll find thousands of German foodies, all eager to help and to talk about all things German, especially these yummy foods. 
Meet with us around Oma's table, pull up a chair, grab a coffee and a piece of Apfelstrudel, and enjoy the visit.

Cooking just like Oma, making those German meals, is actually quite easy. Let me, Oma Gerhild, help you with my step-by-step methods to re-create those yummy meals you remember from your Oma.

If you're looking for tasty, traditional, and easy German cake recipes (in English) to try, then you've come to the right place! Check out these lecker treats!

Discover the ultimate German schnitzel recipe with Oma's quick and easy method - perfect for any occasion! Taste the authentic flavors of Germany today.
*  *  *  *  *
PIN to SAVE this recipe to your Pinterest board!
And let's be friends on Pinterest!
---
Easy Chilled Cucumber Soup Recipe ~ Oma's Kalte Gurkensuppe


By
Oma Gerhild Fulson
Oma's easy cucumber soup recipe (Gurkensuppe) is so quick to throw together, literally ... throw everything into a blender ... a few moments later, it's ready to serve.

Ingredients:
cucumbers,
olive oil,
Greek yogurt,
lemon juice,
sugar,
seasonings,
For the full recipe, scroll up ...
Words to the Wise
"Don't do as the wicked do, and don't follow the path of evildoers. Don't even think about it; don't go that way. Turn away and keep moving."
Proverbs 4:14-15 (NLT)